Robert Goodwill wants more people to make shorter journeys in everyday clothes with a basket on their bike

by Peter Walker, 15/1/2014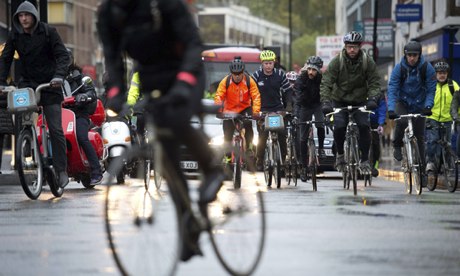 Robert Goodwill: 'I can see that the basket-on-the-handlebars type cyclist is possibly as intimidated by the Lycra mob as they are by the cars and trucks.' Photograph: Leon Neal/AFP/Getty Images
Britain needs more everyday cyclists, the sort who pedal a short distance in ordinary clothes with a basket on their bike, as opposed to a dedicated minority who speed along in Lycra, according to the new minister for cycling, Robert Goodwill.
The Tory MP, who took on the junior transport remit in October, himself often pedals around London on his Brompton folding bike in his suit, sometimes without a helmet. Goodwill said journeys such as his ride to the office from his London home, or from the Department for Transport to parliament, impressed on him a cycling culture that is by no means welcoming to all.
"As I turn left onto Millbank and the other lights change there's just a pack, a peleton of Lycra that comes whizzing past," he told the Guardian in his ministerial office, the Brompton folded away in a corner. "I can see that the basket-on-the-handlebars type cyclist is possibly as intimidated by the Lycra mob as they are by the cars and trucks.
"Therefore I want people to think cycling is for them, even if they are middle aged, or female, or overweight, or one of the other groups of people who don't really get on their bikes. That's the sort of cycling I think we're missing out on to an extent: the sort of person who thinks cycling isn't for them, when the fact is it could be for them."
Goodwill, whose ministerial remit also takes in the higher-profile areas of aviation, road freight and the HS2 project, recalled being taken to a cycle fair in his North Yorkshire constituency by his son: "They had everything - titanium, carbon fibre, you name it. I wanted to buy a pair of cycle clips and when I asked at these stands they looked at me like I was some kind of dinosaur. I want to go back to the sort of basket on the handlebars and cycle clips, the idea you can make a short journey on a bicycle."
Goodwill's views on this point chime with those of cycle campaigners who want the UK, where currently a mere 2% or so of journeys are made by bike, to mimic places like the Netherlands or Denmark, where the equivalent figure is more than 20% and the vast majority of cyclists ride practical bikes at moderate speeds in ordinary clothes.
Campaigners also point out that making cycling an everyday activity for people of all inclinations and ages generally requires years of investment in segregated cycle lanes, bike-safe junctions and other infrastructure. In the UK there has been increased focus on safer roads following a spate of cyclist deaths, including six in London in less than two weeks.
However, this costs money. The Dutch government spends more than £20 per person per year on cycling, while the equivalent for England, outside London, is about one-tenth of that.
This is where Goodwill parts company with the cycling advocates, arguing that a planned national spend of about £375m over the five years of the current parliament is "a substantial amount" that will achieve much. He said: "Measuring what governments do by what they spend isn't necessarily the best way of doing it. It doesn't cost very much to change a traffic light to one with a bicycle symbol on it, and that could make quite a lot of difference for cyclists knowing which signals are for them and which are for cars."
Other parties are beginning to think more ambitiously. This year's Get Britain Cycling report by a cross-party group of MPs, which recommends Dutch levels of spending on bike infrastructure, has already been formally endorsed by the Lib Dems, while Labour's transport team is making positive noises about it.
Goodwill remains sceptical – "I take any promises they're making at this stage of the parliament with a great big pinch of salt," he says of Labour – but endorses another aspiration in the report, to aim for 10% of trips to be made by bike by 2025.
"It's a perfectly achievable target," he said. "If you look around Europe at other countries which have been ahead of us on this, then I don't see why we shouldn't achieve it."
Chris Peck of cyclists' group the CTC described Goodwill's confidence as "really excellent", but doubted whether it could be achieved on current plans: "£375m over five years is more than had been committed previously, but it is a far cry from the levels of investment that really successful cycling countries, like the Netherlands or Denmark, have been investing for decades. To really get Britain cycling there needs to be expenditure on cycling of at least £10 per person, per year."
Source:
theguardian.com