A story about how the mere act of getting on a bike can foster deep changes.

Published August 14, 2012, by Laura Sesana
WASHINGTON, August 14, 2012 – I never thought I would make this statement but on a day-to-day basis, I would rather do without my car than my bike.

Me And My Bike
I have never been into exercising or fitness. The only sports I have ever liked are those I can watch from my couch. Until I reached my 30s, I never really felt the need to exercise. I used to drive everywhere and thought I couldn't live without my car.
During the last few years, I realized that other than walking my dogs, I was pretty inactive and was in terrible shape. I couldn't climb more than two flights of stairs without getting winded and was lucky if I could run for two minutes before collapsing.
By early last year, I was having trouble managing my weight and began to worry about my blood pressure and overall fitness level.
I had tried the gym several times and knew that I'd go for a week and then never set foot in the place again.  My husband suggested cycling, but I was terrified of riding a bicycle in the city. However, after a lot of resistance, I finally agreed to get on a bike, just to see how it felt.     
I hadn't been on a bicycle since I was 14 and wasn't sure if I still knew how to ride.  I tried a few different styles of bicycle at my local bike shop and finally decided a hybrid in bright blue.  I also got a snazzy hot pink cup holder lock, mirror, helmet, and bell. 
Everything cost me about $380- the bike was on sale.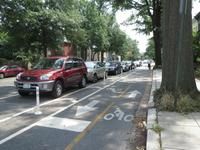 I was all set. 
The first thing I had to conquer was my fear.  I kept remembering stories of bikers flattened by trucks and had gory visions with me in the staring role.  I ventured out very slowly, riding in the alley behind my house.  I finally made it to the sidewalks after a few days, arousing angry looks from pedestrians and the occasional "there's a bike lane right there!" from some indignant neighbor. 
I was so shaky at first that I couldn't even turn around to apologize.  "Sorry!" I'd yell, eyes front.  "I'm just learning!" 
After about one week of riding I gained more confidence and began using the bike lanes.  I no longer felt like I was going to fall to my asphalt death, at least not all the time.  I began to see the city in a whole new way. Distances seemed to shrink.  I discovered new favorite parks, stores, and routes. 
Pretty soon my husband and I took longer trips and I was riding for a full hour in less than three weeks. Every little milestone was a cause for celebration.   
I have found that riding a bicycle really suits my lifestyle and the city I live in.  I work from home and conduct most of my business less than three miles from where I live. 
DC also has a growing network of dedicated bike lanes that take me everywhere I need to go.  There is absolutely no reason for me to use my car on a daily basis.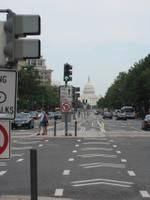 Over a year and a half after buying my bike, I ride every day and take my car out less than once or twice a week.  I spend half of what I used to in gas and haven't got a parking ticket in nine months.  I no longer have to worry about finding a parking spot. 
My riding has also had positive effects on other parts of my life. For one thing, riding has made me more active and given me a large amount of confidence.  I started riding to the gym last winter and have been going regularly for over 8 months- a record for me. 
I am not as thin as I would like to be, but I eat what I want (in moderation, of course) and am in the best shape of my life.  I find myself spending much more time outdoors, even in the wintertime.  I have a completely different lifestyle that is good for me, good for my wallet, and good for my community. 
And it all began with my trusty bike…
Cycling is Catching On 
It seems like cycling is enjoying growing popularity in many of the nation's cities and towns, and there are many obvious and other not so obvious reasons why.  Cycling is good for your health, it is good for your wallet, great for the environment, and can even help your local economy.  It's a great hobby to pick up and a fantastic alternative to commuting by car provided the distance is comfortable.  Riding a bicycle is not expensive and almost everyone knows how to ride one. 
There are a number of health benefits to cycling.  Apart from being really fun, riding a bike builds strength, stamina, and muscle tone; improves cardiovascular health; burns calories; boosts your metabolism; improves coordination; and reduces stress.  Cycling for just a few minutes per day can have a significant effect on a person's health and wellbeing. 
There are numerous other benefits to cycling, both on an individual and on a community level.  A person on a bike usually means one less person in a car.  This translates to a reduction in traffic, air pollution, and noise.  Riding a bike means never worrying about finding a parking spot or being stuck in a traffic jam. 
Cycling is also great for the pocketbook.  According to AAA, it costs an average American around $8,485 per year to own a car. On the other hand, a new bicycle costs between $300 and $400 (including a lock, lights, fender, and other accessories), and around $70 to $100 per year to maintain.  Even though most of us are not ready to ditch out cars completely, cycling to work or to the store a few times a week is likely to save a at least a few hundred dollars a year in fuel and parking costs. 
Cycling can also mean more money remains in the local economy.  Out of the average $8,485 that Americans spend on their car every year, only a small percentage of that -about $1,390-, stays in the local economy in the form of license, registration, taxes, repair, and maintenance.  However, the rest-over $7,000- is taken out of the local economy in the form of purchase price over time, finance charges, gas, and insurance premiums.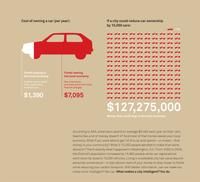 Infographic created by the National Building Museum as part of the
Intelligent Cities initiative. Graphic Designer: MGMT
Sources: AAA, Center for Neighborhood Technology, Washington D.C. Office of Planning 
Riding a bike can promote the local economy by creating a market for locally owned bike shops, bike repair shops, and bicycle parking stations.  It also provides jobs and leaves residents with more money to be spent locally.  Overall, according to the League of American Bicyclists, the bike-related industry contributed over $133 billion to the US economy, generating almost $18 billion in federal, state, and local taxes, and providing over 1.1 million jobs nationwide.  According to Grist.org, in 2010 $1.5 billion was contributed to Wisconsin's local economy by bike-related commerce and industry.   Similarly, in 2008 Portland benefited by $90 million from the local bike economy.  
According to Marc Gunther, the biggest reason people do not cycle is a concern for safety.  In response, many cities have begun investing in infrastructure such as dedicated lanes, trails, and parking to support the bike riding community and providing safe routes for cyclists.  Bicycling.com has a list of the top 50 most bicycle-friendly cities in the US.
The number of people that use a bicycle to commute is on the rise and studies suggest that a small investment in biking infrastructure can yield very positive results.  A 2011 study published in the Journal of Physical Activity and Health concluded that the investments in bicycle infrastructure made by the city of Portland, Ore. would result in $800 million in savings by 2040.  These savings were projected in lower expenditures on fuel, healthcare, and value of statistical lives.  
Businesses have also begun to catch on.  Biking is so good for a person's health that several companies now provide a number of incentives and programs to encourage employees to bike to work.  A study of the effects of an employee health and wellness program (including an incentive for biking to work) at Quality Bicycle Products (QDP) released earlier this year by HealthPartners, QDP's health insurance provider, concluded that the program increased employee productivity and reduced healthcare costs. 
One of the main features of the QDP program was a $3 a day incentive for employees to cycle to work, which cost the company an estimated $45,000 per year.  The company also provided bike parking, showers, and lockers for employees.  Even though the effects of the bike to work program were not analyzed separately, the study did suggest that the nearly 100 employees who participated in the program cost the company $200,000 less per year in healthcare claims compared to employees who did not bike to work.    
More cyclists on the road can also mean increased safety.  A 2008 research paper by the University of New South Wales in Australia concluded that as the number of bicycle riders rises the likelihood of an individual cyclist being involved in a collision with a vehicle falls.  This seems like an odd conclusion.  The study suggests that this happens not only because there are less cars on the road but also because there seems to be a change in driver attitudes and behavior with more bicycles and pedestrians in the area. 
Most people have an old bike buried somewhere in their garage.  Why not dust it off take it out for a ride down the block?  If you don't own a bike and are not ready to buy one, try Capital Bikeshare, where you can join for one day, three days, one month, or one year and have access to a bike in one of their 175+ stations.  
Great things could happen- they did for me…
---
Source: How My Bike Changed My Life | Washington Times Communities

Follow us: @wtcommunities on Twitter