The deaths of six cyclists in the past two weeks have highlighted the dangers of taking to London's busy streets. But what is it like to cycle in other major cities around the world? From Amsterdam to Delhi, our writers report from the bike lanes
Richard Orange
, Anu Anand,
Philip Oltermann
,
Jonathan Kaiman
, Pete Jordan,
Kim Willsher
,
Shaun Walker
,
Lizzy Davies
,
Patrick Kingsley
,
Matt Seaton
,
Harriet Sherwood
,
Rory Carroll
and
David Byrne
The Guardian
, Wednesday 20 November 2013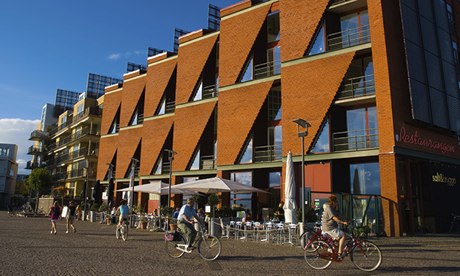 Malmö, with its dedicated cycle paths and huge take-up, is something of a cycling heaven. Photograph: Alamy
Malmö

When I arrived in Malmö two years ago, it was the free bicycle pumps, installed in convenient places on cycle paths, which showed me that, when it comes to cycling in Sweden, Malmö leads the way. Sweden's third-largest city is laced with 500km (310 miles) of cycle lanes, more even than in Copenhagen, a short hop across the Öresunds Bridge. About a quarter of all journeys in the city are already made by bike. That is an estimated 100,000 trips a day for the its 307,000 inhabitants. Stockholmers, by contrast, use bikes for fewer than 10% of trips.
When I take my daughter to day care in the morning on the back of my bike, the cycle lanes are packed with parents and commuters. Almost all my friends own cargo bikes, which they use to ferry their young families to day care, or to do the weekly shop. Remarkably, in the 10 years from 2003 to 2012, the city has seen only 16 cyclists killed in an accident involving a car.
Olle Evenäs, a traffic planner for Malmö, puts this down to the way the city has built its cycle lanes. "In Malmö we have two-way cycle lanes, every single track, which isn't the case in Copenhagen. We never have painted lanes as cycle tracks; we always have a dedicated surface which is separated from the car traffic by a divider and up a level from car traffic."
The law-abiding nature of the people also helps cut down on fatalities. For Swedes, cycling in the wrong direction on a cycle path or, worse still, on a pavement intended for pedestrians, elicits the sort of outrage people in the UK reserve for those dumping their rubbish on the pavement.
The city continues to try to cut car use, aiming to increase cycling's share of journeys to 30% by 2018. To do this it has earmarked at least 400m kroner (£37m) to be spent on various cycling programmes in the years 2012-19. "This is the money we know we have for sure, but we are going to be spending even more than that," says Evenäs.
Richard Orange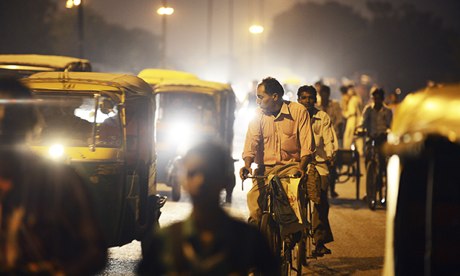 Cyclists in Delhi must compete with rickshaws and the city's seven million cars. Photograph: Roberto Schmidt/AFP/Getty Images
Delhi

Size is power on India's roads and in the caste system of transport, cyclists rank just a notch above pedestrians and stray animals. Buses and SUVs rarely, if ever, give way to lesser mortals. Indeed, pedestrians attempting to cross a road here, even with children in tow, are invariably honked at while drivers speed towards them.
By and large, cycling is not a lifestyle choice for the middle classes. Rather, it is the default mode of transport for those who cannot afford anything else. Labourers, deliverymen and semi-skilled workers such as plumbers and carpenters use bicycles. They are India's struggling masses, not its moneyed elite.
In 2012, according to India's National Crime Records Bureau, a total of 168,301 people died on its roads. In New Delhi, that includes 78 cyclists and 501 pedestrians. There are nominal cycle lanes on some of the capital's main thoroughfares, but with seven million cars jostling for space, those lanes are often cannibalised by motorised rickshaws and scooters, leaving no safe space for bicyclists. Cyclists rarely wear helmets and there are no viable emergency services to ferry accident victims to hospitals.
In recent years, some intrepid middle-class Indian and foreign expatriate cyclists have begun to brave Delhi's roads. Recognisable by their expensive bicycles, helmets and high-visibility vests, they can sometimes be spotted along the quieter avenues of colonial New Delhi. One company, Delhi by Cycle, has even set up two-wheeled tours through the narrow, twisting lanes of the old city. But they start before dawn, before cars, motorbikes, cycle rickshaws, pushcarts, cows and the ever-present crush of pedestrians appear.
If cycling in London is dangerous, Delhi is like having a near-death experience every single time.
Anu Anand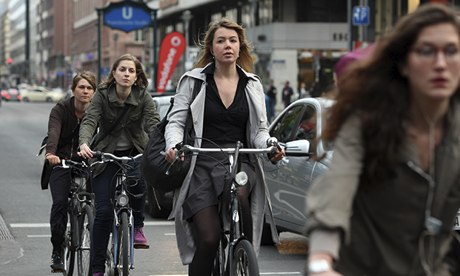 Cyclists are well-catered for in Berlin, but it still saw 15 cyclist deaths in 2012. Photograph: Adam Berry/Getty Images
Berlin

In many ways, Berlin is a cyclists' paradise. Most major roads have clearly marked cycling lanes, either on the pavement or on the road itself. The age range of cyclists is broader than in London: with old ladies and kids sharing lanes with bike couriers in Lycra, road behaviour tends to be less aggressive. Some major junctions even have a special set of traffic lights for cyclists, allowing them a head start ahead of motorists.
That doesn't mean there are no problems. Fifteen cyclists died in 2012, seven of them through collisions with lorries; 4,533 more were injured over the same period. According to the German Cycling Club (ADFC), one of the most common causes of accidents are cars turning into side streets at high speed and cutting off cyclists in the lanes to their right. Berlin's many tram lines can also be a hazard: the track grooves are perfect for trapping the wheel of your average city bike.
In spite of being notoriously cash-strapped, Berlin has taken steps to make cycling safer. This month, the city authorities launched an online survey in order to help identify trouble spots. On radsicherheit.berlin.de, users can mark dangerous junctions, blocked paths and road potholes, as well as recording "near-misses" that they didn't log with the police at the time.
But Berlin also expects its cyclists to stick to the rules more than London does. One reason for this is self-policing: try going down a cycling path on the wrong side of the road, even in an alternative district such as Kreuzberg, and you will soon be bellowed at by other cyclists or by pedestrians. Cycling offences are not just punished with on-the-spot fines: any fine over €45 (£37.50) also comes with points that show up on your driving licence (which means that, in theory, you can end up with points on your licence before you have even passed your driving test).
And, unlike Britain, Germany has a drink-drive limit for cyclists: a blood alcohol content of 0.16%, though some regions have recently tried to lower the limit to the same as that for cars (0.05%). This also explains the German word for a shandy: Radler or "cyclist", because it just about keeps you sober enough to stay on your bike.
Philip Oltermann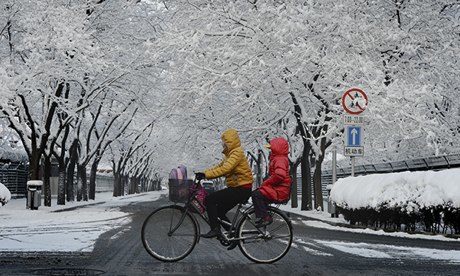 Beijing hopes to have a quarter of its residents cycling by 2015. Photograph: Mark Ralston/AFP/Getty Images
Beijing

Beijing was once a city of bikes. Now it's a city of traffic. There are more than 5m cars in Beijing, and they have transformed its once-generous thoroughfares into a noxious, honking mass.
Cycling helps me rise above the noise. I bike 5km (3 miles) to work every day, weaving through Ming dynasty-era alleyways, gliding past shadowy government offices, darting among flatbed tricycles hauling mysterious metal tanks. The Chinese capital is notorious for its air pollution, and my commute isn't always pleasant. But when the smog lifts and the city snaps into focus, it's the highlight of my day.
Along with the freedom comes a fair amount of risk. According to official statistics, cyclists were involved in more than 10,000 of China's 67,759 traffic accident-related deaths in 2009. Scooters blast through red lights; cars park on the pavements. Nobody wears a helmet.
Last winter, I was riding to work when I collided with an auto-rickshaw. They are the sharks of the city's bike lanes – vault-sized motorised boxes that are almost as powerful as small cars, but are not required to play by the same rules. It was on the wrong side of the road. I veered left; the driver veered right; I hit the side of the carriage and fell over. The driver, a middle-aged man with oily hair, decided to play the defensive – he was clearly from the countryside, and if the accident was serious, my medical bills could have wiped out his savings. He pointed his finger at me, yelling. A crowd began to gather. I shot him a middle finger and pedaled away, my right knee bleeding, my handlebars askew.
In 2010, the Beijing government announced hopes that by 2015, nearly a fourth of the city's residents would use cycling as their primary mode of transportation. It doesn't seem likely. The city is too much of a sprawl, its traffic too unruly.
There are other reasons, too. On Monday night, I returned to a restaurant where I had parked my one-speed Giant overnight, only to find it missing. A passerby saw me looking, and asked how long I'd left it outside. "Too long, I guess," I said. "You should know better," she replied. "This is China."
Jonathan Kaiman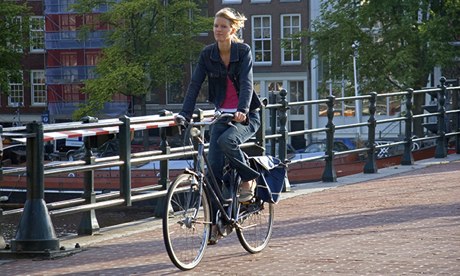 Amsterdam has long had a reputation for 'traffic anarchy', but if it's chaos, it works extremely well. Photograph: David R. Frazier Photolibrary/Alamy
Amsterdam

Over the course of my 11 years of daily biking in Amsterdam, I have never worn the helmet I brought with me from the US. No one needs a helmet here. Instead of putting the onus on the cyclists to protect themselves, in Amsterdam the onus is on society to provide a safe environment to ride in. Here, everyone bikes: the young, the old, the tourists. It usually takes me less than an hour to spot three pregnant cyclists.
I had never realised how stressed I was while biking in America until I biked with relative ease in Amsterdam. Despite the decades-old reputation of Amsterdam's cyclists for being "traffic anarchists" – riding through red lights, biking without lights at night, and so on – it is a chaos that works incredibly well.
Most motorists here are also cyclists, which enables them to better anticipate the behaviour of cyclists in traffic. Driving instructors teach new motorists to use their right hand to open their door, which forces the driver to turn, putting them in a better position to see if a cyclist is approaching from behind.
Amsterdam is by no means perfect. Cycling fatalities do occur – estimates say about six a year - but on nothing like the scale that they do in the British capital. And the Dutch do not rest on their laurels with the infrastructure they have created over the past 30 years. I am always pleasantly amazed by how the city continues to be improved.
Pete Jordan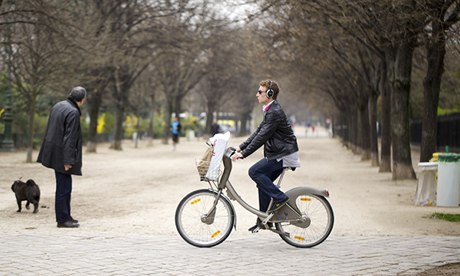 Paris has taken its Vélib' scheme of hire bikes to its heart. Photograph: Christopher Thomond for the Guardian
Paris is extremely proud of the fact it was the first capital to introduce a city-wide free bicycle scheme. Known as Vélib', a combination of the words vélo (bike) and liberté (freedom), it was introduced in 2007 by Socialist mayor Bertrand Delanoë. Now approaching retirement, Delanoë considers it one of the great triumphs of his term in office. By 2012, when Vélib' was celebrating its fifth birthday, there were around 23,000 of the heavy grey bicycles in circulation, more than double the number when it was launched. There are now 1,700 bicycle "stations" – 1,400 of them in Paris itself and 300 in surrounding towns. In 2007, there were just 750. Under the Socialists, the French capital has installed 652km (405 miles) of dedicated cycle routes for the 224,000 Parisians who have signed up to Vélib', a figure that will rise to 700km by the end of 2014.
Launching several thousand bicycles onto the city's roads in 2007 caused widespread safety concerns, but they have proven largely unfounded. While cycling around the Arc de Triomphe can be a perilous exercise, with cars coming from all directions following the now largely outdated "priorité à droite" rule, the number of accidents involving cyclists between 2007 and 2012 was relatively low: 12 have died, eight of them while using a Vélib'. More than 660 have been injured, according to police, though most of the injuries were reported as "not serious". In 2010, 43 people died in accidents on Paris's streets and boulevards: two cyclists, 18 pedestrians, 17 motorcyclists and scooter riders and six vehicle drivers or passengers, according to the Paris Préfecture de Police. In 2011, not a single cyclist died. Accident investigators say because there are more cyclists around, other road users have become more used to them and are giving them "greater respect".
The rules of the road – "I don't ride on the pavement, I respect traffic lights and stop signs, I don't carry passengers and I don't ignore no entry signs" – are posted on each Vélib' bike.
Kim Willsher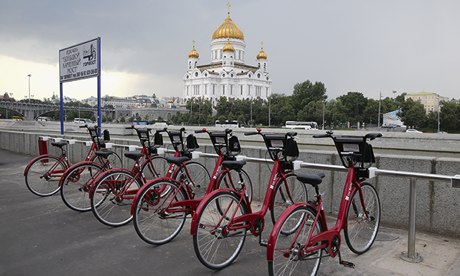 Moscow's bike-hire scheme works well in summer – but is mothballed for the harsh winter months. Photograph: Christian Petersen/Getty Images
Moscow

With 10-lane highways cutting through its centre, roads covered in snow and ice for much of the year, and drivers who – to put it charitably – do not always obey the letter of the law, Moscow has never been much of a city for cyclists. Those who can afford a car brave the legendary traffic jams, while those that cannot use the ruthlessly efficient metro system.
In recent years, however, as the chaos of post-communist wild capitalism has subsided and thoughts have turned in some quarters to issues such as quality of life and urban planning, bicycles have become a more visible part of Moscow's fabric. This year, a local equivalent of Boris bikes was even introduced, with the Bank of Moscow funding 1,000 bikes and 74 rental points across the centre of the city. It was free to use them for up to half an hour, and just 60p for an hour after that, for those who paid an initial registration fee. The bikes have been removed with the onset of winter, but over the summer season nearly 50,000 Muscovites registered for the scheme.
Nevertheless, the bikes were still mainly used for cycling along Moscow's embankments, through its newly renovated parks and along the pedestrianised boulevard ring that runs through the centre. Actually using a bike as a means of getting from A to B along normal roads is still a matter for the brave and the foolhardy, and cyclists on the roads are a rare sight indeed.
Shaun Walker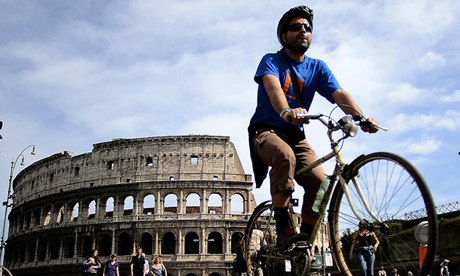 Rome's cyclists hope that their bike-friendly mayor can deliver. Photograph: Filippo Monteforte/AFP/Getty Images
Rome

With its fabled seven hills, cobbled streets and notoriously chaotic traffic, Rome is not an obvious cycling paradise. A bike-sharing scheme launched in 2008 has been an abject failure. And, for what it's worth, helmets and hi-vis have never been included in any Italian's definition of bella figura.
Despite the risks to both health and image, however, many Romans are choosing to brave the roads and get on their bikes. For the first time in decades, more bikes were sold than cars in the recession-hit Italy of 2011, a trend reflected predominantly in the north but also on the traffic-clogged streets of the capital.
Many of those who do brave it insist the city's off-putting image is unfair: it is hard for cars to speed around the narrow, winding streets of the historic centre, they say. Moreover, Roman motorists, whatever their other defects, are used to looking out for people on two-wheels - it's just that those wheels tend to belong to a Vespa or Piaggio.
But tragedies, of course, do happen. Last year, five people died in accidents involving bicycles, according to the city authorities; one person the year before that; three in 2010, and four in 2009. In July, a 60-year-old man called Domenico Calabrò was fatally injured in a collision with a car on the city's south-eastern outskirts.
The man who now finds himself at the centre of the city's cycling future is the mayor, Ignazio Marino, who was elected in June and has repeatedly spoken of the need to make Rome a more bike-friendly capital. He says he is considering various projects in order to boost cycle use, including the creation of parking lots for 10,000 bikes, a new, more successful cycle-sharing scheme, and 20km more cycle paths to add to the patchy existing network. Marino is himself a keen cyclist, often seen whizzing around town, security staff in tow, on a white Lombardo. Even for him, however, it hasn't been straight-forward: in July, he fell off.
Cycling activists are pleased that their new "first citizen" is a bike-lover, but are still waiting to see if he will keep his promises, says Fausto Bonafaccia, president of the BiciRoma association. "The cycle path situation is improper for a city like Rome, the capital of Italy, where vegetation, disjointedness and potholes represent daily obstacles for those who want to travel by bike," he says.
"Road safety … does not meet the minimum standards befitting a civilised country and cyclists are always at risk of having an accident in the Roman traffic."
Lizzy Davies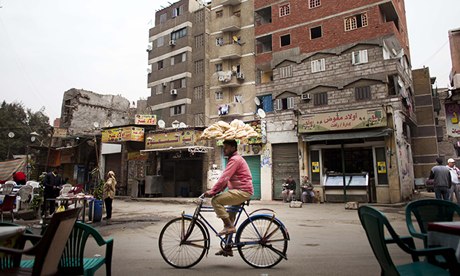 Cairo's most fearless road users must be its bakery delivery cyclists. Photograph: Carsten Koall/Getty Images
Cairo

Tell a local that you cycle in Cairo, and more often than not you will be met with a wide-eyed stare. Driving a car is dangerous and frustrating enough, with 42 annual road deaths per 100,000 Egyptians, according to the World Health Organisation. Britain has just 2.75.
Cairo's roads are chaotic, with cars paying little attention to road markings, and gridlocked streets common by mid-afternoon. Lane discipline is not a recognised concept, drivers often reverse down multi-lane highways, and cars will not stop for pedestrians seeking to cross a road until they step out into the speeding traffic.
In this environment, there is little concept of cycling as a means of getting across the city. Needless to say, there are no cycle lanes. Many deliverymen do use bikes to pedal around their neighbourhoods – perhaps Cairo's most fearless road-users are the cycling bakers who careen through traffic jams balancing vast trays of bread on their heads. But very few commuters cycle, put off by the perceived danger and the lack of infrastructure. For some professionals, bikes are associated with the working class, and so have a social stigma – while some female cyclists report harassment from passersby.
But the city's few energetic bike advocates say that cyclists are slowly on the rise. When the Cairo Cycling Club was founded five years ago, it had just four members. Now it organises weekly recreational group rides through quieter districts that have sometimes attracted hundreds of cyclists. In two provincial cities near Cairo, the authorities are planning to encourage more cycling along some main roads.
There are no exact figures, either for the number of Cairene cyclists or the number of annual cycling-related fatalities. But Ahmed el-Dorghamy, one of Cairo's most vocal cycling proponents, says there are more than 20,000 users of Egyptian online cycling groups.
"The idea we want to get across is that it's not just a sporting activity," he told the BBC last year. "It can also be a means of transport in some areas of Cairo."
Patrick Kingsley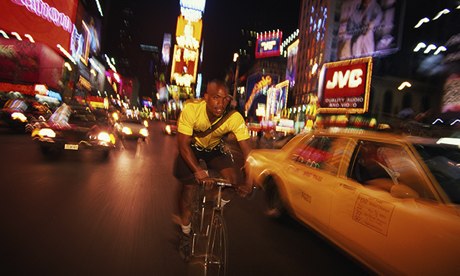 New York's busy streets might seem daunting, but things are improving for cyclists. Photograph: Joseph Mcnally/Getty Images
New York

If you commute by bike in New York City, you are still regarded by colleagues as something of a daredevil. And if you don't wear a helmet, they frankly think you are reckless. Mind you, this is a country where they wear helmets for the game they call football (which, actually, does have a serious head-injury problem).
But perceptions lag behind reality. New York has become a much more cycle-friendly city over the past decade or so of the Bloomberg administration. Cyclist fatalities have held steady over that time: in a good year, perhaps just a dozen; in a bad year, double that number. But bike use has tripled since 2000 and, with several hundred miles of new bike lanes put in, it is still growing fast. So, according to the City's "cycling risk indicator", the danger of serious injury has plummeted by 73% (between 2000 and 2011).
And New York is truly a bikeable city. Manhattan and the other boroughs are reasonably flat, and car ownership is the lowest of any American city. The views can be spectacular, whether you are flying down one of the big avenues in a canyon of Gotham skyscrapers or taking the riverside bike path along the Hudson on the west side. Earlier this year, the city got the Citibike bike-share scheme, our equivalent of Boris bikes. Despite teething troubles, the five-month-old rollout is mostly judged a great success – not least because it has not yet resulted in a single fatality.
Not everything is rosy. Transportation Alternatives, NYC's leading pro-bike campaign, has worked hard recently to make more of an issue of how poorly fatal accidents involving pedestrians or cyclists are often investigated by the NYPD. Just last weekend, an article in the New York Times asked provocatively: "Is it OK to kill cyclists?" But I take heart simply from the fact that the question is being asked: the mindset is changing.
My main tip from the mean streets: just watch out for the yellow cabs – they never pull over to drop people off, and passengers will fling the doors open on either side.
Matt Seaton is the Guardian's former cycling columnist and is now an editor at the New York Times.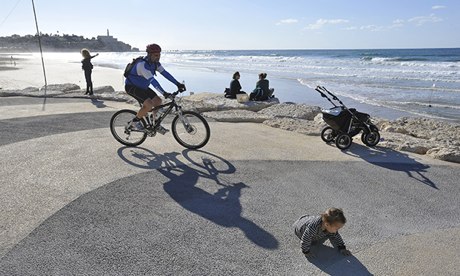 Tel Aviv's flat, wide-open spaces are ideal for cycling. Photograph: Bloomberg via Getty Images
Tel Aviv
It is flat, sunny and boasts a sweeping promenade hugging long golden beaches. There are 120km of cycle paths threading throughout the city, 1,500 public bikes for hire at an hourly rate, and 3,000 bicycle parking slots. Welcome to Tel Aviv, cycling heaven.
That, at least, is the city council's vision. As part of a plan to turn Tel Aviv into a car-free city, it has promoted two-wheel transport, with the introduction two years ago of Tel-O-Fun, an Israeli version of Boris bikes, available for hire at around £8 for two and a half hours. A network of cycle paths has been established along roads and through parks, and an annual city bike ride attracted 20,000 participants in September (though 42 cyclists were injured). Helmets are encouraged, but not a legal requirement.
According to a poll last year, 14% of residents say it's their main form of transport.
But not everyone is in heaven. "A lot of the cycle paths are just painted areas of the pavement, interrupted by bus stops and with pedestrians wandering over them," says Ruthie Pliskin, a PhD student who cycles to university every day. "Even the paved ones along the roads are often blocked by parked cars. They're very narrow, and sometimes it's not even clear which direction you are supposed to cycle."
Despite the city council's efforts, Pliskin says cycling is still a dangerous activity in Tel Aviv. "But it has the potential to be a great cycling city – even if you do need eight showers a day in the summer."
Harriet Sherwood
Drivers rule Los Angeles, yet on balance the city is surprisingly safe for cycling. An expanding network of bicycle lanes is slowly making parts of LA friendlier to two wheels, turning a once eccentric form of transport almost hip.
About two cyclists are killed in traffic-related collisions in LA county each month, out of a total population of 10 million. Per capita, that is a lot better than many other big population centres in the US and elsewhere. The bad news is that 3% of road accident fatalities are cyclists, way above the US's national figure of 1.7%.
Mayor Antonio Villaraigosa became evangelical after he fell and broke his arm swerving from a taxi that cut him off on Venice boulevard in 2010. Within two years the city built 123 miles of new bikeways, nearly eight times the rate of the previous 40 years. There are now more than 430 miles of bike paths across the city. Not all cheered. Hollywood complained that a bright green, 6ft-wide lane, which runs for 1.4 miles through downtown's historic core, ruined the area's utility as an Anytown, USA, location. Worse, camera lights reflected the green on to everything else, including actors' faces.
California's governor, Jerry Brown, rejected a law obliging motorists to give cyclists at least 3ft of room while passing, or slow down. But advocacy groups such as the LA County Bicycle Coalition, and rider packs known as Midnight Ridazz and Wolfpack Hustle, and programmes such as CicLAvia, appear to be slowly winning the argument. LA's new mayor, Eric Garcetti, has pledged to continue bike-friendly policies.
You still need strong nerves to cycle here. About 22 cyclists a year are killed or badly hurt in LA's epidemic of hit-and-runs – there are 20,000 cases annually. Veterans warn that one of the most perilous places is Beverly Hills: few lanes and inconsiderate drivers.
Rory Carroll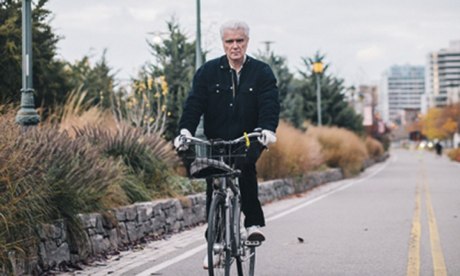 David Byrne riding his bike in New York. Photograph: Sam Polcer
I ride everyday in New York City unless it's pouring rain or snow or the roads are icy – and that's actually not often. I now know where the protected bike lanes are and I will go a block or two out of my way to use them. The protected ones make a huge difference, though the occasional delivery or municipal vehicle parks in them. Even the non-protected lanes – the ones in green and white paint that run alongside the traffic – feel much more secure. Having used bikes in London, I'm used to a lack of road space being allocated to cyclists. But it is, yes, a little scary sometimes back in London.
We used to do scary quite well in NYC, but we've mostly gotten over it. One does have to beware of limo and hire-car drivers who feel they are carrying people more important than us, and watch out for New Jersey plates, as they've rarely seen cyclists and pedestrians where they come from. Bike delivery guys riding the wrong way are another hazard, but maybe they'll fall in line eventually as well. NYC is easy – it's dense and fairly flat. The new bike-share program needs to expand and is already hugely popular. I see men in suits using it, so for me that means the whole thing has passed the tipping point and resistance is futile – best now to figure out how to make it all work.
• This article was amended on 20 November 2013. A reference to deaths in road traffic accidents in Moscow in 2012 was incorrect and has been removed. The article was further amended on 22 November 2013. The earlier version said Malmö "is spending almost 20m Swedish kroner a year (£19m) on various cycling programmes, with at least 400m kroner earmarked for 2012-19". To clarify: the figure of 20m Swedish kroner (which is actually equivalent to about £1.9m, not £19m), was a rough estimate for annual spending on cycling programmes before the start of Malmö's current transport plan.