Laura Laker, 3/3/2014

While 48% of kids want to cycle to school, only 2% actually do. Laura Laker looks at how a school in east London has bucked the trend with as many as 10% of its pupils cycling to school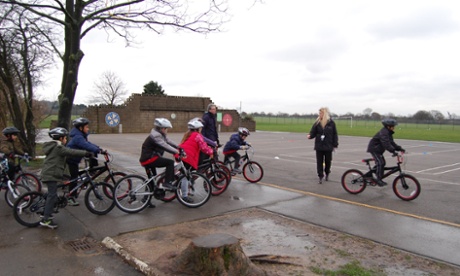 Cycling training for John Bramston primary school students Photograph: /Laura Laker
A straw poll of twelve kids in a playground in Hainault revealed two facts: kids love cycling, and they want to cycle to school. Undoubtedly unscientific, but certainly representative of the reality.
Sustrans revealed this week that record numbers of schools (1,525) signed up to their national cycling to school competition, the Big Pedal, which runs 3-14 March. While 48% of kids want to cycle to school, only 2% actually do.
John Bramston school in Hainault, east London, however, is bucking this trend, with around 10% of its pupils biking to school. Out on a rather cold, wet playground, some of these children weave between cones, on school-owned bikes, and their own. They line up for a slow race and Grandmother's Footsteps. They're learning to cover their brakes, control the bikes and communicate with the other kids - essential road skills.
Their teacher, Kate, tells me they've been excited about this session all week: the school's bike club is the most popular of its array of extracurricular activities, with parents returning bike club permission slips the same day they're sent out.
Mum Sally is among these, her son Harvey an avid bike club member who comes home from sessions, she says, proud of his achievements and keen to tell her about them. However, in the staff room Sally says she's struggling to get her youngest daughter off stabilisers.
Andy Casson, the local Sustrans schools officer, steps in with some advice. "Take the pedals off and let her use it as a balance bike. You might find she gets used to balancing and using the brakes more easily that way - it's the not stopping which causes kids to crash."
Along with several committed Bikeability trained staff members, including the caretaker (or site manager as they're now known), Andy has helped the school develop its successful cycling programme, with advice to parents just part of the support he provides.
Andy says while Bikeability, the UK's national standard of cycle training, is traditionally taught from ages 11-12, kids often don't have the skills they need by this age to get through level one where they learn to control the bike in the playground. He says many parents don't cycle and so kids never learn, but thanks to funding from Redbridge council and Transport for London, at schools like John Bramston primary pupils get a headstart, with sessions like this running from ages five to seven.
Andy says: "We build children up to the point where, when they sign up in years five and six for the borough's Bikeability, they're ready for it. We're creating a cycling culture here."
It is a collaborative staff effort: while the kids weave in and out of cones Lindsey, the school's PSHE (personal social health and economic education) teacher, and one of the driving forces behind the school's cycling programme, tells me about one girl she taught to ride.
"She had come from another country and had never ridden a bike. One hour it took me to teach her. She fell off a few times but she kept getting back on," she said.
"For children who come from another country who don't speak English it is hard for them to excel at first academically so it is great for them to excel at something."
They're certainly enthusiastic. After the session the kids crowd round.
One boy, Maher says: "I like playing the games, we have races and avoiding obstacles and going slow and keeping control of speed."
The school extends the spirit of competition into the classroom via a whiteboard system, run by Lindsey, where children log how they travel to school each day and there's prizes for the class with the most pupils scooting, walking and cycling to school.
On days where bike breakfasts (for those who cycle or scoot in) and doctor bike sessions (where a bike mechanic visits) are run, numbers cycling to school can quadruple. Over time more and more kids start to cycle regularly.
Lindsey said: "I tracked how many bikes there were before, during and after [the big pedal 2013]; there were about 30 per day to begin with and every day during there were more than 100, and the next week there were about 60. The most we had on the last day of the big pedal was 200."
It's not bad for a school of 500-odd children.
Andy said: "When I started with [John Bramston school] about three years ago we were 1%, or just less than 1%, cycling."
"This is one of the really good schools. In our first year my initial champion didn't have the time to give, and then Lindsey came in. Where you get schools that embrace it, over time things start working."
He adds this school is helping lead the way for others in Redbridge and the borough now offers teachers Bikeability training, which means more schools can run ad-lib sessions. Teacher Kate insists her sessions are easy to run. She said: "I'm not a very confident cyclist myself but I can run a session. To other schools who are thinking of doing it, don't think you need to have a Bradley Wiggins, as long as you know the basics. It's so easy to do and the kids love it, and Andy is so supportive."
Sally, like many parents here, sometimes drives part way and the kids cycle the last leg to school on the pavement. Though she wants her and her kids to cycle on the roads, she understandably has concerns about safety. The school's work with active travel has helped reduce some of the rush hour parking scrum at the gates, but the surrounding roads are out of their control.
Sally says: "We can't say we'll ride around the back streets because whichever way you go you're going to end up on a main road at some point."
I ask when she will let her kids ride to school unaccompanied.
She says: "Funnily enough I was thinking of this the other day because I actually am based [here] in Hainault, where I was brought up. I was thinking to myself, 'now, at Harvey's age I'm sure I was riding around the block'. I don't want to let him do that yet!"
"He's got pretty good road sense but there's still that bit of nervousness about when I'm going to let him do it. There are days where we still have that lapse of concentration and you still think: 'no, I can't do that'."