We still love cheap parking and old commute habits.


Eric Jaffe, 19/3/2015
Pix Spotting / Flickr
France got a lot of attention last summer when it announced a pilot program to pay workers to commute by bicycle. The buzz was well-deserved: in offering people money to ride to the office—a modest 25 euro cents a kilometer, or about 43 U.S. cents a mile right now—France took a fresh approach to the stale problem of car reliance. But the results of the six-month trial haven't been shared nearly as widely, perhaps because they're not super impressive.
The French ministry overseeing the trial reports that 419 people agreed to ride to work by the end of it. That's up from 200 cyclists at the start, but it's not a very hefty chunk of the 8,200 or so employees eligible to participate, especially considering that the June–November trial was prime cycling season. And while 19 percent of the new riders switched from driving, most of those had been part of carpools, leaving the true mode shift away from cars closer to 5 percent.
So those are OK results, and France gets lots of credit for innovation here. If it wants to keep paying people to cycle to work, more power to it. But broadly speaking there are two main problems with bribing—or, if you prefer, financially nudging—people to bike to work.
The first, pointed out by transport scholars Ralph Buehler and Andrea Hamre shortly after the French program was announced, is cheap or free parking. Their research has found that when employers offer benefits to all commuters—free parking as well as transit passes and cycling subsidies—the probability that workers will drive alone actually goes up compared to a baseline of no benefits. The only reliable way to get employees out of their cars is to provide alternative benefits while eliminating free spaces.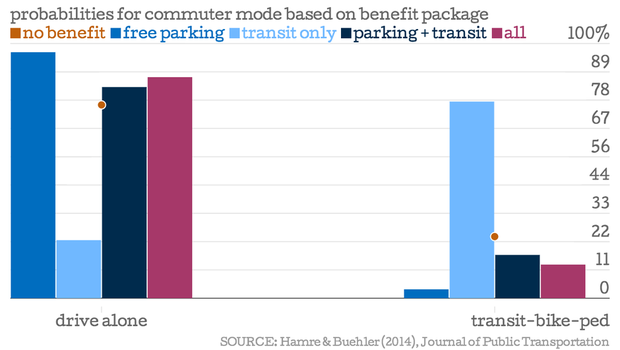 CityLab
The second problem is our stubborn brain. Cognitive scientists now believe that commuting habits (among others) are so fixed and automatic that we aren't making a true mode "choice" every morning after all. But there are certain moments in life where habits become vulnerable, including a change in jobs, and the evidence shows that commuter interventions have the greatest impact when they're targeting to these windows of opportunity.
Again, France's experiment with paying people to ride to work was by no means a failure. Its impact was marginal, but it was marginal in the desired direction, even without much monetary force. But the real discussion officials need to have is about the best use of this limited money. Perhaps those same resources would have done more good expanding bike lanes, or focusing on workers who just changed jobs, or confronting the politically unpopular topic of free parking.
It's certainly necessary to give bicycle riders the same commuter benefits as everyone else. But if the goal is to get people to ride instead of drive, just paying them is far from sufficient.
Source:
citylab.com
---
Related articles
:
France: PAMA, A bicycle kilometric allowance
צרפת: סעו לעבודה באופניים - ותקבלו כסף