Mass event was timed to coincide with Commons debate after transport department junks Get Britain Cycling report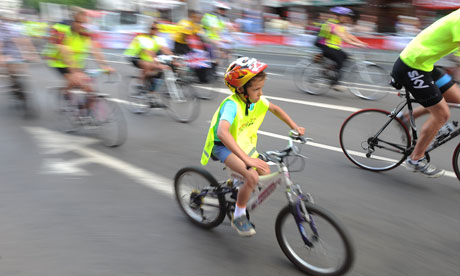 A young cyclist takes part in RideLondon last month, one of several recent events to raise the profile of cycling. Photograph: Tom Dulat/Getty Images
Thousands of cyclists rode slowly past parliament on Monday evening in one of the bigger two-wheeled protests seen in Britain in recent years, timed to coincide with a Commons debate on measures designed to significantly boost cycling around the country.
The protest, organised by the London Cycling Campaign (LCC), will set off from the south bank of the Thames at around 6.30pm, before snaking around Parliament Square. It is hard to predict numbers, but they are expected to be high, with feeder rides joining from several other parts of the capital.
The event, billed Space for Cycling, has two purposes: firstly, to pressure London's mayor, Boris Johnson, into speeding up a programme to make the city's roads more cycle-friendly; and also to remind MPs and ministers in the Commons chamber that there is an appetite for change among two-wheeled voters nationally.
One of those waiting at the start of the protest, Holi-May Thomas, from Brixton in south London, was joining the event on a sturdy sit-up-and-beg bike, wearing a summer dress and no helmet ("I've got a sensible bike but I'm not a sensible girl").
The 27-year-old cafe manager said she rode everywhere but wanted to call for more respect for cyclists on the road: "It can be scary, and there's so many reasons why cycling is good for a city. We all need to be able to share the roads better."
The Commons debate was focused on the Get Britain Cycling report produced by an all-party group of MPs earlier this year, which recommended a series of measures including central targets to boost the proportion of overall journeys made by bike nationally from the currently tiny 2% to 10% and then 25%, and the creation of a "cycling champion" to lead efforts.
Somewhat dispiritingly for supporters of the report, the official Department for Transport response, released last week, rejected the measures listed above, and offered little else in the way of new funding or policies.
Last month David Cameron announced £77m of what was billed as new money for cycling, but Mike Cavenett from the LCC said the overall message from central government was not good. He said: "Once you dig around in the figures a bit you realise they're actually putting less into cycling now than when they abolished Cycling England three years ago. There is not the leadership coming from the prime minister.
"There's a few pilot projects, but the time for pilot projects is over. The evidence is there for cycling, the health benefits, reducing congestion, fixing a lot of problems we have in our cities. It's time for evidence-based policy and putting money into things that work."
Julian Huppert, the Liberal Democrat MP who co-chaired the Get Britain Cycling inquiry with Labour's Ian Austin, said "parts of government still don't get it" on cycling.
Huppert said he was particularly worried about comments from Eric Pickles, the communities secretary, who has in recent weeks called for councils to avoid "anti-car" road humps and high parking charges, and condemned Cambridge for having a pro-cycling policy based on "how some of the elite think we should live".
"I was really surprised by those comments," Huppert said. "Cyclists are not the elite. It's a perfectly affordable thing for everybody to do. To get things done with planning there's a lot that comes from planning, so there's real issues there."
However, Huppert said Monday's debate was still hugely important as it was a formal motion with a vote at the end: "This is a choice for parliament. Parliament could vote for or against it. I hope parliament will vote in favour of it, massively, and that would be a clear statement. This government should listen to it but also any future government."
The Lib Dem conference later this month will debate whether to make the Get Britain Cycling recommendations formal party policy, something other parties could choose to do as well. Huppert added: "The debate is a staging post but it is still very significant."
The LCC and other cycling groups acknowledge that Johnson and his advisers, in contrast, have shown boldness in their plans. The mayor's so-called Vision for Cycling, produced in March, was praised for its ambition, a near billion-pound scheme including projects such as a long, segregated east-west cycling highway, and the creation of several "mini-Hollands" in outer London boroughs.
But Cavenett said more needed to be done: "We've been impressed by the Vision for Cycling, we called it a groundbreaking document. But there's frustration among London cyclists that the mayor has been in charge for five years and very little has actually changed on the streets."
Recent cyclist deaths in London, including one near the notorious Aldgate gyratory near the City, highlighted the urgency, he said. "It's known as a dangerous location, on one of the mayor's flagship superhighways. But at the moment we still don't have a timetable for upgrading that section of the superhighway. One of the core demands is: give us a timetable, tell us what you're going to do."
Andrew Gilligan, a journalist who now works as Johnson's cycling commissioner, said critics had to be realistic: "We're going pretty quickly by local government standards. We don't own 95% of the roads, we have to bring lots of different groups on board, and make sure the schemes work for all vulnerable users, including pedestrians, and we have to get people used to the idea of taking space away from cars and giving it to bicycles.
"It's a big change and you can't just throw it in overnight. The danger is that if you do that there's a backlash and you end up having to take it out again."