New recommendations for building accessible systems suggest more stations in low-income neighborhoods—and more density in general.


Sarah Goodyear, 29/4/2015
AP Photo/Mark Lennihan
News flash: If you want people to use something more, try making it more convenient.
When it comes to bike-share systems, a new analysis from the National Association of City Transportation Officials highlights, the standard for convenience is steeper than it is for some other forms of transportation. Ideally, the authors of a paper on "walkable station spacing" suggest, bike-share stations should be no more than 1,000 feet apart in the area covered, or about a five-minute walk. Creating that level of density—and convenience—is crucial when it comes to creating an equitable bike-share system, NACTO finds.
As bike-share has spread to more than 30 cities around North America, one of the nagging concerns has been equity. Numerous studies have found that bike-share users tend to be more affluent than the average citizen: In Washington, D.C., the percentage of Capital Bikeshare members making more than $100,000 is actually growing. And no one is sure how to close this gap.
Density and convenience are crucial when it comes to creating an equitable bike-share system.
Kate Fillin-Yeh, NACTO's bike-share program director, says that station density needs to be part of the conversation about how to make bike-share more accessible and useful to low-income residents as systems grow around the country. Currently, efforts to improve equity have mostly focused on cost and payment systems—as in Arlington, Virginia, which has taken steps to make memberships accessible to people without bank accounts or credit cards. But if bike-share isn't convenient to use, why would anyone go to the trouble of paying anything at all?
In a recent interview with DNAInfo Chicago, one alderman from the city's South Side voiced his reservations about spotty expansion of the city's Divvy bike system this way: "I mean, where are you going that has another Divvy station? To that extent, I just want to make sure they get good use, that's all. If they're going to be anywhere, they need to be everywhere."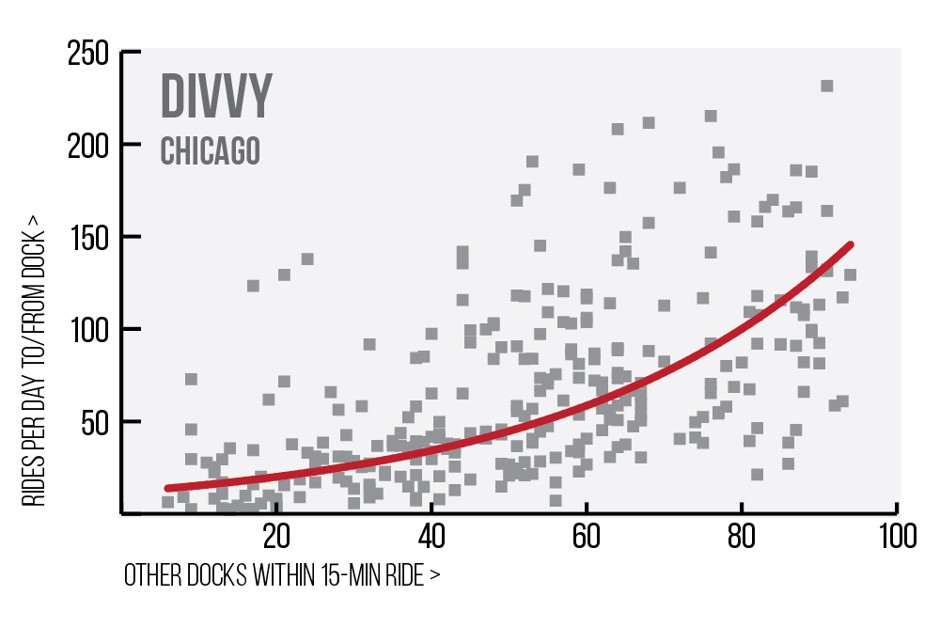 (National Association of City Transportation Officials)
The NACTO paper looks at ridership data and station spacing in five different cities: Minneapolis, Boston, Washington, Chicago, and New York. The researchers found that ridership increases "exponentially" with station density. They also found that in all of the cities except New York, density is not uniform across the network, and lower-income neighborhoods have fewer stations. "[L]ow-income neighborhoods typically have among the lowest density of bike share stations," the report's authors write, "making bike share an inconvenient option for most trips."
Convenience is cited by 59 percent of the New York system's users as the thing they value most about it.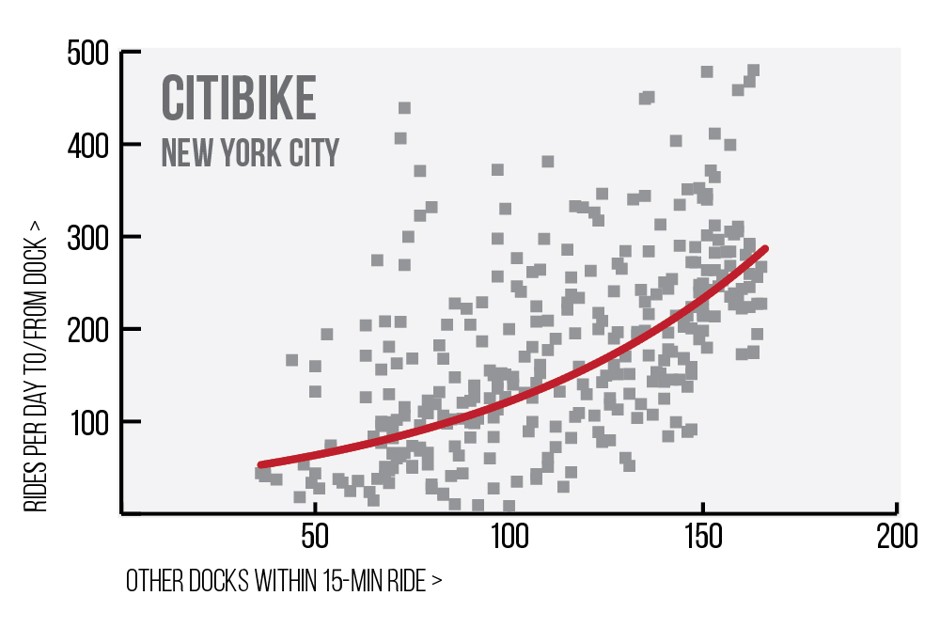 (National Association of City Transportation Officials)
For low-income users, the report points out, the convenience afforded by closely spaced stations may be of even greater importance than it is to others, "as they typically have less spare time and less disposable income than higher-wage earners."
The report also notes that lower-income neighborhoods often lack advanced bike infrastructure, such as protected bike lanes, which tend to increase ridership. But, like adding more bike stations, such infrastructure costs money. And Fillin-Yeh acknowledges that allocation of resources is an issue when it comes to making a system more convenient for all users. "It's all limited by funding," she says. "Having more stations is more expensive."
Station density is key in making bike-share more accessible and useful to low-income residents as systems grow around the country.
In the U.S., New York has so far provided a model for station density within its coverage area. "New York really approached it from the perspective of walkability," says Fillin-Yeh. "It was a very conscious choice in New York to start densely and use that to build success." New York has 23 stations per square mile in the coverage area, and the bikes averaged 5.2 rides per day in the peak season. That compares to four stations per square mile and 3.6 rides per day in Washington, for instance.
But so far, the system includes only the lower third or so of Manhattan and parts of Brooklyn—mostly affluent neighborhoods. New York's transportation commissioner Polly Trottenberg has said the plan is to continue to build out the system at a high density in less wealthy parts of town as expansion goes forward over the next few years.
The latest city to launch bike-share is Philadelphia, and equity has been a focus there since the early planning stages. A third of the system's stations are located in low-income neighborhoods, and the payment system is explicitly designed to accommodate users without credit cards. The approach may provide a model for other cities looking to build ridership across income groups.
Fillin-Yeh says that it's important to remember that modern bike-share systems in the U.S. are very young, dating back only to 2010 in their current form. "It's a learning curve," she says. "Cities want to do it better. I can't think of a single city that doesn't want to get it right."
Source:
citylab.com