As it celebrates its 25th anniversary, sustainability advocate Ceres sets its sights on winning corporate support for the proposed US power plant rules
Marc Gunther, 27/1/2015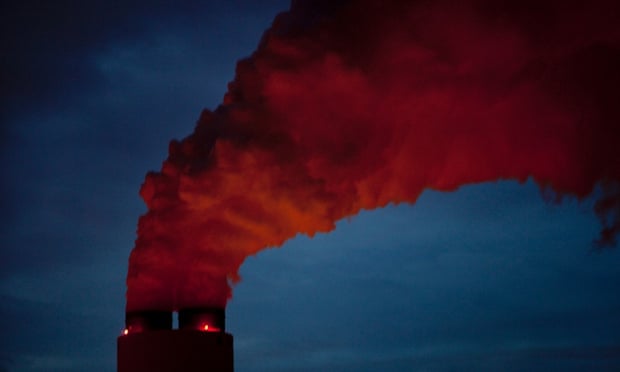 Coal fired plants, such as this one in the US south, pollute the air. The US Environmental Protection Agency wants to cut those emissions. Photograph: Les Stone/Les Stone/Corbis
As the US political fight over climate change moves from Washington DC to 50 state capitals, companies that are serious about sustainability need to support the EPA's proposed rules to curb carbon pollution from existing power plants.
So, at least, says Mindy Lubber, the president of Ceres, a nonprofit that brings together companies, investors and public-interest groups to advocate for sustainability.
"Companies have the strength and power – the footprint to make a huge difference," Lubber told me at a lunch earlier this month. Ceres celebrates its 25th anniversary Tuesday.
It's hard to overstate the importance of the proposed power plant rules, which are the cornerstone of President Barack Obama's climate agenda. Power plants account for nearly 40% of all US greenhouse gas emissions.
The EPA is asking each state to develop a plan to meet federally mandated carbon limits. But 29 of 50 states are now led by Republican governors, most of whom are likely to oppose the new rules. If the EPA effort falls flat, there's no way the US can lead the way to a global climate agreement.
Ceres and Lubber have set out to persuade corporations to support the EPA and the president, and overcome their habitual, instinctive resistance to government regulation. "It is going to be long and tedious and complicated," Lubber admits. "And really hard."
Boston-based Ceres, one of a handful of US green groups to focus on business, has never shied away from complex, unglamorous environmental work.
Formed in 1989 in the wake of the Exxon Valdez oil spill, Ceres has helped make sustainability reporting a common practice, developed best practices for corporate sustainability, promoted corporate buying of renewable power and spotlighted climate risk in the insurance industry, all in an effort to find common ground among capitalists and environmentalists.
"Our mission is to integrate sustainability into capital markets," Lubber says. "And we've never deviated from that."
By some measures, Ceres has had considerable impact. Corporate responsibility reports – an idea birthed by Ceres in the late 1990s – are now widespread.
Increasingly, big mainstream companies – Lubber cites General Electric, PepsiCo, Disney and the Detroit automakers, along with the usual suspects like Unilever and Ikea – regard sustainability and climate change as core business issues that require the attention of top executives and corporate boards.
"The conversation has changed," Lubber says. "It's remarkable."
Ceres' work with institutional investors has made a difference, too. Some investors, particularly those who take the long view, have come to see climate change and water scarcity as financial risks that need to be disclosed and addressed by corporates.
"I can tell you with certainty that the [US Securities and Exchange Commission] would not have mandated the disclosure of climate risk if it had not been for the investors coming to them, petitioning, lobbying," Lubber says, even if compliance with the SEC guidance has been spotty.
Yet Lubber makes clear that neither companies nor investors are moving far enough or fast enough. "We've got to ramp up, materially, investments in clean energy and decrease carbon emissions," she says.
Even among the biggest companies, many of whom have pledged to curb their environmental footprint, carbon emissions are rising at an unsustainable rate. Scientists say emissions need to decline sharply to avoid catastrophic climate impacts.
But instead of shrinking, self-reported greenhouse gas emissions from the world's 500 largest businesses – companies that are often noisy about their sustainability commitments – actually grew by 3.1% between 2010 and 2013, according to a worrisome Thomson Reuters report released last month.
That's why it's important for companies to support the EPA's power plant rules, Lubber says. Mandating that existing power plants cut US carbon-dioxide emissions by 30% by 2030 from 2005 levels would bend the emissions curve downwards.
Last month, Ceres released a statement supporting the rules that was signed by more than 200 companies, many small or midsized. Big firms to sign on included Ikea, Kellogg, Levi Strauss, Mars, Nestle, Nike, Novelis, VF and Unilever.
By contrast, the American Farm Bureau Federation, the America Petroleum Institute, the National Association of Manufacturers, the National Mining Association and the US Chamber of Commerce, which represents many thousands of businesses, have formed a coalition called the Partnership for a Better Energy Future to oppose the EPA rules.
The group says the EPA's rules will raise electricity costs, increase blackouts, destroy jobs and damage America's competitive position in global markets.
It's this kind of position – pitting the environment against the economy – that Ceres and Lubber hope to head off by persuading more companies to speak out about the need for climate action. She holds out hope that business voices can help turn political conservatives' opinions around.
After all, she says, liberals and conservatives alike "would throw themselves in front of a bus to save their grandkid. And we've got this bus coming at us".
The values-led business hub is funded by SC Johnson. All content is editorially independent except for pieces labelled 'brought to you by'. Find out more here.