'If you are physically active in work, the hotter it is, the slower you work'
Ian Johnston
Environment Correspondent ,Tuesday 19 July 2016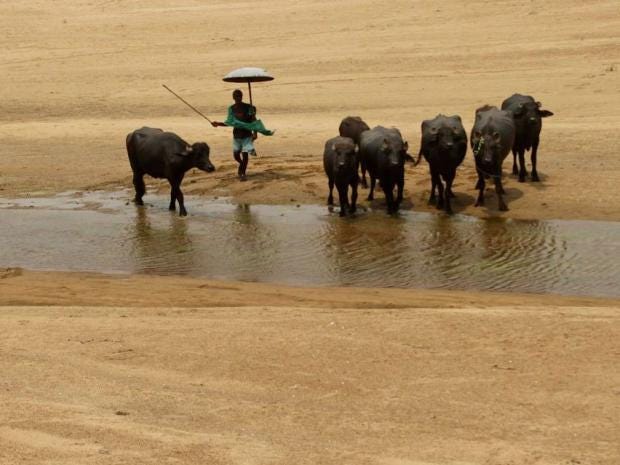 Extreme heat can be fatal, particularly to young and elderly people, but it also causes everyone to slow down, meaning they cannot work as hard
AP
Global warming will cost the world economy more than £1.5 trillion a year in lost productivity by 2030 as it becomes too hot to work in many jobs, according to a major new report.
In just 14 years' time in India, where some jobs are already shared by two people to allow regular breaks from the heat, the bill will be £340bn a year.
China is predicted to experience similar losses, while other countries among the worst affected include Indonesia (£188bn), Malaysia (£188bn) and Thailand (£113bn).
The figures were published in a research paper launched at a forum on how to reduce the risks of severe weather events held in Kuala Lumpur by the United Nations University and UN Development Programme.
Other papers highlighted the risk of increasingly heavy rain helping to spread diseases by expanding insect-breeding sites, driving rodents from their burrows and contaminating freshwater supplies; a decline in air quality caused by fires and dust storms; and more floods, mudslides, drought and high winds.
Dr Tord Kjellstrom, author of the paper on the effect of 'heat stress' on the economy, told The Independent: "The effect of heat on people's daily lives and particular on their work has not been given enough attention.
"If you are physically active in work, the hotter it is, the slower you work. Your body adapts to the heat and in doing that it protects you from the heat.
"For individual countries, even within a short timespan, the losses due to the increasing heat can be in the many billions."
Dr Kjellstrom, of the Health and Environment International Trust in New Zealand, said the increases in temperature until about 2050 were already inevitable.
However he said reducing emissions now could still have a significant impact after that date.
"Beyond 2050, it will make a big difference if we take action now to reduce greenhouse gas emissions globally," Dr Kjellstrom said.
However he said some countries appeared to be planning simply to cope with the coming changes, rather than try to prevent them.
"A lot of countries have focussed in the last few years on adaptation with the impression that we can find methods to adjust to the future changes in climate … and protect people and protect our societies," he said.
"I think personally that the need for mitigation, which means to reduce climate change, has not been given enough focus.
"It's quite urgent because the action needs to be taken now, not 40 years from now."
The Paris climate summit last year was hailed as a success with countries committing to keep the amount of warming as close to 1.5 degrees Celsius above pre-industrial levels as possible. The world has already seen nearly 1C of warming.
However the effect of the actions promised by individual states could allow a rise of 3.1C by 2100.
Anthony Capon, director of the UN University's International Institute for Global Health, said he hoped the research presented at the forum would "help improve understanding … of the threat climate change poses to hard-won advances in human health worldwide".
"It is not clear yet whether considerations of health and sustainability will overrule the press of economic progress in coming decades, and ethical considerations surrounding the right to development are thorny indeed," he said.
"Decisions made today will have a profound impact on health around the world for many decades to come."
In an introduction to the papers, published in a special edition of the Asia Pacific Journal of Public Health, Professor Jamal Hashim and Dr José Siri, both of the UN University, wrote that humanity was facing "substantial health risks from the degradation of the natural life support systems which are critical for human survival". 
But they added: "It has become increasingly apparent that actions to mitigate environmental change have powerful co-benefits for health."
Professor Jamal said the Asia-Pacific region was already seeing more extreme weather events, as predicted by models of climate change.
"It doesn't look like carbon emissions will reduce significantly in the near future too we may be talking about a further increase in global temperature," he said.
"I think we will be seeing more and more of this [extreme storms]. How severe and how extreme is anybody's guess, but we have to be prepared."
However Professor Jamal added that there were some reasons for optimism.
"I think there's less argument now about whether there actually is climate change," he said.
"At last we are over the stage of quarrelling about whether there actually is climate change."