Nearly one-fifth of world cultural heritage sites would be affected by global warming of a further 3C, scientists warn


Adam Vaughan, 5/3/2014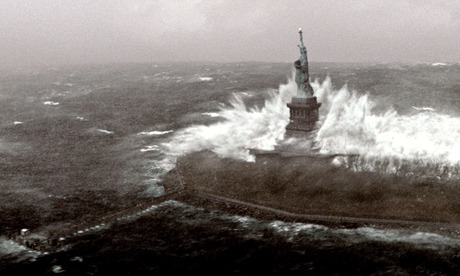 A still from the film The Day After Tomorrow shows the Statue of Liberty being submerged by rising seas. Famous global landmarks will be lost to rising seas caused by climate change, scientists have warned. Photograph: 20th Century Fox/Rex Features
Famous global landmarks including the Statue of Liberty, Tower of London and Sydney Opera House will be lost to rising seas caused by climate change, scientists have warned.
Even with just a further 3C of warming – well within the range to which the UN climate science panel expects temperatures to rise by the end of the century – nearly one-fifth of the planet's 720 world heritage sites will be affected as ice sheets melt and warming oceans expand.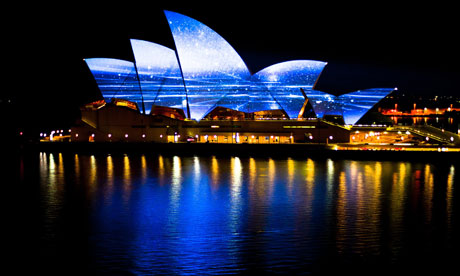 Sydney Opera House could also be affected by rising sea levels. Photograph: Chris Phillips/AFP/Getty Images
The study, published in the journal Environmental Research Letters, looked at how many Unesco sites would be threatened after 2000 years of rising sea levels, but the authors said the first impacts would "definitely" be felt much sooner without action on flood defences.
"It's relatively safe to say that we will see the first impacts at these sites in the 21st century," lead author Prof Ben Marzeion, of the University of Innsbruck in Austria, told the Guardian. "Typically when people talk about climate change it's about the economic or environmental consequences, how much it's going to cost. We wanted to take a look at the cultural implications."
Marzeion said that in Europe, particularly vulnerable sites included the leaning tower of Pisa, which is not directly on the coast but would be affected by sea level rises as a result of even a low temperature increase because it is very low-lying. He also cited Venice, which "in a sense you can say is being impacted right now" and Hanseatic League cities including Hamburg, Lübeck and Bremen in Germany.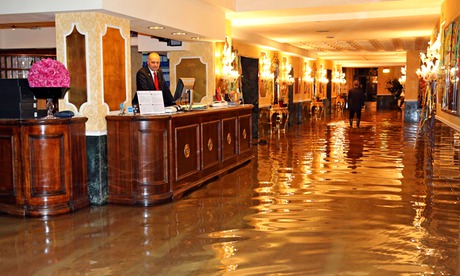 T
he foyer of the Hotel Principe flooded by waters of the Grand Canal, Venice in 2013. The city is 'in a sense being impacted right now,' scientists said. Photograph: Paul Brown/Rex Features
Other sites that would be affected by rising waters include Westminster Abbey and Westminster Palace, as well as the city centres of Bruges in Belgium, Naples in Italy and St Petersburg in Russia, the study says. South-east Asia will have the highest number of people affected by sea level rises, partly because of low-lying, densely populated cities, but also because sea level rises will be the most extreme there.
The UN's climate science panel, the IPCC, said in a landmark report last September that it expects sea level rises of 26-82cm by 2100 although there is no scientific consensus on high rises. There are concerns among some scientists that the IPCC is underestimating sea level rises, with one recent study suggesting global sea levels could rise by as much as 0.7-1.2m by 2100, and 2-3m by 2300.
Marzeion said that by looking at sea level rises over such a long timespan – 2000 years – such short-term uncertainties would be smoothed out. His co-author, Anders Levermann, of the Potsdam Institute for Climate Impact Research, said: "After 2000 years, the oceans would have reached a new equilibrium state and we can compute the ice loss from Greenland and Antarctica from physical models. At the same time, we consider 2000 years a short enough time to be of relevance for the cultural heritage we cherish."
The threat to cultural sites from the sea is likely to be underestimated, the study admits, as it does not take into account temporary rises in sea levels caused by storm surges such as those that battered the east coast of the UK last December. "Essentially those are uncertainties that we cannot quantify, so we made sure we are on the conservative side of the estimates," Marzeion said.
He said the impact on cultural sites brings "an additional dimension" to discussion on climate change, but he does not expect the paper to win over climate change sceptics. "I'm not overly optimistic that culture means more interest in the subject. It's hard to convince people it's a problem if they're not convinced. There appears to be a strong divide between people who feel it is a problem and people who don't."
Source:
theguardian.com