The top 15 emitter countries could make deep cuts to emissions while also tripling economic output, according to the study


Oliver Milman, 10/7/2014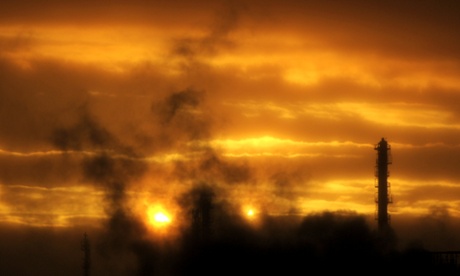 The study notes that Australia has high per-capita emissions. Photograph: Julian Smith/AAP
Australia could slash its carbon emissions to zero by 2050 and still experience average economic growth of 2.4% a year, according to a UN-backed study.

The Deep Decarbonisation Pathways report, released by the UN secretary general, Ban Ki-moon, analysed the 15 countries that account for 70% of greenhouse gases emitted into the atmosphere, which includes Australia, the US, Britain and China.

According to the report, compiled by academics from each of the countries, the 15 countries could make deep cuts to emissions while also tripling economic output.

These cuts are needed, the report notes, if the world is to avoid the "catastrophic" impact of failing to keep to the internationally agreed limit of 2C global warming on pre-industrial levels. The study concedes the world is on track to overshoot this.

The study notes that Australia has high per-capita emissions, with coal-fired power providing 69% of electricity generation, higher than most other industrialised countries.

Despite this dependence on fossil fuels, "fundamental changes" to Australia's energy system could allow it to cut its emissions to zero by 2050 while maintaining economic growth of 2.4% a year, on average. The report points out that Australia's greenhouse gases have remained stable over the past 20 years, while the size of the economy has doubled.

A further UN report in September will set out the monetary cost of a rapid increase in renewables to cut emissions to zero.

But the newly released study plots a path that involves phasing out coal use almost entirely, shifting electricity generation to renewable sources such as solar and wind, and powering vehicles and buildings with clean electricity rather than fossil fuels such as oil and petrol.

Industrial and farming processes that can't use such clean technology would be offset by large-scale storage of carbon in soils and trees.

Anna Skarbek, the executive director of ClimateWorks, which provided input to the report alongside the Australian National University, told Guardian Australia that emissions cuts and economic growth could go hand-in-hand.

"Australia has a higher emissions intensity than other countries, but it also has a huge natural endowment in renewable energy sources," she said.

"Unlike many other countries, we are blessed with multiple renewable sources, as well as a much larger capacity for carbon forestry and biofuels. We can change our focus in energy systems rather than change economic growth. Australia has made successful changes in the past, from gold to wool to wheat, even in the rise of the internet in the past decade."

Skarbek said the transition would need to start soon to help avoid breaching the 2C limit, a temperature guardrail that has bipartisan support in Australian politics.

"The science is clear – we know that the carbon budget is being rapidly used up and will be near zero by the middle of the century," she said. "If we plan now we can achieve the transition in this time."

Frank Jotzo, director of the ANU centre for climate economics and policy, said: "Decarbonisation would mean that the energy system and some aspects of land management look quite different from what they would under a high-carbon scenario.

"But for every declining technology there are new opportunities arising, and most of the economy would simply motor on. Cleaning up the world's energy system does not stand in the way of economic prosperity."

The Australian government has a minimum target of a 5% cut in carbon emissions by 2020, based on 2000 levels. Governments will gather in Paris next year to thrash out their emission cut commitments beyond 2020.

A spokesman for the environment minister, Greg Hunt, said: "The government will review Australia's 2020 target in 2015, considering further action and targets on the basis of comparable real global action."
Source:
theguardian.com