ידיעות/עדכונים התחממות
הירשם לפרסומים
Michael Mann, Climate Reality Project, 4.1.2018

World-renowned climate scientist Dr. Michael Mann explains why the bitter cold and snowy conditions gripping the US are "an example of precisely the sort of extreme winter weather we expect because of climate change."
The US East Coast is experiencing an "old-fashioned" winter, with plenty of cold weather and some heavy snowfall in certain places. Listening to climate contrarians like President Donald Trump, you might think this constitutes the death knell for concern over human-caused climate change.
Yet, what we were witnessing play out is in fact very much consistent with our expectations of the response of weather dynamics to human-caused climate change.
Dr. Michael Mann on Extreme Weather: "We Predicted This Long Ago"
Let's start with the record five-plus feet of snowfall accumulation in Erie, Pennsylvania, in late December. Does this disprove global warming? "Exactly the opposite," explains my colleague, Dr. Katharine Hayhoe of Texas Tech University. 
Global warming is leading to later freeze-up of the Great Lakes and warmer lake temperatures. It is the collision of cold Arctic air with relatively warm unfrozen lake water in early winter that causes lake effect snows in the first place. The warmer those lake temperatures, the more moisture in the air, and the greater potential for lake effect snows. Not surprisingly, we see a long-term increase in lake effect snowfalls as temperatures have warmed during the last century (see figure below).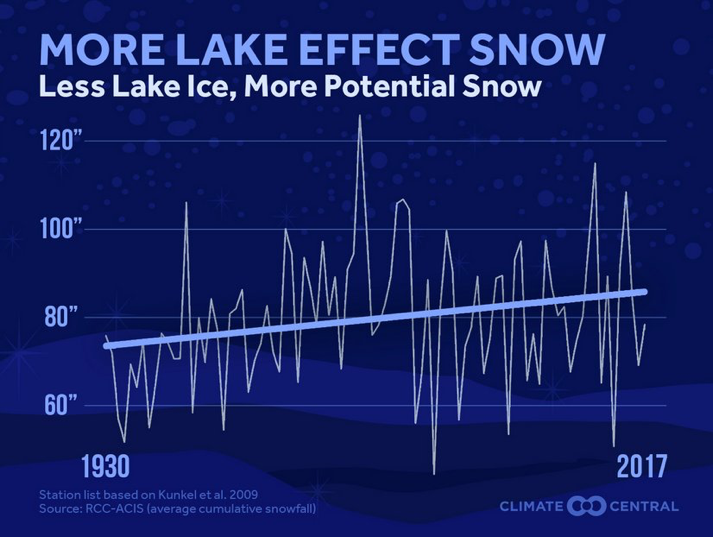 How about those frigid low temperatures back east this winter? Surely that extreme cold must disprove global warming?
Once again, the claim is misguided. While we have seen some daily all-time lows for a smattering of locations in the US, these pale in comparison with the number of all-time highs we've seen over the past year. In fact, the record highs have outpaced the record lows 61 to seven, i.e. nine times more often (see table below), consistent with what we expect to see as the globe continues to warm.

Moreover, while we've seen some cold weather in the eastern half of the North America (see the pattern for New Year's Day below), the western half of North America has been unusually warm. Indeed, most of the Northern Hemisphere, and the globe overall, have been unusually warm. That's why we call it global warming, folks.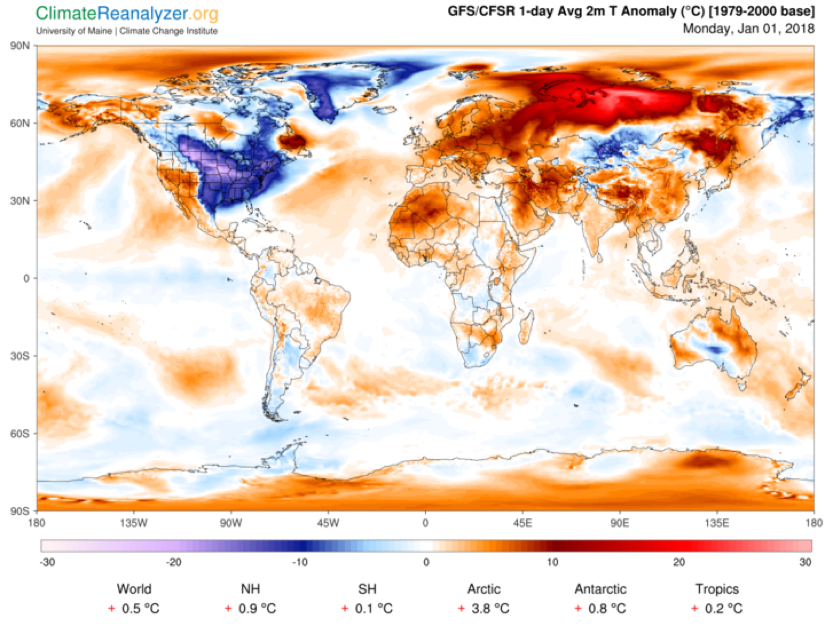 (Image obtained using Climate Reanalyzer, Climate Change Institute, University of Maine, USA)
But what about this pattern of cold in the eastern US and warm in the western US? This so-called "dipole" pattern has become more common in recent winters, and recent research suggests that climate change may be favoring this contrast in temperature by causing the jet stream to meander in a particular pattern, with an upward meander or "ridge" in the west bringing warm air up from the south and a downward meander or "trough" in the east, bringing cold air down from the north. Some scientists think that the dramatic loss of sea ice in the Arctic may be favoring this jet stream pattern.
Finally, the news is abuzz today with an impending "massive Nor'easter," a "bomb cyclone" that is "set to explode" in the days ahead (see plot below). This isn't just hype. The National Weather Service has warned that "this rapidly intensifying East Coast storm will produce strong, damaging winds — possibly resulting in downed trees, power outages, and coastal flooding."
With a central pressure forecast to drop very low (see plot below), the storm will threaten the record set by unprecedented 2012 Superstorm Sandy as the lowest surface pressure ever measured in the North Atlantic north of Cape Hatteras (the central surface pressure of a storm is one measure of its strength).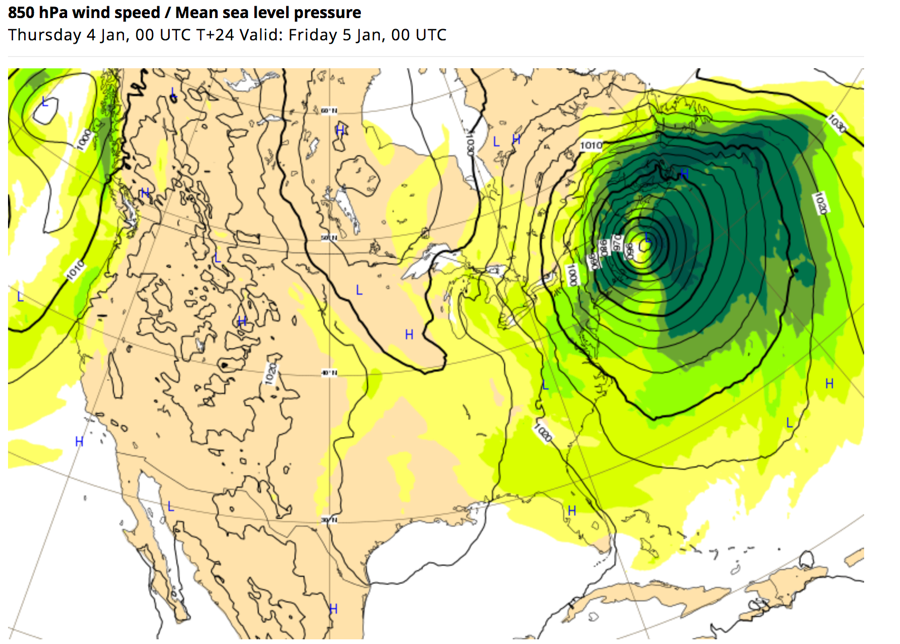 (© 2018 ECMWF cc by nc nd 4.0)
Surely such a massive winter storm, with its promise of bitter cold winds and potentially heavy coastal snowfalls, must be evidence against the climate crisis?
Once again, rather the opposite is true. East Coast winter storms, known as "nor'easters" because of the unusual northeasterly direction of the winds as the storm spirals in from the south, are unusual in that they derive their energy not just from large contrasts in temperature that drive most extratropical storm systems, but also from the energy released when water evaporates from the (relatively warm) ocean surface into the atmosphere.
This is a characteristic that these storms share with tropical storms and hurricanes. The warmer the ocean surface, the more energy that is available to intensify these storms. And the warmer the ocean surface, the more moisture there is in the atmosphere – moisture that is available to form precipitation. As the winds wrap around in a counter-clockwise manner, they bring all of that moisture northwest, where it is chilled and ultimately falls not as rain but snow. Lots of snow.
Dr. Michael Mann on Climate Denial: "It's Impaired Our Ability to Move Forward"
As the oceans continue to warm, cold Arctic air masses collide with increasingly warm Atlantic Ocean waters. That means larger temperature contrasts and potentially stronger storms. But those warmer oceans also mean more moisture in the atmosphere, even more energy to strengthen the storm, and the potential for larger snowfalls.  We might, if you'll forgive the pun, call this a "perfect storm" of factors for intensification.
Indeed, climate model simulations indicate that we can expect more intense nor'easters as human-caused climate change continues to warm the oceans.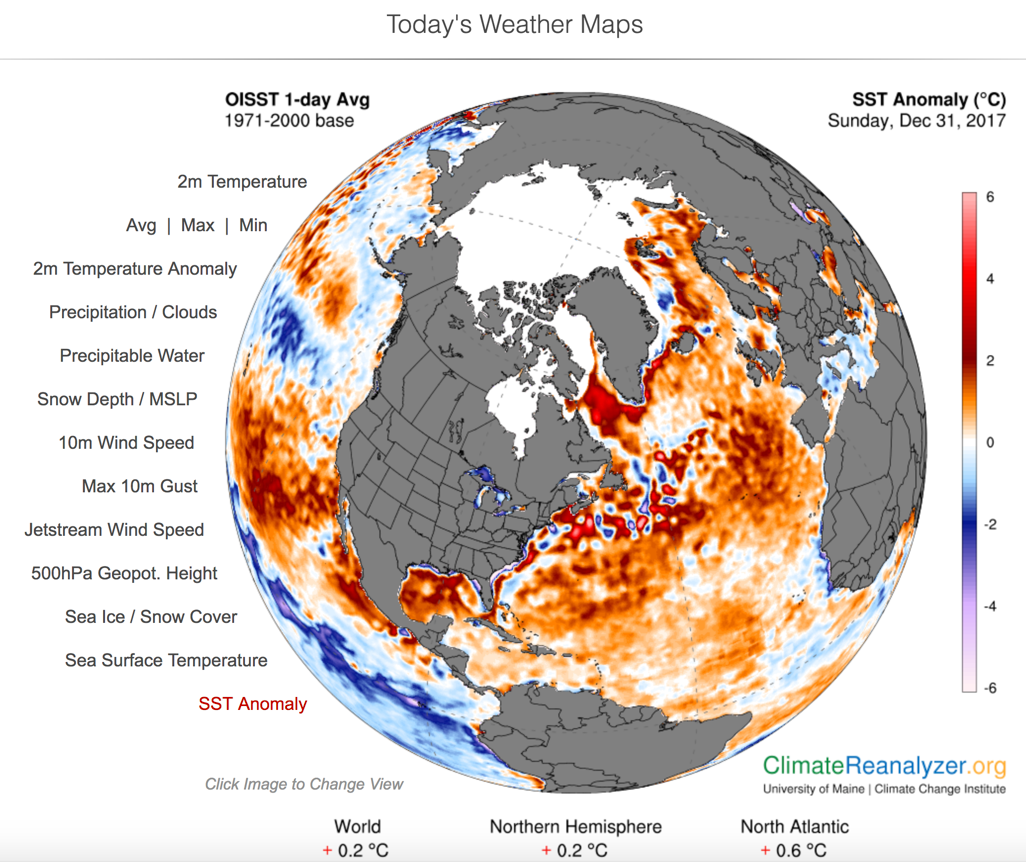 (Image obtained using Climate Reanalyzer, Climate Change Institute, University of Maine, USA)
This leads us back to the current strengthening storm. The entire North Atlantic is unusually warm right now (+0.6 degrees Celsius) relative to the already-globally-warmed late twentieth century (1971-2000) average, and there are large patches of ocean water off the US East Coast that are 2-4 degrees Celsius above that average. The storm will be encountering that exceptional ocean heat as it travels northward along the US coastline, and that is part of why it has a very good chance of becoming the most intense nor'easter we've yet observed.
So, to the climate change doubters and deniers out there, the unusual weather we're seeing this winter is in no way evidence against climate change. It is an example of precisely the sort of extreme winter weather we expect because of climate change.
מחקר חדש שנערך במכון ויצמן עקב אחרי מסלולי הסערות המצפינים כתוצאה מההתחממות הגלובלית ■ המסקנה: רצועת המדבר מתרחבת צפונה ותבלע בעתיד הלא רחוק את רובה של ישראל
בשנה החולפת, לראשונה בחייו, עבאס גאנדי שקל להפסיק לעסוק בחקלאות. "זו הייתה שנה איומה", הוא אמר לאחרונה לאנשי IRIN - ארגון שמסייע במצבי משבר בעיקר בעולם השלישי. "במקום לקבל לפחות 200 שקים של יבול, קיבלתי השנה רק 30-25 שקים". גאנדי, בן 68 ואב ל-13, חי בכפר קטן במדינת סוקוטו בצפון ניגריה, סמוך למדבר הסהרה. כמות המשקעים השנתית הממוצעת באזור עומדת על פחות מ-600 מילימטרים, לעומת יותר מ-3,500 מילימטרים לאורך החוף הדרומי של המדינה, הסמוך לקו המשווה.
11 מדינות בצפון, כולל סוקוטו, נמצאות בשנים האחרונות בסכנה הולכת ומחמירה של מדבור- תהליך שגורם למערכות אקולוגיות להתייבש ולאבד את יכולתן להניב יבולים ומאיים על מטה לחמם של מיליונים. חוקרים אף רואים בו את אחד הגורמים המרכזיים לאי היציבות של אפריקה בשני העשורים האחרונים - זו שמייצרת סכסוכים אלימים ודוחקת מיליונים לשים את נפשם בכפם ולהצטרף לגל ההגירה העצום לאירופה.
בניגריה, המדינה המאוכלסת באפריקה, המצב חמור במיוחד. האזורים שסובלים מתהליך המדבור מהווים כ-35% משטחה הכולל של המדינה, ולצד תפקיד המפתח שיש להם באספקת יבולים כמו שעועית, פולי סויה, דוחן, דורה, עגבניות, מלונים, פלפלים ובצל, הם מפרנסים כ-40 מיליון בני אדם.
בעוד שבעבר סברו חוקרים כי תהליך המדבור נובע בעיקר מפעילות אנושית ברמת השטח, דוגמת השקיה לא אחראית, בנייה מוגזמת וגידול כמויות מופרזות של בעלי חיים - בשנים האחרונות מתגבשת הסכמה כי הסיבה העיקרית לתהליך היא ההתחממות הגלובלית. כך למשל, לפני כ-12 שנים, כשהמשרד לאיכות הסביבה בספרד פרסם דוח חמור ובו הזהיר שהאקלים המדברי של הסהרה צפוי לדלג מעל הים התיכון ולהפוך לא פחות משליש משטח המדינה לצחיח, תוארה ההתחממות הגלובלית רק כאחת מהסיבות לתהליך.
באותם ימים, ב-2005, חשבו הספרדים שהתחממות כדור הארץ ובניית תשתיות השקיה גדולות הן פשוט עוד שני גורמים משלימים לסיבות האמיתיות לתהליך המדבור: עדרי בקר שמחסלים שטחי מרעה ענקיים ותעשיית תיירות שמביאה לבנייה מאסיבית. ספרד הקצתה סכום של 50 מיליון אירו כדי להילחם במדבור שלה, אולם בשנים שחלפו מאז התברר כי המאמצים הספרדיים לא הצליחו למנוע את ההתייבשות.
באוקטובר בשנה שעברה פורסם מחקר שבו נקבע שאם לא יחול שינוי דרמטי בקצב פליטת גזי החממה ובהתחממות האקלים שנובעת ממנו, יהפוך כל דרום ספרד למדבר עד סוף המאה הנוכחית. הפעם המדענים כבר לא האשימו גורמים אחרים בתהליך. ההתחממות הגלובלית תוארה כסיבה המרכזית לתרחיש שצפוי להשפיע על מיליוני בני אדם.
בעיית המדבור כמובן שאינה ייחודית לספרד ולניגריה. בחצי הצפוני של כדור הארץ, האקלים במדינות שנמצאות בקו הרוחב של ספרד ומתחתיו - בהן כמובן גם ישראל - הולך ומשתנה בעשרות השנים האחרונות. יורד בהן פחות גשם, האוויר בהן יותר חם ויבש, ופני השטח - ועמו חייהם של האנשים - משתנים בהתאם, ולא לטובה. כיצד זה קורה ומדוע? מחקר שפרסמו לאחרונה פרופ' יוחאי כספי וד"ר טליה תמרין-ברודסקי מהמחלקה למדעי כדור הארץ וכוכבי הלכת במכון ויצמן, מתאר לראשונה את המכניזם.
"הממצאים שלנו עולים בקנה אחד עם התחזיות שמדברות על התרחבות צפונה של רצועת המדבריות", אומר כספי שכיום נמצא בשנת שבתון בחו"ל. "שינוי של אפילו מעלת רוחב אחת אומנם לא נשמע דרסטי, אך עשויה להיות לו השפעה אזורית רבה, וכבר היום רואים שאזורים שהיו יבשים קודם נהיים יבשים עוד יותר. במונחים מקומיים זה אומר שהאקלים של מצפה רמון יעלה לבאר שבע, האקלים של באר שבע ישרור בתל-אביב, והאקלים של תל-אביב יגיע לקריית שמונה".
"ישראל נמצאת בקו המעבר בין המדבריות לבין האזורים הממוזגים", מסבירה תמרין-ברודסקי. "הזרימה הכי בסיסית באטמוספירה היא כשהאוויר החם שבקו המשווה עולה, נע לכיוון הקטבים ואז יורד פחות או יותר בקו הרוחב 30 - שזה בערך איפה שאנחנו. כשהאוויר יורד, הוא יבש והוא יוצר מדבריות, וזו הסיבה שיש בכל העולם פחות או יותר רצועות של מדבריות בקו הרוחב הזה. המודלים שלנו מראים לנו שהתא הזה מתרחב בכמעלה, במקביל לתנועה של הסופות צפונה יותר".
"כל אזור יגיב אחרת לגמרי"
איך מתרחשת התרחבות הרצועה המדברית? במחקרם, מצאו פרופ' כספי וד"ר תמרין-ברודסקי כי שורש התופעה טמון בהתחממות הגלובלית שגורמת למסלולי הסערות, שמקיפים את כדור הארץ, לנוע צפונה ודרומה, לכיוון הקטבים. מכיוון שמסלולי הסערה משפיעים על התפלגות הטמפרטורה, המשקעים והרוח באזורים החוץ-טרופיים - כלומר אלו שמעבר לקו הרוחב 30 - תזוזה שלהם לצפון או לדרום צפויה להביא לשינוי משמעותי ביותר בכל הפרמטרים הללו באותם אזורים.
Climate Reality Project

This is history in the making. As of November 4, the Paris Agreement – the first truly global agreement to fight climate change – is finally in effect.
The big players — the US, China, India, Canada, Brazil, and numerous European nations — are all in. Small nations like Madagascar and Antigua and Barbuda are in. And almost every day, more countries in between join them. With the world united like never before, it's time to stop talking about the crisis and start working together to solve it.
It's time for our leaders to honor – and strengthen – their commitments to climate action. It's time to drop dirty fossil fuels and power our lives and economies with affordable clean energy. Because now a bright, sustainable future for our planet is finally in sight – and it's time to make it a reality.

Katherine Marinko, Treehugger, September 23, 2016
CC BY 2.0 Michael Allen Smith
Don't take your morning cup of coffee for granted. It may not be around in a few decades, according to a new report.
Coffee is one of the world's most beloved beverages, but it may not be around much longer. According to a new report released by Fairtrade Australia and New Zealand, coffee is severely threatened by climate change, and the amount of land suitable for coffee production could decrease by 50 percent as soon as 2050.
While the report contains little new research, it pulls together recent studies, research, and graphics on coffee production and climate change into a single document, outlining a situation that looks very dire for coffee producers and drinkers alike.
Arabica coffee beans, the preferred type, do best at moderate tropical temperatures of 18-21°C (64-70°F). Robusta, the other most common variety, is more resistant to temperature but of lower quality. All coffee grows in the so-called "Bean Belt," which wraps around the circumference of the planet and comprises 70 countries, including Vietnam, Brazil, Colombia, Tanzania, Ethiopia, and Central American nations. Coffee is the second most valuable commodity exported by developing nations, so any decrease in exports would be a huge economic blow, not to mention a loss of important jobs among many of the world's poorest laborers and farmers.
A Brewing Storm report/Screen capture
Already climate change is causing trouble for coffee farmers. With warmer, wetter weather overall, growers are experiencing infestations such as coffee leaf rust and the berry borer in high-altitude locations that used to be unsuitable to such pests. Hot spells and cold snaps are killing crops; the Brazilian state of Minas Gerais lost one-third of its yield in 2014 due to drought. From the report:
"Even half a degree at the wrong time can make a big difference in coffee yield, flavour, and aroma. Around the Bean Belt, rising minimum growing temperatures, changes in rainfall patterns, and rising pest and disease incidence, are already making life harder for coffee farmers."
Some countries will become unsuitable for coffee production altogether, such as Mexico, which is projected to be unviable by the 2020s. The report says that most of Nicaragua will lose its coffee zone by 2050, and Tanzanian Arabica will reach critically low levels by the 2060s. There are regions that could benefit from the changing climate by becoming coffee growers, such as the highlands of East Africa, Indonesia, Papua-New Guinea, and the Andes, but these would still be affected by more extreme and unpredictable weather. Additional expansion would result, too, in the destruction of more forests to make way for new plantations.
© K Martinko -- A smallholder coffee plantation in the hills outside San Pedro Sula, Honduras
The New York Times cites Doug Welsh, vice-president at Peet's Coffee and a board member at World Coffee Research:
"[Climate change] is a severe threat. It's anecdotal, but I don't know any coffee farmers who don't believe that their weather, and with it their disease and productivity issues, have changed dramatically over the last decade."
As the Fairtrade report points out, most of the world's 25 million coffee workers are poor, uneducated, disorganized, and slow to implement best practices on their small farms. They live in economic situations that are already dangerously fragile, with an oversaturated market with highly volatile prices. All of this means that they have little capacity to build resilience.
"Coffee labourers in tropical countries are among those most exposed to heat strain and heat stroke – a situation certain to worsen… Warmer, moister conditions also favour the spread of mosquito-borne diseases like malaria. Drought, on the other [hand], is associated with a deep and disturbing sense of failure, loss, powerlessness, heightened anxiety, stress, depression, and an increased suicide rate among farmers."
© K Martinko -- A coffee grower's humble home near San Pedro Sula, Honduras
What's a coffee lover to do?
Learn what the issues are facing coffee growers worldwide. (Read the full report here.) Be sure to buy coffee that has been fairly traded (some companies offer carbon-neutral, too), because then you know that the workers are receiving a fair return for their work and are part of an organization that supports them and will help them to implement strategies for climate change resistance.
מאת ג'ון הנלי, גרדיאן, 29/9/2016
מומחים חוששים כי מתחם סודי ביותר של צבא ארה"ב משנות המלחמה הקרה ובו פסולת רעילה, שנחשב קבור לעולמים מתחת לכיפת הקרח בגרינלנד, ייחשף בתוך כמה עשורים בשל ההתחממות הגלובלית
מתחם סודי ביותר של צבא ארה"ב משנות המלחמה הקרה ובו פסולת רעילה, שנחשב קבור לעולמים מתחת לכיפת הקרח בגרינלנד, ייחשף בתוך כמה עשורים בעקבות עליית הטמפרטורות הגלובלית - כך חוששים מומחים.
ב–1959 מיקם חיל ההנדסה האמריקאי את Camp Century כ–200 קילומטרים מחופה של גרינלנד, שהיתה שייכת בזמנו לדנמרק. את האנרגיה במתחם, שכונה "העיר שמתחת לקרח", סיפק הגנרטור הגרעיני הנייד הראשון בעולם. היתה זו רשת של מנהרות שנחפרו בעומק של שמונה מטרים מתחת לקרח ושכללו מעבדות, חנות, בית חולים, אולם קולנוע, כנסייה ואזור מגורים לכ–200 חיילים.
המטרה הרשמית של הפרויקט היתה לחקור שיטות בנייה ארקטיות ולבצע מחקרים. החוקרים שהוצבו במחנה קדחו ושלפו את דגימות הקרח הראשונות ששימשו בחקר אקלים כדור הארץ. הנתונים שנאספו עדיין משמשים במחקרים עד היום, אומר ויליאם קולגאן, חוקר אקלים וקרחונים מבית הספר להנדסה באוניברסיטת יורק בטורונטו, שהוביל את המחקר.
למעשה שימש המחנה מסווה לדבר שונה לגמרי — פרויקט כה עצום וכה סודי, עד שאפילו ממשלת דנמרק לא עודכנה על קיומו. "הם חשבו שהוא לא ייחשף לעולם", אומר קולגאן. "באותם ימים, בשנות ה–60, עוד לא נטבע המונח התחממות גלובלית. אבל האקלים משתנה, ועכשיו נשאלת השאלה אם מה שנמצא שם אכן יישאר שם".
פרויקט "תולעת קרח", שהוצג בפני מפקדי צבא ארה"ב בשנת 1960, נועד לנצל את המנהרות לבדיקת היתכנות של הקמת אתר שיגור עצום מתחת לקרח, שממנו ניתן לשגר טילים גרעיניים ישירות לברית המועצות.
בשיאה של המלחמה הקרה, בעיצומו של משבר הטילים בקובה, שקל צבא ארה"ב לבנות הרחבה עצומת מימדים של מתחם Camp Century התת־קרקעי. בין השאר תוכננה רשת מנהרות קרח תת־קרקעיות וחללים פנימיים באורך של כ–4,000 קילומטרים, המשתרעת על פני שטח הגדול פי שלושה משטחה של דנמרק. המתחם היה אמור לאחסן 600 טילים בליסטיים המכוונים אל מוסקבה וסביבותיה בקבוצות המרוחקות שישה קילומטרים זו מזו. בסופו של דבר התברר שהפרויקט אינו בר־ביצוע. תנועתו התמידית של הקרח הפכה את המתחם כולו לבלתי יציב, והיה חשש שהמנהרות עצמן יתעוותו ואף יקרסו.
אחרי 1964 היה Camp Century בשימוש רק מדי פעם. כעבור שלוש שנים ננטש המחנה לגמרי. החיילים שעזבו נטלו עמם את כור ההפעלה של הגנרטור הגרעיני. הם הותירו במקום את תשתית המחנה וגם פסולת ביולוגית, כימית ורדיואקטיבית, שהיתה אמורה "להשתמר לעולמי עד" תחת הקרח והשלג המצטברים במקום.
ואמנם, זה היה המצב עד כה. שכבת הקרח המכסה את המחנה, שעומקה היה 12 מטרים ביום שהאתר ננטש, עבתה מאז והגיע לכ–35 מטרים, והיא תמשיך ותצטבר.
ואולם, נראה שהשינויים האקלימיים יהפכו את התהליך על פיו, כך נטען בדו"ח שפרסמו קולגאן וששת אנשי צוותו, מדענים מאוניברסיטאות בקנדה, בארה"ב ובאירופה. תוצאות מחקרם פורסמו בחודש שעבר בכתב העת Geophysical Research Letters.
הטמפרטורות בגרינלנד הגיעו לשיא באביב ובקיץ השנה. ביוני נרשמו בנוק הבירה, 24 מעלות, לתדהמת המטאורולוגים המקומיים. בין השנים 2003 ו–2010 נמס הקרח המכסה את רוב היבשת במהירות הגדולה פי שניים מהמהירות שבה נמס במאה ה–20 כולה.
מקור: הארץ
Natasha Geiling, 28.9.2016
The Mauna Loa Observatory atmospheric research facility has been measuring atmospheric concentrations of carbon dioxide since the 1950s. CREDIT: AP Photo/Chris Stewart
The world just passed a longstanding climate marker, further proof that atmospheric concentration of carbon dioxide has changed in a stunning, measurable way since the Industrial Revolution.
Put another way: Children born today will likely never live in a world where the atmospheric concentration of carbon dioxide is less than 400 parts per million — a 42 percent increase from pre-industrial levels.
Atmospheric concentrations of carbon dioxide — the amount of carbon dioxide molecules present in the atmosphere relative to everything else — have been measured continuously since the late 1950s, when Charles Keeling first devised a unique method of sampling carbon dioxide from the air. His measurements — first taken on top of the Mauna Loa volcano on the Big Island of Hawaii — eventually lead to the Keeling Curve, which some scientists have called "an icon of modern science." The curve shows the rapid increase in atmospheric carbon dioxide since Keeling began taking measurements almost half a century ago.
The Keeling Curve. CREDIT: WIKIPEDIA
When Keeling first began taking measurements, atmospheric carbon dioxide measured at about 310 parts per million, meaning that carbon dioxide made up about .03 percent of the Earth's atmosphere. That was already a marked increase from preindustrial levels, when atmospheric carbon dioxide measured about 280 parts per million.
But that number has been rapidly increasing. In the late 2000s, climate scientist James Hansen argued that the world needed to stay below 350 parts per million to avoid the worst impacts of climate change (his warning is what gave 350.org, the global climate activism group, its name). Three years ago, Earth's atmospheric carbon dioxide levels first exceeded 400 parts per million, but those levels quickly dipped back below the threshold, as atmospheric carbon dioxide waxes and wanes with the seasons.
Which is why the fact that atmospheric carbon dioxide is still above 400 parts per million at the end of September is a worrying fact: September is usually the time when concentrations are at their lowest, as trees in the Northern Hemisphere have grown all summer, sucking carbon out of the atmosphere. In a blog post, Ralph Keeling, current head of the Scripps carbon dioxide measurement program and son of Charles Keeling, wrote that it is "almost impossible" that CO2 levels will drop below 400 in October.
"Concentrations will probably hover around 401 ppm over the next month as we sit near the annual low point," he wrote. "Brief excursions towards lower values are still possible but it already seems safe to conclude that we won't be seeing a monthly value below 400 ppm [parts per million] this year — or ever again for the indefinite future."
Realistically, crossing the 400 ppm threshold won't result in any immediate climate consequences for the world — when levels climbed above 400 parts per million last year, climate scientists told ClimateCentral that the threshold is more symbolic than a physical trip line that will instantly trigger more massive storms or sea level rise.
"It already seems safe to conclude that we won't be seeing a monthly value below 400 ppm this year — or ever again for the indefinite future."
"As a scientist, the difference between 399 ppm vs. 401 ppm is negligible," Katharine Hayhoe, atmospheric scientist at Texas Tech University, said at the time. "As a human, though, passing both the 400 ppm and (potentially) the 1°C threshold within such a short time period makes it clear we are already living in a different world. We have blown past targets that were being considered as viable when I entered graduate school. We have significantly reduced the options available to us in the future."
If nothing else, crossing the 400 parts per million threshold permanently is proof that humans — through the burning of fossil fuels — have had an incredible influence on the planet, and are actively shaping the world that we live in today. In addition to passing the 400 ppm line, the planet has seen historically high temperatures in recent months, with August capping of a 16-month streak of record hot months.
Meanwhile, the Republican presidential candidate still ignores the dangers of climate change and consistently threatens to roll back the majority of U.S. domestic climate policy, as well as pull the United States out of the historic Paris climate deal.
מאת רויטרס, 14/9/2016
הסופה, הנחשבת לעוצמתית ביותר בעולם השנה, פוקדת את דרום האי וגרמה לנזק כבד ולחמישה פצועים. "לא ניתן להתחמק מאבדות בנפש", אמר ראש מרכז החריום. מחר תגיע הסערה לדרום סין
סופת הטייפון העוצמתית ביותר שפקדה את העולם בשנה הנוכחית הגיעה היום (רביעי) לטייוואן, וגרמה עד כה לנזק רב ולחמישה נפגעים, כמו גם ליותר מחצי מיליון בתי אב שנותרו ללא חשמל. השירות המטאורולוגי צופה כי הסערה, המכונה "מראנטי" ונושאת עמה רוחות בעוצמה של 227 קילומטרים בשעה, תמשיך להכות בדרום ובמזרח המדינה עד מחר, ולפי הרשויות, היא עשויה לגרום לאבידות בנפש.
"הנזק מ'מראנטי' ימשיך לעלות בזמן שהסופה מכה באי", אמר דובר מרכז החירום במדינה. "לא ניתן להתחמק מאבדות, אך אנו ננסה לצמצמן", הוסיף. עד כה פונו כ-1,500 איש מדרום האי, שירות הרכבות והספנות שובש, ובתי ספר והמשרדים בדרום נסגרו. כמו כן, רוב טיסות הפנים בוטלו והטיסות הבינלאומיות שובשו קשות באזור.
לכתבה (כולל סרטון וידאו):
https://news.walla.co.il/item/2997428
Climate Reality Project
9.9.2016

WE GET IT: SCIENCE IS COMPLICATED.
But understanding that our planet is steadily warming – fundamentally changing shorelines, increasing extreme weather strength and frequency, and altering nearly every natural pattern on Earth – is easy.
Yet despite this, as climate activists, we're often confronted with the same misinformation about climate change that has been disproved time and time again. That's why we've created our e-book, The 12 Questions Every Climate Activist Hears and What to Say, where we detail the most common misconceptions and arguments against the reality of man-made climate change – and simple ways to explain why they're totally wrong
In this free e-book, we teach you how to answer the most common questions every climate activist hears, including:
How do we know it's because of us, and not a natural cycle or the sun?

How can scientists predict climate change if they can't always predict the weather?

What about the "global warming pause"?

Is it too late to do anything?

How can the Earth be getting warmer if it's cold out today?


And more
As a climate activist, you already know the climate is changing and we need to do something about it. We hope this e-book provides clear answers to these confusing questions. 
Thanks for all that you do to protect our planet, 
- Your friends at Climate Reality
By LISA FRIEDMAN OCT. 23, 2017
Members of the Wyoming Hot Shots firefighting crew battling the Lizard Fire near Willcox, Ariz., in June.
Credit

Kyle Miller/Wyoming Hot Shots, via Associated Press
WASHINGTON — Fires, floods and hurricanes are already costing the federal government tens of billions of dollars a year and climate change will drive those costs ever higher in coming years, a new federal study warns.
The report by the Government Accountability Office, Congress's auditing arm, urges the Trump administration to take climate change risks seriously and begin formulating a response.
The study, scheduled to be released Tuesday, says that different sectors of the economy and different parts of the country will be harmed in ways that are difficult to predict. But one estimate projects that rising temperatures could cause losses in labor productivity of as much as $150 billion by 2099, while changes in some crop yields could cost as much as $53 billion. The Southwest will suffer more costly wildfires, the Southeast will see more heat-related deaths and the Northwest must prepare for diminished shellfish harvests.
The report acknowledges that it is difficult to pinpoint the costs of disasters that can be directly attributed to climate change. And the projected fiscal burden remains less than 1 percent of the current $3.8 trillion federal budget.
But Senators Maria Cantwell, Democrat of Washington, and Susan Collins, Republican of Maine, who jointly requested the report, said between the lines of a conservative government audit was an urgent economic message that Washington should heed.
"The Government Accountability Office — if you will, the chief bean counter — is basically telling us that this is costing us a lot of money," Ms. Cantwell said. "We need to understand that as stewards of the taxpayer that climate is a fiscal issue, and the fact that it's having this big a fiscal impact on our federal budget needs to be dealt with."
The report, two years in the making, comes as the Senate prepares to vote this week on a $36.5 billion disaster-relief package to fund hurricane relief, a flood insurance program and wildfire recovery efforts in the West.
Ms. Cantwell and Ms. Collins noted that the White House Office of Management and Budget had calculated that extreme weather events over the past decade cost the federal government $350 billion.
Both asserted that the study should help move Congress and the administration past partisan fights over the science of global warming and toward a search for solutions — something they said could be problematic given that the Trump administration is rolling back many of former President Barack Obama's climate change initiatives.
"My hope is the administration will take a look at this report and realize there is an economic impact here that is significant," Ms. Collins said. "We simply cannot afford the billions of dollars in additional funding that's going to be needed if we do not take into account the consequences of climate change."
The G.A.O. study draws on interviews with 26 scientific and economic experts and 30 studies, though it focuses most heavily on the only two national-scale studies analyzing the economic effects of climate change. One of them is an ongoing research project being produced by the Environmental Protection Agency, and the other is a study by several organizations led by the Rhodium Group that analyzed the potential costs associated with climate change in coastal property, health, agriculture, energy, labor productivity and crime.
Trevor Houser, a partner at the Rhodium Group, which led the American Climate Prospectus study, said the accounting was on the conservative side. The agriculture analysis, for example, looked only at how changes in temperature and precipitation would affect four commodity crops. It did not study the fiscal fallout of events like wildfires and did not take into account the costs of infectious diseases linked to climate change.
"Climate change is clear and present danger to the U.S. economy and the fiscal health of the U.S. government, and that risk is really unevenly spread," Mr. Houser said. "It needs to be actively managed by the federal government."
J. Alfredo Gomez, one of the lead authors of the G.A.O. study, said the federal government had identified climate change as a significant economic risk since 2013. This study, he said, asks the administration to use the detailed data to prepare for the inevitable.
Robert N. Stavins, an economist at Harvard University, said he doubted the study would convince either Republicans in Congress or the White House to act.
"The G.A.O. study is conservative, it's not alarmist, it's realistic and balanced and they go out of their way to point out all of the uncertainties involved," Mr. Stavins said. "I don't see any likelihood it's going to be taken seriously."
---
Related articles: