ידיעות/עדכונים התחממות
הירשם לפרסומים
Published: September 30th, 2012
By Andrew Freedman



EDITOR'S NOTE: This story was originally published April 3. Given recent news that Arctic sea ice set a record low, it's a reminder that changes in the Arctic can affect the U.S. and Europe.
By showing that Arctic climate change is no longer just a problem for the polar bear, a new study may finally dispel the view that what happens in the Arctic, stays in the Arctic.
The study, by Jennifer Francis of Rutgers University and Stephen Vavrus of the University of Wisconsin-Madison, ties rapid Arctic climate change to high-impact, extreme weather events in the U.S. and Europe.
The study shows that by changing the temperature balance between the Arctic and mid-latitudes, rapid Arctic warming is altering the course of the jet stream, which steers weather systems from west to east around the hemisphere. The Arctic has been warming about twice as fast as the rest of the Northern Hemisphere, due to a combination of human emissions of greenhouse gases and unique feedbacks built into the Arctic climate system.
The jet stream, the study says, is becoming "wavier," with steeper troughs and higher ridges. Weather systems are progressing more slowly, raising the chances for long-duration extreme events, like droughts, floods, and heat waves. 
"[The] tendency for weather to hang around longer is going to favor extreme weather conditions that are related to persistent weather patterns," said Francis, the study's lead author.
One does not have to look hard to find an example of an extreme event that resulted from a huge, slow-moving swing in the jet stream. It was a stuck or "blocking weather pattern" – with a massive dome of high pressure parked across the eastern U.S. for more than a week – that led to the remarkable March heat wave that sent temperatures in the Midwest and Northeast soaring into the 80s. In some locations, temperatures spiked to more than 40 degrees above average for that time of year.
The strong area of high pressure shunted the jet stream far north into Canada. At one point during the heat wave, a jetliner flying at 30,000 feet could've hitched a ride on the jet stream from Texas straight north to Hudson Bay, Canada. In the U.S., more than 14,000 warm-weather records (record-warm daytime highs and record-warm overnight lows) were set or tied during the month of March, compared to about 700 cold records. 
According to the study, Arctic climate change may increase the odds that such high-impact, blocking weather patterns will occur. The study cites examples of other patterns that led to extreme events that also may bear Arctic fingerprints, including the 2011 Texas drought and heat wave, which cost the state's agricultural sector a staggering $7.62 billion – making it the most expensive one-year drought in that state's history.
In addition, the study also mentions jet stream configurations that led to heavy snows in the Northeast and Europe during recent winters. Such events are also "consistent" with the study's findings, according to the paper.
The reasons why the Arctic is heating up so quickly, a phenomenon known as "Arctic amplification," has to do with factors that are unique to the Arctic environment, involving feedbacks between sea ice, snow, water vapor, and clouds. As the area warms in response to manmade greenhouse gases, melting ice and snow allow exposed land and water to absorb more of the Sun's heat, which melts more ice and snow, and so on. A relatively small amount of initial warming can be greatly magnified in the Far North. 
The temperature contrast between the frigid Arctic and the milder mid-latitudes is what drives the powerful jet stream winds, which are so important for determining day-to-day weather conditions.
In addition to making the jet stream have more pronounced north/south swings, the reduced temperature gradient between northern and southern areas is causing the westerly component of upper-level winds to slow, especially during the fall when extra heating in the Arctic is exceptionally strong.
Path of the jet stream on March 21, 2012. Credit: weatherunderground.
The westerly component of upper-level winds during the fall has weakened by about 14 percent since 1979, the study found. 
A slight slowdown in the jet stream may not sound like a big deal. After all, jet stream winds have been clocked at upwards of 200 mph. But it turns out that slowing of the jet stream influences its shape and the motion of individual storm systems. 
Weaker westerly winds causes the big north/south swings in the jet stream to move more slowly from west to east, making weather conditions in a given location more persistent than they used to be. "That means that whatever weather you're experiencing now is going to tend to hang around longer because the passage of those waves is really what causes the weather to change," Francis said.
The study contains a stark warning about future weather patterns, given projections showing that Arctic climate change is likely to accelerate in coming years. "As the Arctic sea ice cover continues to disappear and the snow cover melts ever earlier over vast regions of Eurasia and North America, it is expected that large-scale circulation patterns throughout the northern hemisphere will become increasingly influenced by Arctic amplification," the study reports.
In other words, rapid Arctic warming is expected to exert a growing influence on the weather far beyond the Arctic Circle, for many years to come.

The Arctic's ice is disappearing. We must reduce emissions, fast, or the human castastrophe predicted by ocean scientist Peter Wadhams will become reality


John Vidal, Thursday 18 August 2016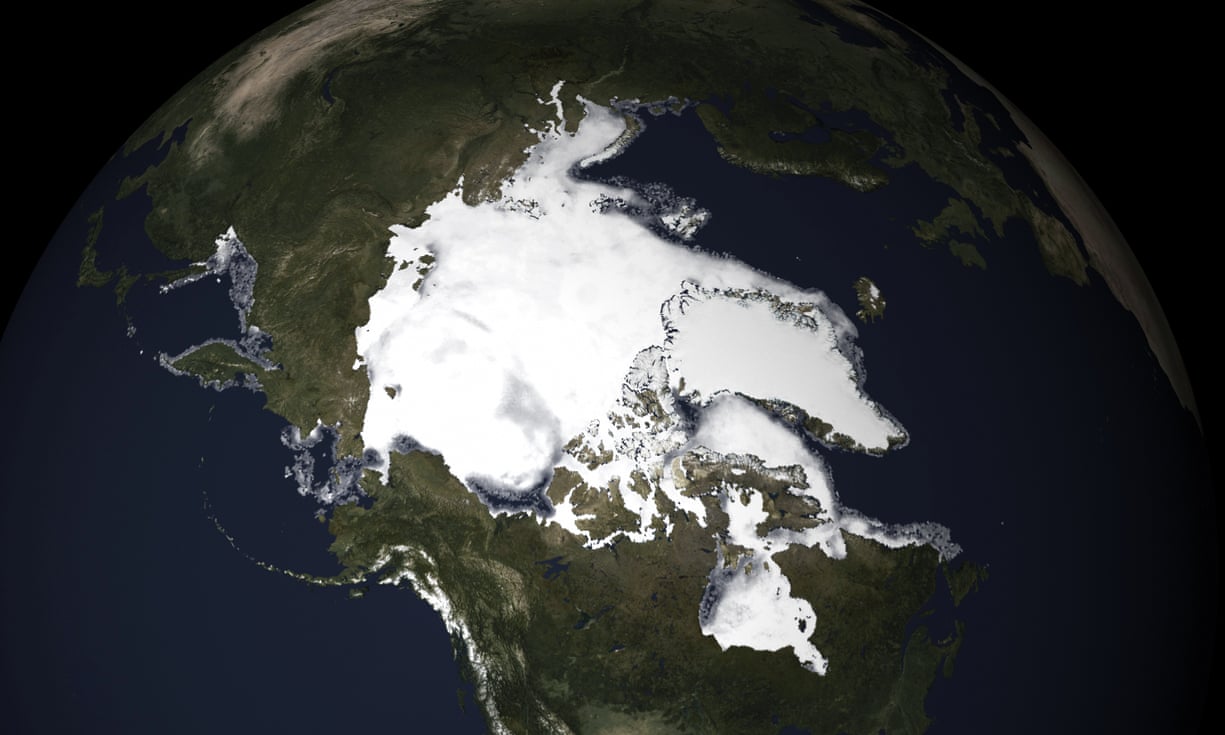 Arctic sea ice melt in May. 'The Arctic sea ice is declining by 13% a decade.' Photograph: NOAA
Ice scientists are mostly cheerful and pragmatic. Like many other researchers coolly observing the rapid warming of the world, they share a gallows humour and are cautious about entering the political fray.
Not Peter Wadhams. The former director of the Scott Polar Research Institute and professor of ocean physics at Cambridge has spent his scientific life researching the ice world, or the cryosphere, and in just 30 years has seen unimaginable change.
When in 1970 he joined the first of what would be more than 50 polar expeditions, the Arctic sea ice covered around 8m sq km at its September minimum. Today, it hovers at around 3.4m, and is declining by 13% a decade. In 30 years Wadhams has seen the Arctic ice thin by 40%, the world change colour at its top and bottom and the ice disappear in front of his eyes.
In a new book, published just as July 2016 is confirmed by Nasa as the hottest month ever recorded, this most experienced and rational scientist states what so many other researchers privately fear but cannot publicly say – that the Arctic is approaching a death spiral which may see the entire remaining summer ice cover collapse in the near future.
The warming now being widely experienced worldwide is concentrated in the polar regions and Wadhams says we will shortly have ice-free Arctic Septembers, expanding to four or five months with no ice at all. The inevitable result, he predicts, will be the release of huge plumes of the powerful greenhouse gas methane, accelerating warming even further.
He and other polar experts have moved from being field researchers to being climate change pioneers in the vanguard of the most rapid and drastic change that has taken place on the planet in many thousands of years. This is not just an interesting change happening in a remote part of the world, he says, but a catastrophe for mankind.

"We are taking away the beautiful world of Arctic Ocean sea ice which once protected us from the impacts of climate extremes. We have created an ocean where there was once an ice sheet. It is man's first major achievement in re-shaping the face of the planet," he writes.
And, boy, are we seeing extremes. So far this year, the planet's average temperature has been 1.3C warmer than the late 19th century, and 2016 is virtually certain be the hottest year ever recorded.
Britain and northern Europe may have had average temperatures, but 500 million people in the Middle East and north Africa, along with most of south-east Asia, have experienced droughts and searingly hot days and nights, which are only partly to do with the natural El Niño phenomenon. Meanwhile, China, India and the US have seen some of their longest heatwaves and worst floods in decades, and nearly 100 million people will need food aid in the coming months because of disrupted rainfall patterns.
Mitribah in Kuwait has reported a world record 54C, India and Iran have both recorded their highest ever temperatures, and deadly heatwaves have struck China, the US, Indonesia and New Zealand. We are perilously close to the 1.5C limit of warming that all countries signed up to in Paris last year and on track for a 3C-4C increase which would make much of the world uninhabitable.
Because Wadhams says what other scientists will not, he has been widely slandered, attacked and vilified by denialists and politicians who have advised caution or non-action. But now he returns their fire, exhorting people to counter what he calls "the sewage flow of lies and deceit" emitted by the deniers. Above all, he says, people who study climate change should speak up and be prepared to risk the blighting of their careers and absence of honours.
But he joins other climate researchers to cross lines that the public may still find unacceptable. He wants global action to find new ways to remove carbon from the atmosphere, and is not afraid of nuclear power – both of which answers can be swallowed – but he also argues for a colossal, global research programme in geo- engineering.
Spraying sun-reflecting chemicals into the atmosphere, mimicking volcanoes, blocking sunlight and fertilising the oceans with iron filings attracts people who think that technology has all the answers, but it should strike fear into most of the world, which has not been responsible for warming and which has no reason to trust politicians' or scientists' further meddling with planetary forces.
How to proceed safely in a warming world without disastrous unintended consequences? The need for truly urgent action is undeniable, but by the time answers have been found to the massive questions of science, engineering and governance that Wadhams agrees need to be solved before geo-engineering on a planetary scale can go ahead, it will be far too late.
Climate change has been caused by ignorance and stupidity and cannot be solved by endorsing more of the same with geo-engineering. The only answer is reducing greenhouse emissions. Fast.
Source:
theguardian.com
Former Vice President Al Gore is scheduled to be in Houston. (Nicholas Kamm/AFP/Getty Images)
Former Vice President Al Gore warned Tuesday that rapid flooding events — like in Houston this spring and southern Louisiana right now — are exacerbated by climate change and could continue to worsen without taking action.
Gore came to Houston — the world's energy capital — to launch The Climate Reality Project's three-day leadership training conference to push for more grassroots activism and community engagement.
"Texas has really been hit hard by the climate crisis and, for the last 35 years, has had more billion-dollar-plus climate disasters than any other state," Gore said. "Houston in particular has been hard hit."
LATEST ON LOUISIANA FLOODING: 40K homes damaged by Louisiana floods; 10 killed
He said his heart is with those struggling with flooding in many parts of Louisiana.  The National Weather Service reported, for instance, the community of Watson's 31.39 inches of rain during the downpour exceeded the total amount of rain in five years for some parts of the Los Angeles area.
"These kinds of record downpours — that's one of the manifestations of the climate crisis," said Gore.
He emphasized the importance of slowing climate change, which scientists say is accelerated by burning fossil fuels such as coal, oil, and natural gas.
"It is central to the prospects for our future, for the futures of our families and our communities, and the future of human civilization," he said. "That sounds overly expansive but that really and truly is the case."
RELATED: Climate change cost for fossil fuel industry: $33 trillion
Gore, a Nobel Peace Prize winner, founded the climate project a decade ago. He recently endorsed Hillary Clinton for president over Jill Stein, the candidate for the Green Party, which held its convention in Houston earlier this month.
Gore has long supported Congress adopting a carbon tax to put a financial price on each ton of carbon emitted from fossil fuels. The idea is to raise the cost as an incentive for industries and individuals to use less.
Exxon Mobil, Royal Dutch Shell, BP and some other energy giants have come out in favor of a revenue-neutral carbon tax — lowering some other taxes to offset any increase — although environmentalists and industry often disagree on how such a tax would be implemented. Any carbon tax proposal is considered dead on arrival in the current, GOP-controlled Congress.
But U.S. Rep. Sheila Jackson Lee, D-Houston, said the energy capital is the right place to make the climate activism push to encourage energy companies to develop solutions for the future.
"We are the first witnesses to climate change," she said about the residents of the Houston area, citing the "tax day floods" in April, more flooding in May, and concerns of "stronger and more powerful hurricanes."
Ken Berlin, president and CEO of The Climate Reality Project, said the effort has trained more than 10,000 people globally to speak about climate change and make presentations. The goal is to inform communities about the threat one neighbor at a time, he said.
RELATED: 19 senate Democrats call out Exxon, fossil fuel industry on climate change denial
"Our country is so divided. People tend to listen to people from their own community," Berlin said, noting that about 600 people are participating in this week's training.
He specifically highlighted Georgetown  — "a red city in the reddest part of the country" — for planning to get all of its electricity from wind and solar by the end of 2017. Georgetown is about 30 miles north of Austin.
Berlin also praised the Paris climate agreement reached in December that's supported by nearly 200 countries. But he said it's goal will only be realized throughout grassroots activism in each and every country.
"That agreement is enforceable only in the country that did it," Berlin said. "It's not enforceable on the international level. Every country is critical."
BATON ROUGE, La. (AP) — At least 40,000 homes were damaged and 10 people killed in the historic Louisiana floods, the governor said Tuesday, giving a stark assessment of the widespread disaster.
Gov. John Bel Edwards spoke at a news conference alongside FEMA administrator Craig Fugate, saying "well over" 20,000 people have been rescued since the flooding began Friday. His office later increased that figure to more than 30,000.
Beginning Friday, a torrent of about 2 feet of rain inundated the southern part of the state over a 48-hour period, and days later many homes and businesses were still underwater.
While some areas were entering recovery mode, the governor warned new places downstream could see flooding and that officials are still in search and rescue mode.
"I don't know we have a good handle on the number of people who are missing," the governor said.
Some residents returned to their flood-damaged homes and businesses for the first time Tuesday and found a soggy mess.
David Key used a small boat to get to his house in Prairieville and said it had taken on 5 inches of "muddy nasty bayou water." There were fish and thousands of spiders. And mold has started to set in.
"I'm not going to lie, I cried uncontrollably," he said. "But you have to push forward and make it through. Like everybody says, you still have your family."
The extent of damage was coming into clearer view. About 40,000 people had signed up for FEMA assistance and eight more parishes were added to the federal disaster declaration, bringing the total number to 12.
In Livingston Parish, one of the hardest-hit areas with about 138,000 people, an official estimated that 75 percent of the homes were a "total loss."
But Lori Steele, spokeswoman for the Livingston Parish Sheriff's Office, was upbeat, saying the rescues taking place now are less of a "life-saving nature" and more to help people who were running low on supplies in flooded areas. As the main roads drain, emergency crews were going to be able get hot meals, water and medical supplies to the 25 shelters in the parish.
"We're tired but today's a good day," she said.
Rivers and creeks were still dangerously bloated in areas south of Baton Rouge as people filled sandbags there to protect their houses, bracing for the worst as the water worked its way south. In Ascension Parish, officials said some small towns have already been inundated.
The governor said more than 8,000 people were in shelters, but the number was constantly fluctuating as people arrive and leave.
The slow-moving, low-pressure system crawled into Texas, but the National Weather Service warned the danger of new flooding remained high due to the sheer volume of water flowing toward the Gulf of Mexico.
The latest deaths were attributed to three accidental drownings. No other details were immediately released about how the men died.
One town, Zachary, received more than 2 feet of rain in a 48-hour period that ended Saturday morning. Another, Livingston, got nearly 22 inches over the same stretch. Rivers in the region reached historic highs — occasionally shattering old records dating to 1983 floods.
The 4 feet of water that wrecked James DuPont's used car dealership in Baton Rouge has finally receded, allowing him to take stock of the devastation Tuesday.
His cars were all coated with a thin layer of dirt. The wooden floor boards in his office are scattered like matchsticks, exposing the wet cement underneath. All of his paperwork is a water-logged mess.
Floodwaters reached the "Open" sign on his rented office, and the 24-year-old fears his business, Louisiana Direct Buy, is now closed for good. He had a dozen or so vehicles on the property, including his personal car, and they all appear to be total losses.
"I don't have flood insurance so everything is gone," he said. "I'll try to salvage what I can. I don't know if I'm going to be able to open back up or not."
___
Santana reported from New Orleans. Kevin McGill and Bill Fuller in New Orleans contributed to this report.
Published: May 27th, 2015
Research Report by Climate Central

Record-breaking rain across Texas and Oklahoma this week caused widespread flooding, the likes of which the region has rarely, if ever, seen. For seven locations there, May 2015 has seen the most rain of any month ever recorded, with five days to go and the rain still coming. While rainfall in the region is consistent with the emerging El Niño, the unprecedented amounts suggest a possible climate change signal, where a warming atmosphere becomes more saturated with water vapor and capable of previously unimagined downpours.
Several people have been killed and hundreds have been rescued from their homes. Texas Gov. Greg Abbott has already declared disaster areas in 37 counties. These torrential downpours follow weeks of unusually rainy weather across the Southern Plains. And they stack up to a broader trend in the region, and across the U.S., toward more heavy precipitation.
Across most of the country, the heaviest downpours are happening more frequently, delivering a deluge in place of what would have been routine heavy rain. Climate Central's new analysis of 65 years of rainfall records at thousands of stations nationwide found that 40 of the lower 48 states have seen an overall increase in heavy downpours since 1950. The biggest increases are in the Northeast and Midwest, which in the past decade, have seen 31 and 16 percent more heavy downpours compared to the 1950s.
Explore these trends in heavy downpours in your state or town, and some of their impacts in our new interactive above.
These intense bouts of rain can wreak havoc on communities. They cause flooding, close schools, businesses, highways and airports, compromise roads and bridges, trigger sewage overflows, and routinely produce million of dollars in damage and kill people.
In Nashville, for example, a 2010 record downpour dumped 13.6 inches of rain in just 2 days, causing an estimated $2 billion in damage. Eleven people were killed, 11,000 homes and businesses were damaged, and 2,700 businesses suffered closures.
Intense rain in Detroit in August 2014 killed two, caused an estimated $1.1 billion of damage, and affected 118,000 homes and businesses.
Heavy rain events may also pose a potential health risk; one recent study found that about half of all waterborne disease outbreaks in the U.S. (between 1948 and 1994) were linked to days of very heavy rain.
Extreme heavy downpours are consistent with what climate scientists expect in a warming world. With hotter temperatures, more water evaporates off the oceans, and the atmosphere can hold more moisture. Research shows that the amount of water vapor in the atmosphere has already increased.
That means that  there is often a lot more water available to come down as rain. Climate scientists have already shown that increasing greenhouse gas concentrations as a consequence of human activity are partially responsible for the average global increase in heavy precipitation.
Our analysis examines the heaviest downpours — the days where total precipitation exceeded the top 1 percent of all rain and snow days — at over 3,000 rain gauges distributed across the country over the period 1950-2014. Although some cities have rain gauges that have been around since the 1860s, by the 1950s, about 90 percent of the current list of 3,000 stations was in existence, giving us a consistent 65-year period of study over the whole U.S.. The vast majority of this heavy precipitation came as rain, although in a few rare instances, major snowfalls also count toward these large events.
Heavy precipitation is highly localized, far more than extreme heat, which typically covers relatively large areas. On a 98°F day in New York City, similar high temperatures are usually also found across the entire metro area. On the other hand, an extreme rainfall event can inundate the Long Island suburbs and leave the city itself relatively unscathed.
This makes heavy rainfall trends difficult to measure, because rain gauges are not always located where extreme rains occur. Moreover, local heavy precipitation trends may not accurately reflect changing patterns happening at a larger, regional level. As a consequence, even in regions or states where there is a strong increasing trend in heavy precipitation, the trend at an individual precipitation gauge that represents the official total for a city may be equivocal, flat, or even down.
Our state level analyses of extreme precipitation events shows a strong increasing trend since the 1950s, with 40 of 48 states showing at least some increasing incidence. Consistent with earlier research, six of the top 10 states with the biggest increases in number of days with heavy downpours are in the Northeast, including Rhode Island, Maine, and New Hampshire, which have seen the number of heavy rain events in the last decade increase by at least 50 percent compared to the 1950s.
Our analysis of cities and metro areas, on the other hand, reveals the highly localized and random nature of extreme rain events and the difficulty of detecting these events even with 3,000 rain gauges across the country. In a number of states and regions with clear increasing trends, individual locations show a weak trend or no clear trend at all. This apparent inconsistency says little about the overall trend in the heaviest precipitation events, but a lot about the weaknesses of single-point measurements for detecting trends in extreme precipitation.
An example of this phenomenon is Boston, where the local trend is flat but at the state level, Massachusetts has seen a relatively steady increase in heavy downpours since 1950.
Of course, many individual locations show strong increasing trends in the heaviest precipitation events. The top 50 cities with the strongest increases are:
Climate scientists predict that the recent trends toward more heavy downpours will continue throughout this century. Climate models predict that if carbon emissions continue to increase as they have in recent decades, the types of downpours that used to happen once every 20 years could occur every 4 to 15 years by 2100. As the number of days with extreme precipitation increases, the risk for intense and damaging floods is also expected to increase throughout much of the country.
Observers are calling the record floods a "classic signal of climate change" — and high-resolution models predict another one to two feet of rain by Saturday evening.
By Eric Holthaus
(Photo: Ines Hegedus-Garcia/Flickr)
By mid-morning on Friday, more than a foot of rain had fallen near Kentwood, Louisiana, in just a 12-hour stretch  — a downpour with an estimated likelihood of just once every 500 years, and roughly three months' worth of rainfall during a typical hurricane season. It's the latest in a string of exceptionally rare rainstorms that are stretching the definition of "extreme" weather. It's exactly the sort of rainstorm that's occurring more frequently as the planet warms.
In response to the ongoing heavy rains, Louisiana Governor John Bel Edwards declared a statewide state of emergency on Friday, and local governments are distributing sandbags, conducting water rescues, and facilitating evacuations. The New Orleans Times-Picayune is maintaining a live blog of the latest developments. The Tickfaw River north of New Orleans soared 18 feet in about 12 hours to a new record crest on Friday morning, beating the water level of April 1983, and five feet higher than the high-water mark during Hurricane Isaac in 2012, the last hurricane to make landfall in Louisiana.
Meanwhile, a lot more rain is still on the way. High-resolution weather models predict an additional one or two feet of rain by Saturday evening, a total the local National Weather Service referred to as "scarily high." The NWS has issued its highest alert for excessive rain and warned of "significant to catastrophic flash flooding." A "flash flood emergency" is in effect for the hardest-hit regions, a warning reserved only for the direst and most life-threatening events.
An instant analysis from Climate Nexus refers to today's Louisiana rainstorm as a "classic signal of climate change." It's right.
Obviously, this is no ordinary storm. Though the overall structure of this meteorological event does not meet the technical requirements for a tropical storm or hurricane (it's attached to a stalled weather front, for example), the NWS is treating it roughly the same way, and the physics of the rain clouds themselves are similar. (Tropical rain clouds are generally more efficient at converting cloud moisture into raindrops.)
This storm's tropical nature, in combination with record-warm water temperatures just offshore in the Gulf of Mexico, are creating a nearly perfect environment for extremely heavy rain and record flooding in one of the wettest places in the country. As the atmosphere warms thanks to greenhouse gas emissions, it can hold more water vapor — and this effect makes it exponentially more likely that extreme rainfall events will occur. The weather balloon released on Friday morning from the New Orleans office of the NWS measured near all-time record levels of atmospheric moisture, higher than some measurements taken during past hurricanes. The NWS meteorologist who reported this morning's reading remarked simply, "obviously we are in record territory."
An instant analysis from Climate Nexus refers to today's Louisiana rainstorm as a "classic signal of climate change." It's right. The NWS maintains a statistical database used to calculate the "annual exceedance probability" of a given rainfall event — basically, the expected frequency this event would occur in any given year.
Today's rainstorm in Louisiana is at least the eighth 500-year rainfall event across America in little more than a year, including similarly extreme downpours in Oklahoma last May, central Texas (twice: last May and last October), South Carolina last October, northern Louisiana this March, West Virginia in June, and Maryland last month.
And these were just the events that the agency decided to write a report on. One notable exception to this list is the Tax Day flood in the Houston metropolitan area this April, at least the fourth major flood in that region in a span of a year. The local flood control district extrapolated the 23.5 inches of rain over 14.5 hours in Pattison, Texas, during the Tax Day storm to be a one-in-10,000-year event.
Statistical calculations like these make a major assumption: That the climate of the past is the same as the climate of today. That's no longer a very good assumption.
המחצית הראשונה של השנה היתה החמה מתחילת המדידות במאה ה–19. מדענים: ההתחממות קשורה לפעילות האדם
מאת צפריר רינת, 21/7/2016
כדור הארץ ממשיך להתחמם בקצב השובר את כל שיאי העבר. כתוצאה מכך, הולך ונעלם הקרח המכסה את האוקיינוסים, בחלקו הצפוני. כך דיווח אתמול מכון גודארד לחקר החלל הפועל במסגרת סוכנות החלל האמריקאית נאס"א. השנה קשורה עוצמת ההתחממות גם לתופעת האקלים הטבעית אל ניניו — התחממות מי האוקיינוס השקט. על פי נתוני המכון, בכל אחד מששת החודשים הראשונים של 2016 הטמפרטורה הממוצעת על פני כדור הארץ היתה הגבוהה ביותר מאז תחילת המדידות בשנת 1880. גם הטמפרטורה הממוצעת של כל חצי השנה הראשונה היתה הגבוהה ביותר. היא גבוהה בממוצע ב–1.3 מעלות מהטמפרטורות בסוף המאה ה–19. חודש יוני האחרון היה חם יותר ב–0.96 מעלות לעומת...
להמשך קריאה באתר הארץ
Fiona Harvey, 8/6/2016

This year could be worst ever for melt as data shows average sea ice extent for last month was more than half a million square kilometres smaller than the previous record of May 2012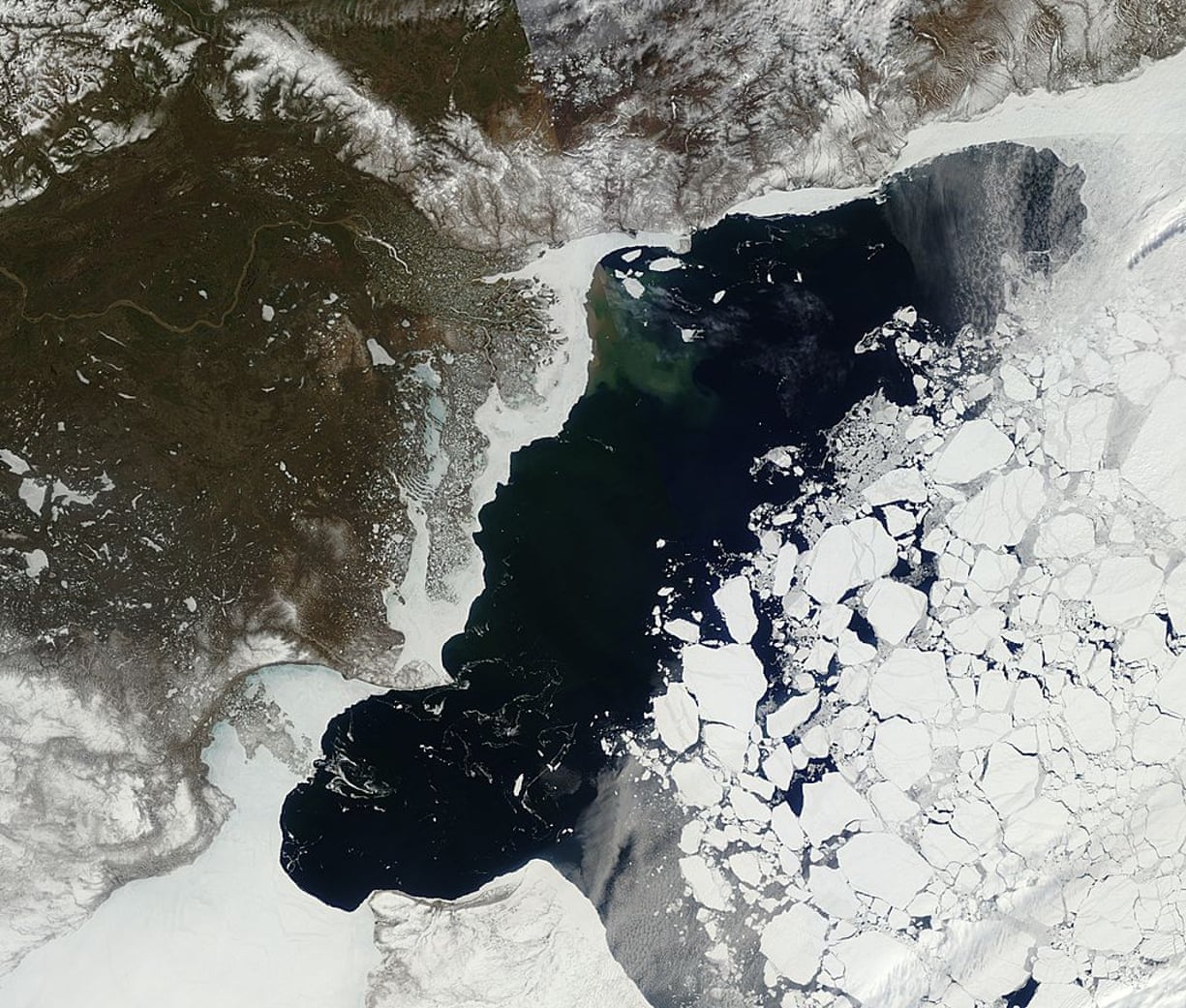 Arctic sea ice fell to its lowest ever May extent, prompting fears that this year could beat 2012 for the record of worst ever summer sea ice melt.
Data published by the US National Snow and Ice Data Centre (NSIDC) this week showed average sea ice extent for last month was more than 500,000 sq km (193,000 sq miles) smaller than May 2012.
The extent of sea ice in the Arctic is one of the key indicators of global warming, and the new findings have been greeted with concern by scientists. Although it is too early to say whether this summer's ice extent will be the lowest recorded, if current projections follow the course of previous years then it will be at least one of the lowest ever.
Snow cover in the northern hemisphere was the lowest in 50 years in April, the NSIDC said, and Antarctic sea ice was below average for the time of year.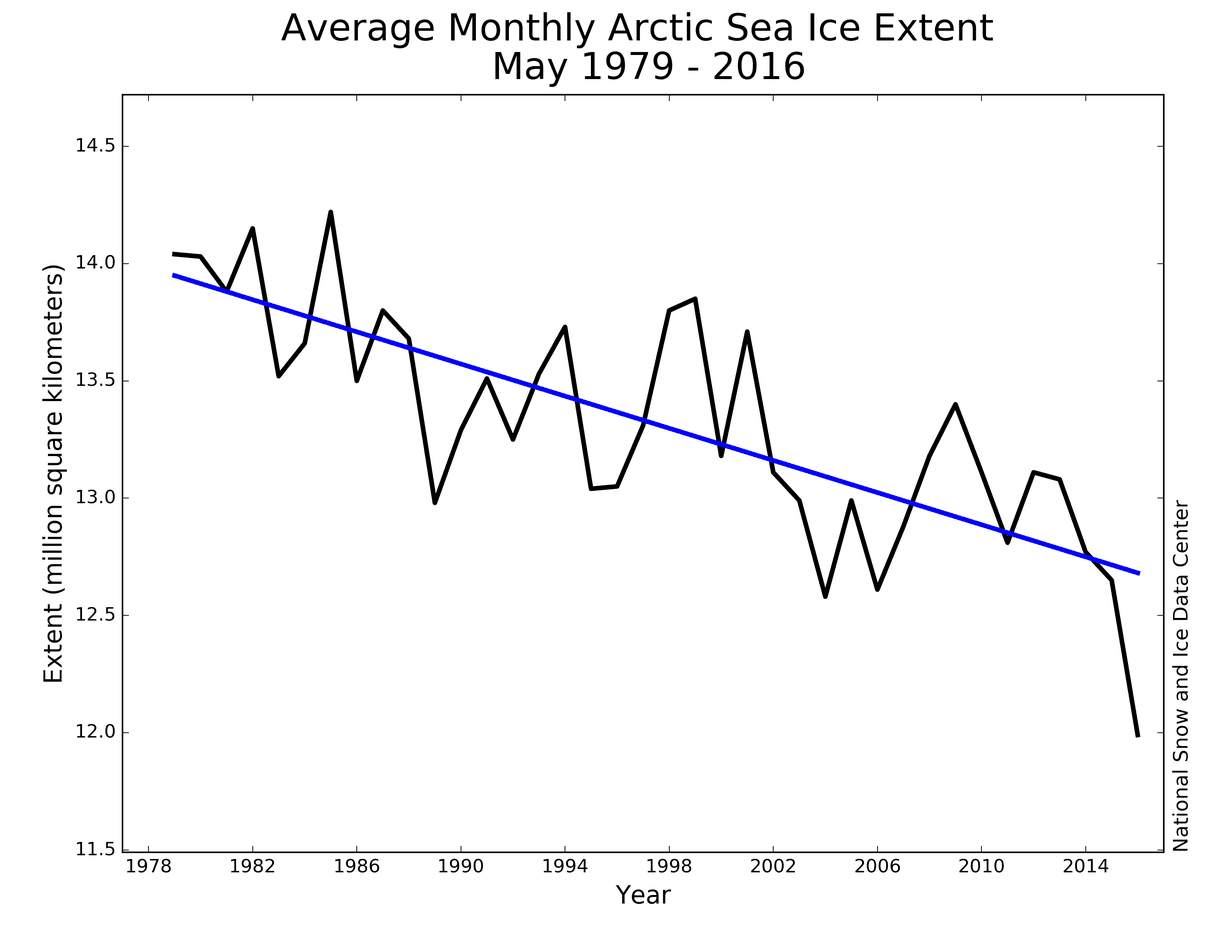 Monthly May Arctic sea ice extent for 1979 to 2016 shows a decline of 2.6% per decade. Photograph: NSIDC
Warm air from Siberia and northern Europe were blamed for the decline in Arctic sea ice, which is consistent with predictions of climate change. The Arctic has warmed much faster than other regions, and the loss of sea ice is viewed as a measure of how much we are affecting the world's climate.
Melting sea ice does not raise sea levels, because the ice is floating, but has a strong effect on the earth's albedo – the reflectivity of the poles and other snow and ice covered areas. Ice and snow reflect some of the sun's heat back into space, but when they retreat the dark areas remaining absorb more heat. This exacerbates existing warming effects, such as the accumulation of greenhouse gases in the atmosphere.
In addition, melting sea ice in the Arctic is often a good indicator that land ice and snow – such as that which covers Greenland – is also melting, and land-based ice does contribute to sea level rises.
The NSIDC cautioned that current sea ice estimates were "tentative", but added that they were "supported by other data sources". The extent of sea ice will be closely watched this summer, as the lowest point of the year comes in September as the Arctic summer draws to a close.
Jonathan Bamber, professor of physical geography at Bristol University, told the Guardian: "We have already seen an unusually early start to melting around the margins of Greenland in 2016 and the new findings from NSIDC of exceptionally low sea ice extent for May and the lowest northern hemisphere snow cover for 50 years is in line with the longer term decadal trends for the Arctic as a whole. The region is undergoing warming at around twice the global average, and the ice is responding accordingly."
Temperatures in the Arctic last winter were up to 10C above the average for 1981 to 2010, said Chris Rapley, professor of climate science at University College London. He also highlighted the reduction in thickness of the ice, which is another key indicator of climate change.
"The impacts on the Arctic ocean and land systems are transformational, creating huge problems for [people who live there] who on the basis of their traditional knowledge confirm that the climate system has already shifted well outside the bounds they have previously experienced. The situation is [also] changing the circulation patterns and behaviours of the atmosphere and oceans," he said
| | |
| --- | --- |
|   |   |
|  May 1984 |  May 2016 |
The reduced extent of this summer's ice is also a hangover from last winter, when sea ice was unusually slow to form because of higher temperatures in the surrounding oceans, according to Dr Finlo Cottier, senior lecturer in polar oceanography at the Scottish Association for Marine Science.
"This [slow formation of winter ice] leads to thinner ice that can break up more easily," said Cottier. "The results also highlight the increasing significance of wind in deforming and breaking the sea ice cover."

Sea ice extent in the last winter was at its smallest extent for winter since records began in 1979, data published in March showed.
Research by the campaigning group Greenpeace, published this week, suggests that melting ice in the Arctic may also alter weather patterns in the northern hemisphere, contributing to wetter summers in some areas and colder, stormy winters.
Source: theguardian.com

Adam Frank,
July 26, 2016
This is a year of politics. That means everyone has opinions about where the world should be headed and how we should get there.
No matter how weird this political season has been, however, there remains a key difference between opinions and facts. That difference comes into the starkest relief when people must face their own inconsistencies in reconciling the two domains.
And nowhere is the gap between opinions and facts more apparent than the subject of climate change. As a recent action by the American Association for the Advancement of Science (AAAS) demonstrates, for climate deniers there is a chasm between what is said and what is done.
The basic dilemma of climate denial is that, for decades, science has pointed to two very clear conclusions. First is the overwhelming evidence that the planet is warming. Second is the overwhelming evidence that the warming is due to human activity (mostly in the form of greenhouse gas emissions from fossil fuel use).
The truth of these claims is getting bolded and underlined as 2016 is on track to be the hottest recorded year ever for the planet. The last hottest year on record was 2015 (you know you're in trouble if the hottest year ever is always this one now). In addition to the temperature records, every climate observatory in the world is now recording CO2 greenhouse gas levels higher than any time in the last 4 million years.
In the face of these facts, climate denialists claim that the science is somehow mistaken or it's a deliberate hoax. So where exactly is their inconsistency? To understand the break between actions and words, consider a June 28 letter to Congress sent by the AAAS and 30 of the nation's scientific organizations urging action on climate change:
"Observations throughout the world make it clear that climate change is occurring, and rigorous scientific research concludes that the greenhouse gases emitted by human activities are the primary driver. This conclusion is based on multiple independent lines of evidence and the vast body of peer-reviewed science."
So which of the nation's scientific organizations are we talking about here? Some were big and others were small, but let's begin with the AAAS. These are the folks who help maintain the U.S.'s preeminent effort in science and technology. If you are using something scientific or technological, they're the ones pushing for the research efforts supporting it.
Beyond the AAAS, here is a partial list of the other organizations on the letter:
American Meteorological Society
Crop Science Society of America
American Geophysical Union
American Institute of Biological Sciences
American Public Health Association
Society for Industrial and Applied Mathematics
Soil Science Society of America
Just these seven names are enough to expose the problem for climate denialists. If climate science is hoax and the Crop Science Society of America signed the letter, then doesn't that make crop science suspect, too? And, of course, you can't have modern, advanced agriculture without understanding soil. That's the domain of the Soil Science Society of America. They've signed on to the AAAS letter, too. But that must mean we shouldn't trust any of their claims about how to grow food. Then there's the American Meteorological Society. If they are urging Congress to take action on climate change, it must mean they and their science is corrupted as well. If that were the case, then we would do well to ignore things like their hurricane warnings.
Of course, ignoring warnings of an impending hurricane — the result of meteorological science — would be stupid. No one in their right mind would do it. But that is the point, isn't it? Those who espouse climate denial say one thing and then act in an entirely different way if someone tells them a hurricane is coming. Why? Because it would be crazy to do otherwise.
Climate denialists, like everyone else, enjoy the fruits of science. But it's only when those fruits run up against pre-conceived political antagonisms that the cognitive dissonance begins.
When climate denialists get sick, they go to the doctor. They use the results of medical science. But to do so, they must ignore this from the AMA:
"The American Medical Association is working to ensure that physicians and others in health care understand the rise in climate-related illnesses and injuries so they can prepare and respond to them."
When climate denialists need to stay cool in the summer, they use the fruits of chemistry as it manifests in new kinds of refrigerants/coolants. But that means they must also ignore those same chemists who have this to say about climate science,
"...comprehensive scientific assessments of our current and potential future climates clearly indicate that climate change is real, largely attributable to emissions from human activities."
I could go on — but you get the picture.
This is the great dilemma and the great contradiction. People who benefit from science everyday somehow manage to find a place in their heads to simultaneously reject it. Whether its climate or vaccines, the same contradiction between words and action arises.
But here is the really difficult thing about this kind of contradiction for all of us: It always gets resolved in the end. That's because when it comes to science denial, it's reality that always has the last word.
---
Adam Frank is a co-founder of the 13.7 blog, an astrophysics professor at the University of Rochester, a book author and a self-described "evangelist of science." You can keep up with more of what Adam is thinking on Facebook and Twitter: @adamfrank4.
Contrarian climate scientist Roy Spencer summed up the contrarian case for a fossil fuel and tobacco-funded think tank
Dana Nuccitelli
, Monday 25 July
When I give a presentation and mention the 97% expert consensus on human-caused global warming, I'm often asked, "what's the deal with the other 3%?". These are the publishing climate scientists who argue that something other than humans is responsible for the majority of global warming, although their explanations are often contradictory and don't withstand scientific scrutiny.
A few months ago, the world's largest private sector coal company went to court, made its best scientific case against the 97% expert consensus, and lost. One of coal's expert witnesses was University of Alabama at Huntsville climate scientist Roy Spencer - a controversial figure who once compared those with whom he disagreed to Nazis, and has expressed his love for Fox News.
Last week, Spencer wrote a white paper for the Texas Public Policy Institute (TPPI) outlining the contrarian case against climate concerns. TPPI is part of the web of denial, having received substantial funding from both the tobacco and fossil fuel industries, including $65,000 from ExxonMobil and at least $911,499 from Koch-related foundations since 1998, and over $3 million from "dark money" anonymizers Donors Trust and Donors Capital Fund.
Spencer's arguments should of course be evaluated on their own merits, regardless of who commissioned them. However, it turns out that they have little merit on which to stand. The white paper is a classic example of a
Gish Gallop
– producing such a large volume of nonsense arguments that refuting all of them is too time-consuming. NASA Goddard director Gavin Schmidt rightly described Spencer's paper as:
A great example of how making nonsense arguments undermines his whole point. Sad!
https://

twitter.com/pdykstra/statu

s/755800199319158787 

…
A mishmash of myths
Most of Spencer's white paper consists of repeating a variety of long-debunked myths. It's laid out in the form of 13 basic climate questions that Spencer tries to answer. Fortunately, SkepticalScience.com has a database of over 200 climate myths, and summaries of what the peer-reviewed scientific research says about each. This makes it possible to handle Spencer's 13-point Gish Gallop by simply referring to the relevant myth rebuttals. So here we go:

1) 'Carbon dioxide is a trace gas' is rebutted as Myth #127.
2) 'Climate has changed before' is addressed in Myth #2, and climate scientist Michael Mann recently rebutted the myth that climate researchers ignore natural factors. Spencer's misleading claims about temperatures of the past 2,000 years based on a paper by Henrik Ljungqvist are refuted in Myth #168. Claims of hotter periods during that time than today are tackled in Myth #56, and implications that the planet is magically warming because it used to be colder during the Little Ice Age in Myth #32. Finally, the rebuttal to Myth #136 explains why we can't just blame global warming on natural cycles.
3) The reliability of global temperature measurements is explained in Myth #6.
4) Models used by the IPCC have accurately predicted global warming, as explained in the rebuttals to and Myth #229, as well as an important paper published last year.
5) The net negative consequences of rapid global warming are outlined in the rebuttal to Myth #12.
6) The warming over the past 18 years is discussed in the rebuttal to Myth #7, and is clear from the record hot temperatures of the past 3 years.
7) The accuracy of climate models is covered under Myth #5 and in my book.
8) The sensitivity of the climate to the increasing greenhouse effect is addressed in Myth #30, and the role of clouds in Myth #143.
9) False claims about the 97% expert climate consensus are in Myth #3 and Myth #226.
10) Claims of 'slow' ocean warming are refuted by the fact that it's accumulating heat at a rate equivalent to 4 atomic bomb detonations per second, consistent with climate model predictions.
11) Spencer downplays the importance of our repeated breaking of temperature records, but we wouldn't be breaking them without global warming.
12) On climate change causing extreme weather (Myth #41), Spencer suggests that we shouldn't worry about stronger hurricanes (Myth #16), denies the record intensity of California's current drought, and cherry picks sea ice (Myth #157) and snow cover data (Myth #159).
13) Spencer ends his paper with the claim that the 97% of climate research that's consistent with the expert consensus is all politically biased. This is ironic given that Spencer has previously said:

I view my job a little like a legislator, supported by the taxpayer, to protect the interests of the taxpayer and to minimize the role of government.
The best case against climate concern is really bad

All in all, Spencer managed to cram about 24 climate myths into a 13-point white paper. Most importantly, as Schmidt noted, the bulk of those myths served no purpose.

Just consider Spencer's very first argument. No scientist should ever claim that carbon pollution is benign because it's only present in the atmosphere in trace amounts. For example, arsenic can be deadly if present in trace amounts in water; Spencer probably wouldn't drink from a water source with 400 ppm of arsenic. This is an easily-refuted, scientifically-useless argument whose sole purpose seems to be fooling non-experts. It's the climate version of the Chewbacca defense.
In the Peabody Energy case, the judge ruled that the preponderance of evidence did not support Spencer or his fellow coal expert witnesses. Without strong evidence supporting their arguments, climate contrarians often resort to Gish Gallops to win arguments. In fact, the RationalWiki page on Gish Gallops lists another climate contrarian, Christoper Monckton among the well-known "abusers of this technique," alongside Donald Trump.
In short, if there were a valid case against the urgent need for climate action, contrarians' best experts wouldn't have to scrape 24 long-debunked myths from the bottom of the oil barrel.