ידיעות/עדכונים התחממות
הירשם לפרסומים
Climate Reality Project

This is history in the making. As of November 4, the Paris Agreement – the first truly global agreement to fight climate change – is finally in effect.
The big players — the US, China, India, Canada, Brazil, and numerous European nations — are all in. Small nations like Madagascar and Antigua and Barbuda are in. And almost every day, more countries in between join them. With the world united like never before, it's time to stop talking about the crisis and start working together to solve it.
It's time for our leaders to honor – and strengthen – their commitments to climate action. It's time to drop dirty fossil fuels and power our lives and economies with affordable clean energy. Because now a bright, sustainable future for our planet is finally in sight – and it's time to make it a reality.

Katherine Marinko, Treehugger, September 23, 2016
CC BY 2.0 Michael Allen Smith
Don't take your morning cup of coffee for granted. It may not be around in a few decades, according to a new report.
Coffee is one of the world's most beloved beverages, but it may not be around much longer. According to a new report released by Fairtrade Australia and New Zealand, coffee is severely threatened by climate change, and the amount of land suitable for coffee production could decrease by 50 percent as soon as 2050.
While the report contains little new research, it pulls together recent studies, research, and graphics on coffee production and climate change into a single document, outlining a situation that looks very dire for coffee producers and drinkers alike.
Arabica coffee beans, the preferred type, do best at moderate tropical temperatures of 18-21°C (64-70°F). Robusta, the other most common variety, is more resistant to temperature but of lower quality. All coffee grows in the so-called "Bean Belt," which wraps around the circumference of the planet and comprises 70 countries, including Vietnam, Brazil, Colombia, Tanzania, Ethiopia, and Central American nations. Coffee is the second most valuable commodity exported by developing nations, so any decrease in exports would be a huge economic blow, not to mention a loss of important jobs among many of the world's poorest laborers and farmers.
A Brewing Storm report/Screen capture
Already climate change is causing trouble for coffee farmers. With warmer, wetter weather overall, growers are experiencing infestations such as coffee leaf rust and the berry borer in high-altitude locations that used to be unsuitable to such pests. Hot spells and cold snaps are killing crops; the Brazilian state of Minas Gerais lost one-third of its yield in 2014 due to drought. From the report:
"Even half a degree at the wrong time can make a big difference in coffee yield, flavour, and aroma. Around the Bean Belt, rising minimum growing temperatures, changes in rainfall patterns, and rising pest and disease incidence, are already making life harder for coffee farmers."
Some countries will become unsuitable for coffee production altogether, such as Mexico, which is projected to be unviable by the 2020s. The report says that most of Nicaragua will lose its coffee zone by 2050, and Tanzanian Arabica will reach critically low levels by the 2060s. There are regions that could benefit from the changing climate by becoming coffee growers, such as the highlands of East Africa, Indonesia, Papua-New Guinea, and the Andes, but these would still be affected by more extreme and unpredictable weather. Additional expansion would result, too, in the destruction of more forests to make way for new plantations.
© K Martinko -- A smallholder coffee plantation in the hills outside San Pedro Sula, Honduras
The New York Times cites Doug Welsh, vice-president at Peet's Coffee and a board member at World Coffee Research:
"[Climate change] is a severe threat. It's anecdotal, but I don't know any coffee farmers who don't believe that their weather, and with it their disease and productivity issues, have changed dramatically over the last decade."
As the Fairtrade report points out, most of the world's 25 million coffee workers are poor, uneducated, disorganized, and slow to implement best practices on their small farms. They live in economic situations that are already dangerously fragile, with an oversaturated market with highly volatile prices. All of this means that they have little capacity to build resilience.
"Coffee labourers in tropical countries are among those most exposed to heat strain and heat stroke – a situation certain to worsen… Warmer, moister conditions also favour the spread of mosquito-borne diseases like malaria. Drought, on the other [hand], is associated with a deep and disturbing sense of failure, loss, powerlessness, heightened anxiety, stress, depression, and an increased suicide rate among farmers."
© K Martinko -- A coffee grower's humble home near San Pedro Sula, Honduras
What's a coffee lover to do?
Learn what the issues are facing coffee growers worldwide. (Read the full report here.) Be sure to buy coffee that has been fairly traded (some companies offer carbon-neutral, too), because then you know that the workers are receiving a fair return for their work and are part of an organization that supports them and will help them to implement strategies for climate change resistance.
מאת ג'ון הנלי, גרדיאן, 29/9/2016
מומחים חוששים כי מתחם סודי ביותר של צבא ארה"ב משנות המלחמה הקרה ובו פסולת רעילה, שנחשב קבור לעולמים מתחת לכיפת הקרח בגרינלנד, ייחשף בתוך כמה עשורים בשל ההתחממות הגלובלית
מתחם סודי ביותר של צבא ארה"ב משנות המלחמה הקרה ובו פסולת רעילה, שנחשב קבור לעולמים מתחת לכיפת הקרח בגרינלנד, ייחשף בתוך כמה עשורים בעקבות עליית הטמפרטורות הגלובלית - כך חוששים מומחים.
ב–1959 מיקם חיל ההנדסה האמריקאי את Camp Century כ–200 קילומטרים מחופה של גרינלנד, שהיתה שייכת בזמנו לדנמרק. את האנרגיה במתחם, שכונה "העיר שמתחת לקרח", סיפק הגנרטור הגרעיני הנייד הראשון בעולם. היתה זו רשת של מנהרות שנחפרו בעומק של שמונה מטרים מתחת לקרח ושכללו מעבדות, חנות, בית חולים, אולם קולנוע, כנסייה ואזור מגורים לכ–200 חיילים.
המטרה הרשמית של הפרויקט היתה לחקור שיטות בנייה ארקטיות ולבצע מחקרים. החוקרים שהוצבו במחנה קדחו ושלפו את דגימות הקרח הראשונות ששימשו בחקר אקלים כדור הארץ. הנתונים שנאספו עדיין משמשים במחקרים עד היום, אומר ויליאם קולגאן, חוקר אקלים וקרחונים מבית הספר להנדסה באוניברסיטת יורק בטורונטו, שהוביל את המחקר.
למעשה שימש המחנה מסווה לדבר שונה לגמרי — פרויקט כה עצום וכה סודי, עד שאפילו ממשלת דנמרק לא עודכנה על קיומו. "הם חשבו שהוא לא ייחשף לעולם", אומר קולגאן. "באותם ימים, בשנות ה–60, עוד לא נטבע המונח התחממות גלובלית. אבל האקלים משתנה, ועכשיו נשאלת השאלה אם מה שנמצא שם אכן יישאר שם".
פרויקט "תולעת קרח", שהוצג בפני מפקדי צבא ארה"ב בשנת 1960, נועד לנצל את המנהרות לבדיקת היתכנות של הקמת אתר שיגור עצום מתחת לקרח, שממנו ניתן לשגר טילים גרעיניים ישירות לברית המועצות.
בשיאה של המלחמה הקרה, בעיצומו של משבר הטילים בקובה, שקל צבא ארה"ב לבנות הרחבה עצומת מימדים של מתחם Camp Century התת־קרקעי. בין השאר תוכננה רשת מנהרות קרח תת־קרקעיות וחללים פנימיים באורך של כ–4,000 קילומטרים, המשתרעת על פני שטח הגדול פי שלושה משטחה של דנמרק. המתחם היה אמור לאחסן 600 טילים בליסטיים המכוונים אל מוסקבה וסביבותיה בקבוצות המרוחקות שישה קילומטרים זו מזו. בסופו של דבר התברר שהפרויקט אינו בר־ביצוע. תנועתו התמידית של הקרח הפכה את המתחם כולו לבלתי יציב, והיה חשש שהמנהרות עצמן יתעוותו ואף יקרסו.
אחרי 1964 היה Camp Century בשימוש רק מדי פעם. כעבור שלוש שנים ננטש המחנה לגמרי. החיילים שעזבו נטלו עמם את כור ההפעלה של הגנרטור הגרעיני. הם הותירו במקום את תשתית המחנה וגם פסולת ביולוגית, כימית ורדיואקטיבית, שהיתה אמורה "להשתמר לעולמי עד" תחת הקרח והשלג המצטברים במקום.
ואמנם, זה היה המצב עד כה. שכבת הקרח המכסה את המחנה, שעומקה היה 12 מטרים ביום שהאתר ננטש, עבתה מאז והגיע לכ–35 מטרים, והיא תמשיך ותצטבר.
ואולם, נראה שהשינויים האקלימיים יהפכו את התהליך על פיו, כך נטען בדו"ח שפרסמו קולגאן וששת אנשי צוותו, מדענים מאוניברסיטאות בקנדה, בארה"ב ובאירופה. תוצאות מחקרם פורסמו בחודש שעבר בכתב העת Geophysical Research Letters.
הטמפרטורות בגרינלנד הגיעו לשיא באביב ובקיץ השנה. ביוני נרשמו בנוק הבירה, 24 מעלות, לתדהמת המטאורולוגים המקומיים. בין השנים 2003 ו–2010 נמס הקרח המכסה את רוב היבשת במהירות הגדולה פי שניים מהמהירות שבה נמס במאה ה–20 כולה.
מקור: הארץ
Natasha Geiling, 28.9.2016
The Mauna Loa Observatory atmospheric research facility has been measuring atmospheric concentrations of carbon dioxide since the 1950s. CREDIT: AP Photo/Chris Stewart
The world just passed a longstanding climate marker, further proof that atmospheric concentration of carbon dioxide has changed in a stunning, measurable way since the Industrial Revolution.
Put another way: Children born today will likely never live in a world where the atmospheric concentration of carbon dioxide is less than 400 parts per million — a 42 percent increase from pre-industrial levels.
Atmospheric concentrations of carbon dioxide — the amount of carbon dioxide molecules present in the atmosphere relative to everything else — have been measured continuously since the late 1950s, when Charles Keeling first devised a unique method of sampling carbon dioxide from the air. His measurements — first taken on top of the Mauna Loa volcano on the Big Island of Hawaii — eventually lead to the Keeling Curve, which some scientists have called "an icon of modern science." The curve shows the rapid increase in atmospheric carbon dioxide since Keeling began taking measurements almost half a century ago.
The Keeling Curve. CREDIT: WIKIPEDIA
When Keeling first began taking measurements, atmospheric carbon dioxide measured at about 310 parts per million, meaning that carbon dioxide made up about .03 percent of the Earth's atmosphere. That was already a marked increase from preindustrial levels, when atmospheric carbon dioxide measured about 280 parts per million.
But that number has been rapidly increasing. In the late 2000s, climate scientist James Hansen argued that the world needed to stay below 350 parts per million to avoid the worst impacts of climate change (his warning is what gave 350.org, the global climate activism group, its name). Three years ago, Earth's atmospheric carbon dioxide levels first exceeded 400 parts per million, but those levels quickly dipped back below the threshold, as atmospheric carbon dioxide waxes and wanes with the seasons.
Which is why the fact that atmospheric carbon dioxide is still above 400 parts per million at the end of September is a worrying fact: September is usually the time when concentrations are at their lowest, as trees in the Northern Hemisphere have grown all summer, sucking carbon out of the atmosphere. In a blog post, Ralph Keeling, current head of the Scripps carbon dioxide measurement program and son of Charles Keeling, wrote that it is "almost impossible" that CO2 levels will drop below 400 in October.
"Concentrations will probably hover around 401 ppm over the next month as we sit near the annual low point," he wrote. "Brief excursions towards lower values are still possible but it already seems safe to conclude that we won't be seeing a monthly value below 400 ppm [parts per million] this year — or ever again for the indefinite future."
Realistically, crossing the 400 ppm threshold won't result in any immediate climate consequences for the world — when levels climbed above 400 parts per million last year, climate scientists told ClimateCentral that the threshold is more symbolic than a physical trip line that will instantly trigger more massive storms or sea level rise.
"It already seems safe to conclude that we won't be seeing a monthly value below 400 ppm this year — or ever again for the indefinite future."
"As a scientist, the difference between 399 ppm vs. 401 ppm is negligible," Katharine Hayhoe, atmospheric scientist at Texas Tech University, said at the time. "As a human, though, passing both the 400 ppm and (potentially) the 1°C threshold within such a short time period makes it clear we are already living in a different world. We have blown past targets that were being considered as viable when I entered graduate school. We have significantly reduced the options available to us in the future."
If nothing else, crossing the 400 parts per million threshold permanently is proof that humans — through the burning of fossil fuels — have had an incredible influence on the planet, and are actively shaping the world that we live in today. In addition to passing the 400 ppm line, the planet has seen historically high temperatures in recent months, with August capping of a 16-month streak of record hot months.
Meanwhile, the Republican presidential candidate still ignores the dangers of climate change and consistently threatens to roll back the majority of U.S. domestic climate policy, as well as pull the United States out of the historic Paris climate deal.
מאת רויטרס, 14/9/2016
הסופה, הנחשבת לעוצמתית ביותר בעולם השנה, פוקדת את דרום האי וגרמה לנזק כבד ולחמישה פצועים. "לא ניתן להתחמק מאבדות בנפש", אמר ראש מרכז החריום. מחר תגיע הסערה לדרום סין
סופת הטייפון העוצמתית ביותר שפקדה את העולם בשנה הנוכחית הגיעה היום (רביעי) לטייוואן, וגרמה עד כה לנזק רב ולחמישה נפגעים, כמו גם ליותר מחצי מיליון בתי אב שנותרו ללא חשמל. השירות המטאורולוגי צופה כי הסערה, המכונה "מראנטי" ונושאת עמה רוחות בעוצמה של 227 קילומטרים בשעה, תמשיך להכות בדרום ובמזרח המדינה עד מחר, ולפי הרשויות, היא עשויה לגרום לאבידות בנפש.
"הנזק מ'מראנטי' ימשיך לעלות בזמן שהסופה מכה באי", אמר דובר מרכז החירום במדינה. "לא ניתן להתחמק מאבדות, אך אנו ננסה לצמצמן", הוסיף. עד כה פונו כ-1,500 איש מדרום האי, שירות הרכבות והספנות שובש, ובתי ספר והמשרדים בדרום נסגרו. כמו כן, רוב טיסות הפנים בוטלו והטיסות הבינלאומיות שובשו קשות באזור.
לכתבה (כולל סרטון וידאו):
https://news.walla.co.il/item/2997428
Climate Reality Project
9.9.2016

WE GET IT: SCIENCE IS COMPLICATED.
But understanding that our planet is steadily warming – fundamentally changing shorelines, increasing extreme weather strength and frequency, and altering nearly every natural pattern on Earth – is easy.
Yet despite this, as climate activists, we're often confronted with the same misinformation about climate change that has been disproved time and time again. That's why we've created our e-book, The 12 Questions Every Climate Activist Hears and What to Say, where we detail the most common misconceptions and arguments against the reality of man-made climate change – and simple ways to explain why they're totally wrong
In this free e-book, we teach you how to answer the most common questions every climate activist hears, including:
How do we know it's because of us, and not a natural cycle or the sun?

How can scientists predict climate change if they can't always predict the weather?

What about the "global warming pause"?

Is it too late to do anything?

How can the Earth be getting warmer if it's cold out today?


And more
As a climate activist, you already know the climate is changing and we need to do something about it. We hope this e-book provides clear answers to these confusing questions. 
Thanks for all that you do to protect our planet, 
- Your friends at Climate Reality
By LISA FRIEDMAN OCT. 23, 2017
Members of the Wyoming Hot Shots firefighting crew battling the Lizard Fire near Willcox, Ariz., in June.
Credit

Kyle Miller/Wyoming Hot Shots, via Associated Press
WASHINGTON — Fires, floods and hurricanes are already costing the federal government tens of billions of dollars a year and climate change will drive those costs ever higher in coming years, a new federal study warns.
The report by the Government Accountability Office, Congress's auditing arm, urges the Trump administration to take climate change risks seriously and begin formulating a response.
The study, scheduled to be released Tuesday, says that different sectors of the economy and different parts of the country will be harmed in ways that are difficult to predict. But one estimate projects that rising temperatures could cause losses in labor productivity of as much as $150 billion by 2099, while changes in some crop yields could cost as much as $53 billion. The Southwest will suffer more costly wildfires, the Southeast will see more heat-related deaths and the Northwest must prepare for diminished shellfish harvests.
The report acknowledges that it is difficult to pinpoint the costs of disasters that can be directly attributed to climate change. And the projected fiscal burden remains less than 1 percent of the current $3.8 trillion federal budget.
But Senators Maria Cantwell, Democrat of Washington, and Susan Collins, Republican of Maine, who jointly requested the report, said between the lines of a conservative government audit was an urgent economic message that Washington should heed.
"The Government Accountability Office — if you will, the chief bean counter — is basically telling us that this is costing us a lot of money," Ms. Cantwell said. "We need to understand that as stewards of the taxpayer that climate is a fiscal issue, and the fact that it's having this big a fiscal impact on our federal budget needs to be dealt with."
The report, two years in the making, comes as the Senate prepares to vote this week on a $36.5 billion disaster-relief package to fund hurricane relief, a flood insurance program and wildfire recovery efforts in the West.
Ms. Cantwell and Ms. Collins noted that the White House Office of Management and Budget had calculated that extreme weather events over the past decade cost the federal government $350 billion.
Both asserted that the study should help move Congress and the administration past partisan fights over the science of global warming and toward a search for solutions — something they said could be problematic given that the Trump administration is rolling back many of former President Barack Obama's climate change initiatives.
"My hope is the administration will take a look at this report and realize there is an economic impact here that is significant," Ms. Collins said. "We simply cannot afford the billions of dollars in additional funding that's going to be needed if we do not take into account the consequences of climate change."
The G.A.O. study draws on interviews with 26 scientific and economic experts and 30 studies, though it focuses most heavily on the only two national-scale studies analyzing the economic effects of climate change. One of them is an ongoing research project being produced by the Environmental Protection Agency, and the other is a study by several organizations led by the Rhodium Group that analyzed the potential costs associated with climate change in coastal property, health, agriculture, energy, labor productivity and crime.
Trevor Houser, a partner at the Rhodium Group, which led the American Climate Prospectus study, said the accounting was on the conservative side. The agriculture analysis, for example, looked only at how changes in temperature and precipitation would affect four commodity crops. It did not study the fiscal fallout of events like wildfires and did not take into account the costs of infectious diseases linked to climate change.
"Climate change is clear and present danger to the U.S. economy and the fiscal health of the U.S. government, and that risk is really unevenly spread," Mr. Houser said. "It needs to be actively managed by the federal government."
J. Alfredo Gomez, one of the lead authors of the G.A.O. study, said the federal government had identified climate change as a significant economic risk since 2013. This study, he said, asks the administration to use the detailed data to prepare for the inevitable.
Robert N. Stavins, an economist at Harvard University, said he doubted the study would convince either Republicans in Congress or the White House to act.
"The G.A.O. study is conservative, it's not alarmist, it's realistic and balanced and they go out of their way to point out all of the uncertainties involved," Mr. Stavins said. "I don't see any likelihood it's going to be taken seriously."
---
Related articles:







Lima, Apr. 1. 2017.
Peru's President Pedro Pablo Kuczynski stressed the importance of developing a global warming prevention policy to combat devastating emergencies resulting from natural disasters.
These situations are battering not only Peru, but neighboring countries like Colombia.
"It is part of a global phenomenon. We have received bad news from Colombia, and there are droughts in other parts of the world. This is due to global warming, and this is not going to change. Then, as a country, we need to have a policy to address climate change," he commented.
The Peruvian leader expressed his full support and deep solidarity to the people of Colombia over the deaths caused by a heavy rain-triggered landslide in Putumayo province.
After receiving the latest climate condition and victim assistance report by National Emergency Operations Center (COEN), the Peruvian leader said his government "will keep on working as one force" to cope with the emergency caused by torrential rains. 
He went on to extend his gratitude to Armed Forces, National Police, Fire Department and EsSalud staff for the aid they provide to disaster-hit regions. 
"Around 4,000 officers are helping Piura through this emergency," said the 78-year-old statesman, who was joined by Prime Minister Fernando Zavala and Health Minister Patricia Garcia.
(END) JCB/SMA/RMB
Published: 4/1/2017
Source: andina.com.pe

---
More than 200 dead, many missing in Colombia mudslides
By Angela Dewan, Jennifer Deaton and Mariano Castillo, CNN
Updated 1821 GMT (0221 HKT) April 2, 2017
(CNN)Rescuers in southern Colombia were scrambling Sunday to reach more than 100 people who are missing after devastating mudslides tore through entire communities.
Hundreds are reported dead after torrential rains Friday night caused three rivers surrounding Mocoa, in Putumayo province, to overflow -- sending a torrent of mud surging through the city.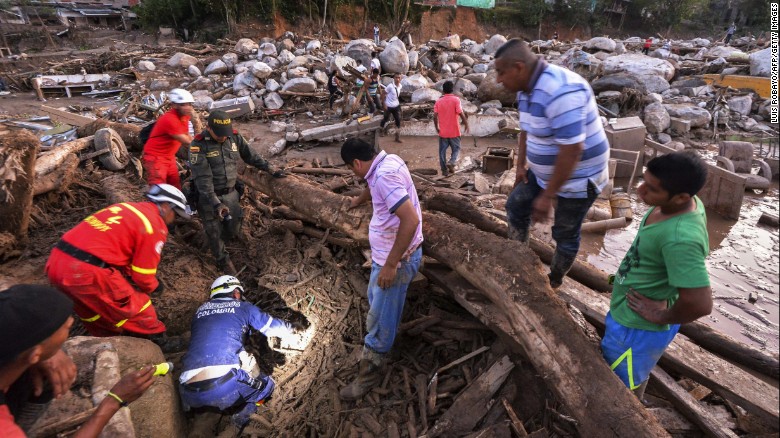 Rescuers search for more victims under the debris in Mocoa.
Reports of the exact number of those killed in the rugged, remote area vary. The Colombian military said at least 254 are dead and around 400 more injured. The Red Cross reports 234 deaths and said that 158 people were missing.
President Juan Manuel Santos has declared a state of emergency. Santos put the death toll at 207 but told reporters at the scene that the number could climb.
"The first thing I want to say is that my heart, our hearts, the hearts of all Colombians are with the victims of this tragedy," he said.
Santos said 43 children are among those killed, with 22 more hospitalized. He added that many children can't find their parents.
"There are still many missing people. We don't know where they are. That's why the system is still trying to locate them and will continue to do so until we find the last person."
Earlier Santos said, "Many people are coming to us saying, 'My son is missing, my father is missing, my mother is missing."
He said that the city had experienced in one night around a third of the rainfall that it should receive over the span of a month, blaming the disaster on climate change.
Heavy rains, high levels of deforestation, informal housing and dense human populations are some factors that can leave communities vulnerable to landslides,
scientists say
.
Aerial footage of the site showed some rooftops poking above the muddy deluge that flattened other homes, bridges and highways.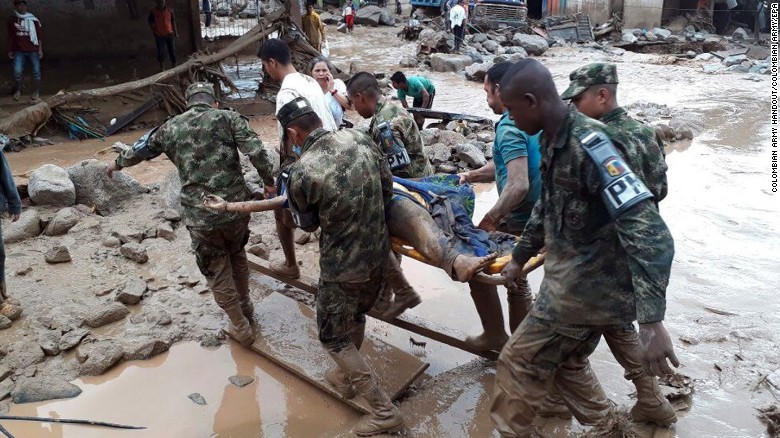 Soldiers evacuating a victim after the mudslide hit Mocoa on Friday night.
Power and water supplies to Mocoa have been cut by the disaster, and the hospital system has shut down, firefighters say.
Images showed cars and buses trapped in several feet of mud.
Gabriel Umaña, a spokesman for the Colombian Red Cross, told CNN that 300 families had been displaced and more than two dozen homes had been flattened.
Many were sound asleep when the river of mud hit their neighborhoods, and witnesses said the sludge flowed so fast that they had to run for their lives.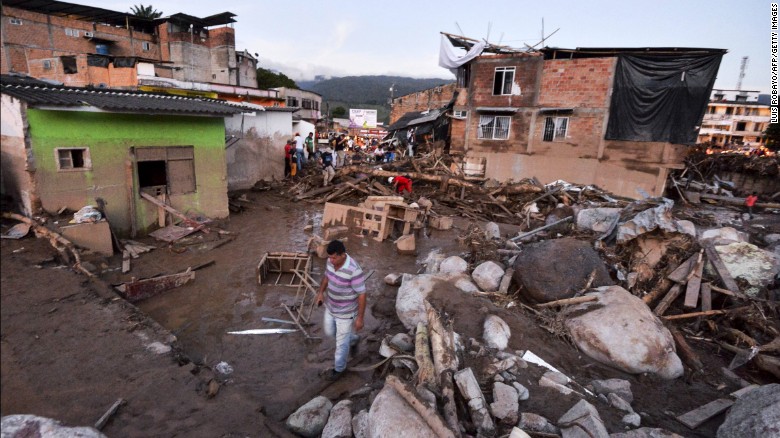 Many people searched through the debris for their possessions after the mudslide destroyed their homes.
"Around 11, 12 o'clock (on Friday), there was a huge storm, a lot of water. I got up because it sounded so heavy, the sound of the rocks. Everyone (was shocked)," one man at the site said, Reuters reported.
Another wearing yellow rubber boots stood on some rocks as a river of mud streamed by.
"Nobody has given me news. Nobody, nobody. No one from my house or my family. I am at the will of my God. I have nothing. Nothing to eat, nowhere to sleep. These clothes were given to me," he said.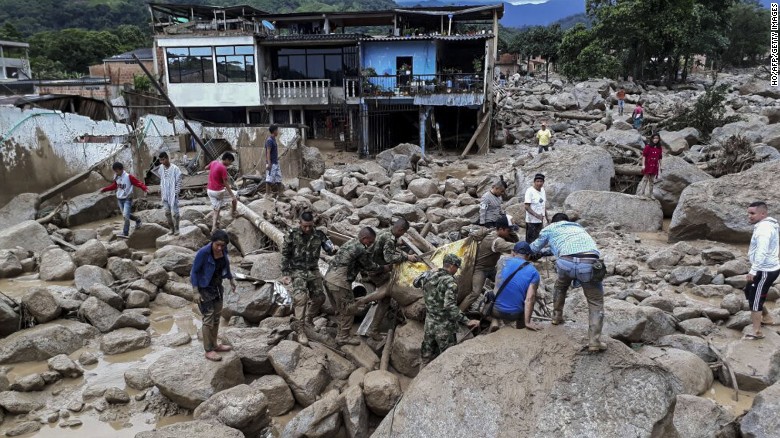 Soldiers retrieve bodies from the mudslide site.
Residents congregated outside a family welfare center pored over a list of missing people. One listed only children, some as young as 2.
"We have lost a baby, who has gone missing, and the rest is as you can see. A little baby, we can't find him anywhere," said one woman, wiping away tears.
President Santos personally comforted Marcelo Garreta, who said he could see dead bodies being carried away by floodwaters but was powerless to help.
"We couldn't help anybody, because if we tried we would've been washed away as well. I saw light poles washed away by the floodwaters. This is a great tragedy," Garreta said.
Simón Uribe, a filmmaker living in the area, told CNN the mudslide wreaked havoc on Mocoa's "many irregular settlements."
"Mocoa is an a very mountainous region surrounded by rivers," Uribe said. "We were staying at a house near one of those rivers and, in a matter of minutes, we started to see cars being washed away, motorcycles and chunks of houses."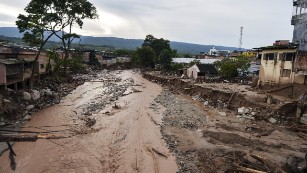 General view of damages caused by mudslides following heavy rains in Mocoa, Putumayo department, southern Colombia on April 2, 2017.
Uribe and those in the house with him retreated to the second floor as floodwaters rushed in, but they were eventually forced to evacuate.
"It was chaos with people running in all different directions, trying to get out of their houses and climbing on top of roofs. We were in that critical situation for about two hours."
When he returned to the house, Uribe said, "a good portion of it was destroyed and mud was about 1.5 meters high."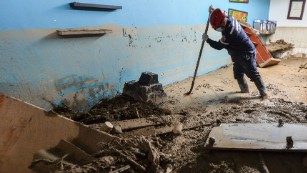 A fireman searches for victims inside a muddy house, following mudslides caused by heavy rains in Mocoa, Putumayo department, southern Colombia on April 2, 2017.
Mocoa resident Leandro Delgado told CNN that floodwaters swept away huge trees just before midnight.
"Those neighborhoods located uphill are the hardest hit.This is complete catastrophe," Delgado said. "People would run. They were desperate. They started pulling bodies around three in the morning from those mounds of mud there."
Some appear to have escaped with only their lives.
"I was left with nothing, but my two children," Lourdes Gutiérrez told CNN. "Everything is truly finished."
More than 1,000 soldiers and national police officers are involved in the ongoing rescue effort, and they are facing enormous challenges.
"The difficulties we are facing are that it is still raining in the region and the (mudslide) turned up a considerable amount of land. There are mobility issues on almost 80% of the roads, and where the road ends, it is three hours to the place where the (mudslide) took place," a police spokesman told reporters.
Photos released by Colombia's military showed rescuers carrying old women and children over downed, mud-caked trees and homes.
President Santos said emergency officials are also bringing water tanks and purification plants to Mocoa.
Colombia is no stranger to mudslides.
CNNE's Fernando Ramos in Colombia and Rafael Romo and Matt Rehbein in Atlanta contributed to this report
Source:
cnn.com
Published: September 30th, 2012
By Andrew Freedman



EDITOR'S NOTE: This story was originally published April 3. Given recent news that Arctic sea ice set a record low, it's a reminder that changes in the Arctic can affect the U.S. and Europe.
By showing that Arctic climate change is no longer just a problem for the polar bear, a new study may finally dispel the view that what happens in the Arctic, stays in the Arctic.
The study, by Jennifer Francis of Rutgers University and Stephen Vavrus of the University of Wisconsin-Madison, ties rapid Arctic climate change to high-impact, extreme weather events in the U.S. and Europe.
The study shows that by changing the temperature balance between the Arctic and mid-latitudes, rapid Arctic warming is altering the course of the jet stream, which steers weather systems from west to east around the hemisphere. The Arctic has been warming about twice as fast as the rest of the Northern Hemisphere, due to a combination of human emissions of greenhouse gases and unique feedbacks built into the Arctic climate system.
The jet stream, the study says, is becoming "wavier," with steeper troughs and higher ridges. Weather systems are progressing more slowly, raising the chances for long-duration extreme events, like droughts, floods, and heat waves. 
"[The] tendency for weather to hang around longer is going to favor extreme weather conditions that are related to persistent weather patterns," said Francis, the study's lead author.
One does not have to look hard to find an example of an extreme event that resulted from a huge, slow-moving swing in the jet stream. It was a stuck or "blocking weather pattern" – with a massive dome of high pressure parked across the eastern U.S. for more than a week – that led to the remarkable March heat wave that sent temperatures in the Midwest and Northeast soaring into the 80s. In some locations, temperatures spiked to more than 40 degrees above average for that time of year.
The strong area of high pressure shunted the jet stream far north into Canada. At one point during the heat wave, a jetliner flying at 30,000 feet could've hitched a ride on the jet stream from Texas straight north to Hudson Bay, Canada. In the U.S., more than 14,000 warm-weather records (record-warm daytime highs and record-warm overnight lows) were set or tied during the month of March, compared to about 700 cold records. 
According to the study, Arctic climate change may increase the odds that such high-impact, blocking weather patterns will occur. The study cites examples of other patterns that led to extreme events that also may bear Arctic fingerprints, including the 2011 Texas drought and heat wave, which cost the state's agricultural sector a staggering $7.62 billion – making it the most expensive one-year drought in that state's history.
In addition, the study also mentions jet stream configurations that led to heavy snows in the Northeast and Europe during recent winters. Such events are also "consistent" with the study's findings, according to the paper.
The reasons why the Arctic is heating up so quickly, a phenomenon known as "Arctic amplification," has to do with factors that are unique to the Arctic environment, involving feedbacks between sea ice, snow, water vapor, and clouds. As the area warms in response to manmade greenhouse gases, melting ice and snow allow exposed land and water to absorb more of the Sun's heat, which melts more ice and snow, and so on. A relatively small amount of initial warming can be greatly magnified in the Far North. 
The temperature contrast between the frigid Arctic and the milder mid-latitudes is what drives the powerful jet stream winds, which are so important for determining day-to-day weather conditions.
In addition to making the jet stream have more pronounced north/south swings, the reduced temperature gradient between northern and southern areas is causing the westerly component of upper-level winds to slow, especially during the fall when extra heating in the Arctic is exceptionally strong.
Path of the jet stream on March 21, 2012. Credit: weatherunderground.
The westerly component of upper-level winds during the fall has weakened by about 14 percent since 1979, the study found. 
A slight slowdown in the jet stream may not sound like a big deal. After all, jet stream winds have been clocked at upwards of 200 mph. But it turns out that slowing of the jet stream influences its shape and the motion of individual storm systems. 
Weaker westerly winds causes the big north/south swings in the jet stream to move more slowly from west to east, making weather conditions in a given location more persistent than they used to be. "That means that whatever weather you're experiencing now is going to tend to hang around longer because the passage of those waves is really what causes the weather to change," Francis said.
The study contains a stark warning about future weather patterns, given projections showing that Arctic climate change is likely to accelerate in coming years. "As the Arctic sea ice cover continues to disappear and the snow cover melts ever earlier over vast regions of Eurasia and North America, it is expected that large-scale circulation patterns throughout the northern hemisphere will become increasingly influenced by Arctic amplification," the study reports.
In other words, rapid Arctic warming is expected to exert a growing influence on the weather far beyond the Arctic Circle, for many years to come.

The Arctic's ice is disappearing. We must reduce emissions, fast, or the human castastrophe predicted by ocean scientist Peter Wadhams will become reality


John Vidal, Thursday 18 August 2016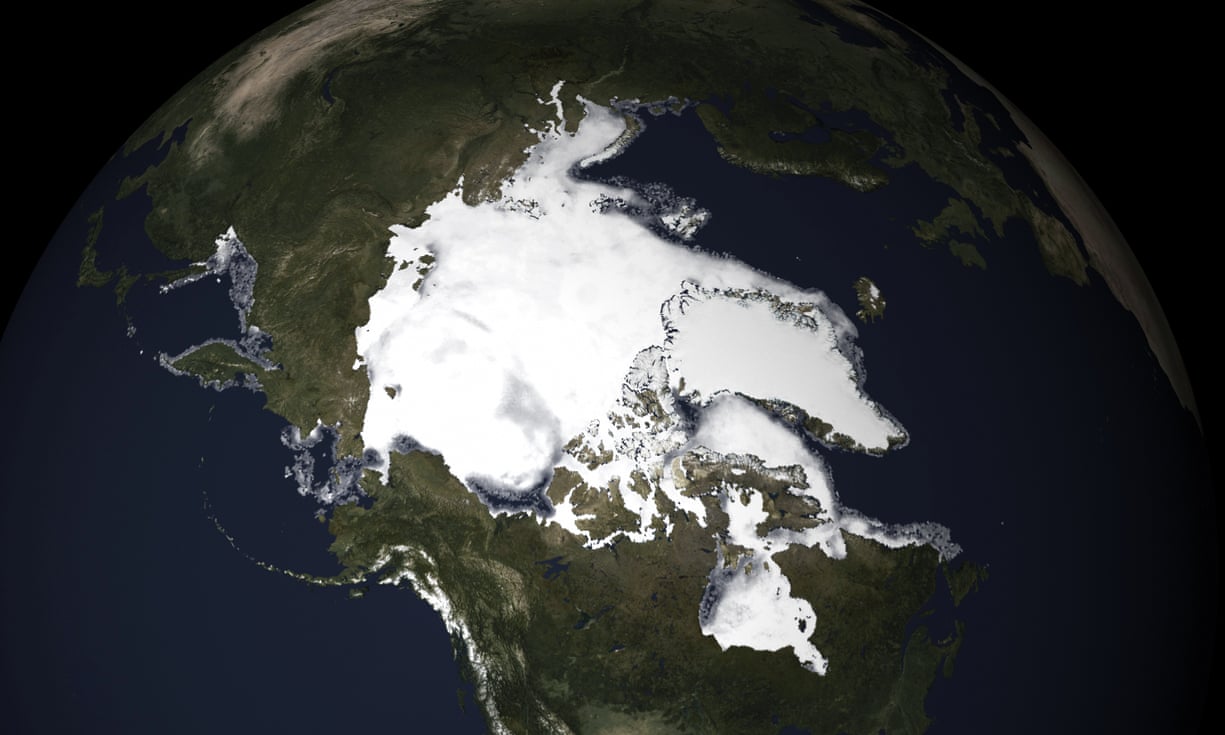 Arctic sea ice melt in May. 'The Arctic sea ice is declining by 13% a decade.' Photograph: NOAA
Ice scientists are mostly cheerful and pragmatic. Like many other researchers coolly observing the rapid warming of the world, they share a gallows humour and are cautious about entering the political fray.
Not Peter Wadhams. The former director of the Scott Polar Research Institute and professor of ocean physics at Cambridge has spent his scientific life researching the ice world, or the cryosphere, and in just 30 years has seen unimaginable change.
When in 1970 he joined the first of what would be more than 50 polar expeditions, the Arctic sea ice covered around 8m sq km at its September minimum. Today, it hovers at around 3.4m, and is declining by 13% a decade. In 30 years Wadhams has seen the Arctic ice thin by 40%, the world change colour at its top and bottom and the ice disappear in front of his eyes.
In a new book, published just as July 2016 is confirmed by Nasa as the hottest month ever recorded, this most experienced and rational scientist states what so many other researchers privately fear but cannot publicly say – that the Arctic is approaching a death spiral which may see the entire remaining summer ice cover collapse in the near future.
The warming now being widely experienced worldwide is concentrated in the polar regions and Wadhams says we will shortly have ice-free Arctic Septembers, expanding to four or five months with no ice at all. The inevitable result, he predicts, will be the release of huge plumes of the powerful greenhouse gas methane, accelerating warming even further.
He and other polar experts have moved from being field researchers to being climate change pioneers in the vanguard of the most rapid and drastic change that has taken place on the planet in many thousands of years. This is not just an interesting change happening in a remote part of the world, he says, but a catastrophe for mankind.

"We are taking away the beautiful world of Arctic Ocean sea ice which once protected us from the impacts of climate extremes. We have created an ocean where there was once an ice sheet. It is man's first major achievement in re-shaping the face of the planet," he writes.
And, boy, are we seeing extremes. So far this year, the planet's average temperature has been 1.3C warmer than the late 19th century, and 2016 is virtually certain be the hottest year ever recorded.
Britain and northern Europe may have had average temperatures, but 500 million people in the Middle East and north Africa, along with most of south-east Asia, have experienced droughts and searingly hot days and nights, which are only partly to do with the natural El Niño phenomenon. Meanwhile, China, India and the US have seen some of their longest heatwaves and worst floods in decades, and nearly 100 million people will need food aid in the coming months because of disrupted rainfall patterns.
Mitribah in Kuwait has reported a world record 54C, India and Iran have both recorded their highest ever temperatures, and deadly heatwaves have struck China, the US, Indonesia and New Zealand. We are perilously close to the 1.5C limit of warming that all countries signed up to in Paris last year and on track for a 3C-4C increase which would make much of the world uninhabitable.
Because Wadhams says what other scientists will not, he has been widely slandered, attacked and vilified by denialists and politicians who have advised caution or non-action. But now he returns their fire, exhorting people to counter what he calls "the sewage flow of lies and deceit" emitted by the deniers. Above all, he says, people who study climate change should speak up and be prepared to risk the blighting of their careers and absence of honours.
But he joins other climate researchers to cross lines that the public may still find unacceptable. He wants global action to find new ways to remove carbon from the atmosphere, and is not afraid of nuclear power – both of which answers can be swallowed – but he also argues for a colossal, global research programme in geo- engineering.
Spraying sun-reflecting chemicals into the atmosphere, mimicking volcanoes, blocking sunlight and fertilising the oceans with iron filings attracts people who think that technology has all the answers, but it should strike fear into most of the world, which has not been responsible for warming and which has no reason to trust politicians' or scientists' further meddling with planetary forces.
How to proceed safely in a warming world without disastrous unintended consequences? The need for truly urgent action is undeniable, but by the time answers have been found to the massive questions of science, engineering and governance that Wadhams agrees need to be solved before geo-engineering on a planetary scale can go ahead, it will be far too late.
Climate change has been caused by ignorance and stupidity and cannot be solved by endorsing more of the same with geo-engineering. The only answer is reducing greenhouse emissions. Fast.
Source:
theguardian.com