High winds and rain continue to batter the coast, and the dispute over protecting rural areas is intensifying. Now the issues of climate change and food security have been thrust into the limelight


Jamie Doward, Tracy McVeigh and
Damian Carrington, 8/2/2014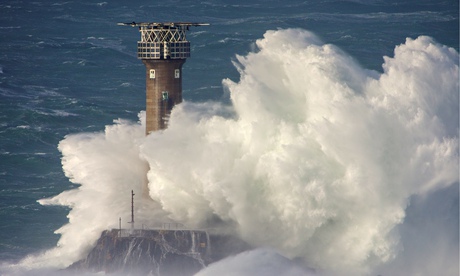 A massive wave throws spray to the top of the 35-metre Longships Lighthouse at Lands End, Cornwall. Photograph: Roger Sharp/SWNS
Who would be a fisherman or a farmer? It was a question many would have been asking as Superstorm Saturday blew in, battering coasts and triggering tidal surges that will ensure parts of the country remain under water for weeks.
As the row over who was to blame for failing to tackle the consequences of the extreme weather intensified, concerns grew about the impact that the flooding will have on agriculture. Experts warned that the government needed to fully understand that climate change poses a significant threat to food security.
On Saturday, however, it was security of a more basic kind that was concerning the citizens of Looe on the gale-whipped Cornish coast, which has found itself in the eye of the storm in recent days. Residents were being warned to stay at home as 50ft waves battered the town's already damaged sea defences.
There was a spirit of defiance in Looe as people tried to go about their business. The Moonlight Tandoori was offering slightly water-damaged menus and taking cash only because its credit card machines had floated off. "You have to support them that are trying to pick up their trades, even if you just caught three sole and can't afford a curry," said Rob, a fisherman collecting a takeaway.
Another fisherman, Mike Wright, said that he hadn't been able to get his boat out since the first week of December and didn't expect to be able to do so until March. Some of the town's smaller boats, those that hadn't been damaged by the three major storms to have battered the West Country in the last five weeks, had managed to slip out to sea just a handful of times.
"As a fisherman's wife I know how hard it is," said Cheryll Murray, MP for South East Cornwall, whose husband Neil died at sea in 2011. "Cornwall has a fragile economy and it is really, really important to get the message out that we're open. We're pulling together as a community and we're stoical."
Cornwall's other great money-spinner, tourism, is at risk, too. Looe's popular Seaton Beach Cafe, which was flooded in early January and only recently reopened, has been "utterly devastated" by winds hitting 90mph, according to owner Nicki Barry. She employs around 20 people at the cafe she runs with her two daughters and is now having to think about getting a burger van to the site to try to hang on to trade.
The great fear for those in the leisure industry is that, with half-term approaching, tourists will now stay away. "People are saying, 'Oh you're cut off, I can't get down', but they can," Murray said. "Flybe is putting on lots of extra flights into Newquay, the roads are fine, even the train can be done, with a coach taking people part of the way," she said. "Cornwall can't lose any jobs over this; that would be a disaster."
Train services to and from the West Country were halted after a fresh landslip at Castle Carey in Somerset blocked the line to Exeter, adding to disruption caused by track being washed away in Dawlish, Devon, in a previous storm. Ben Bradshaw, the Labour MP for Exeter, tweeted: "Just got worse: Landslip shuts Waterloo line at Crewkerne – no trains at all in or out of the West Country. Nearest services Bristol & Yeovil."
In flood-hit Chertsey, a seven-year-old boy died and two adults were taken to hospital after emergency services were called to a house.
Fifteen people, including police officers, were taken to hospital as a precaution. Chief Superintendent Dave Miller said he could not rule out a link to flooding in the local area. "Whilst the investigation is ongoing local residents should follow sensible precautions," he said.
By March next year, a multimillion pound flood prevention project under way around Dawlish will have received only a third of the funding it had been due in 2010. The Dawlish Warren and Exmouth beach management scheme was established to "help to reduce tidal flood risk to nearly 3,000 properties and the main railway into the south-west", says an Environment Agency document from November 2013.
Under the previous government, it would have received £2.7m in the coming financial year. But annual flood defence spending fell by 15% under the coalition's spending plans and the latest schedule for the Dawlish scheme, published on Thursday, shows that just £900,000 will be spent by March 2015.
The issue of flood defence spending is now a key political battleground, with Labour and the Tories trading blame. But many farmers attribute much of the crisis to successive governments' decisions to prioritise spending on urban defences.
Peter Kendall, the National Farmers Union chairman whose farm in Bedfordshire is under water, has just completed a tour of flood-hit areas that took in Oxfordshire, Gloucestershire and Somerset, which saw a fleeting visit from the prime minister on Friday. Kendall spoke of the "immense frustration" farmers are now feeling about a crisis much of which they feel could have been prevented.
"This is not just a Somerset issue, there's flooding all over the place," Kendall said. "Go to Oxford, where there's enormous flooding on the Thames, and it's 65 metres above sea level, so there's no problem with tidal surges. There's been deliberate management of that catchment area and its high-value homes. But go down to Gloucestershire and the Severn Bore and the big tidal surges and you've got massive amounts of water coming down from Birmingham and Wolverhampton.
"In Somerset, there's water coming in from Bridgwater and Taunton. There's new housing gone up on the M4 corridor; big industrial estates creating instant runoff. We've done a hell of a lot of development – a lot of roofs have gone up, a lot of concrete. Soil acts like a sponge, it absorbs water. But water runs off concrete immediately."
Kendall drew attention to Gloucester, which had seen its flood defences improved. "If there's more protection of the urban areas that means it then dumps on to the land," he said. "Do that and you've got to find ways of getting rid of it as quick as possible. It's like squeezing a balloon. It's got to come out somewhere."
He estimated that poor management of Britain's waterways was responsible for 70% of the flooding threatening to put farmers out of business. On Saturday, NFU Mutual, which insures 70% of the UK's farms, said it had received 8,000 claims, at a cost of £60m.
"We had this problem a year ago," Kendall said. "Once the rain stops, you want this water to get out to sea. You've got maybe 21 days before your crops or grass is dead. But last year farmers were stopped from pumping because there were worries about water coming off the flooded land and damaging the fish. So you then end up with water being left on the field going rancid for longer." His comments reflect the anger among farmers towards the Environment Agency's chairman, Lord Smith, who has been accused of favouring the protection of urban areas at the expense of the countryside."In Somerset, the Environment Agency spent £30m on a scheme to deliberately raise the water levels to encourage more wetland and biodiversity," Kendall said. "It has been managed for wildlife, not drainage."
But there is growing anger, too, towards the government and David Cameron, who famously tried to portray the Tories as a pro-green party and now finds his environmental credentials under scrutiny. Britain's sodden fields mean the debate about climate change is now no longer confined to some abstruse problem affecting glaciers in far-off countries. It is shooting up the political agenda and, in the potential ruination of Britain's crops and vegetables, threatening the food security of a country that already imports 30% of its produce.
"The biggest threat to farmers is extreme weather," said Kendall, who pointed out that events around the world were conspiring to place intense pressure on farming that will serve only to drive up prices. "California has run out of water, the American midwest has record minus degree temperatures and there are warnings about wheat crops, Ukraine is worried about frost, Australia has had a record year of temperatures, Austria had its hottest recorded temperature of 40.5 degrees last August. We are seeing more of these intense, extreme weather events and climate change does really now challenge mankind's ability to feed itself."
A wake-up call was sounded last year when the Defra select committee issued a report warning that the "current model for allocating flood defence funding is biased towards protecting property, which means that funding is largely allocated to urban areas. Defra's failure to protect rural areas poses a long-term risk to the security of UK food production, as a high proportion of the most valuable agricultural land is at risk of flooding."
But the country's farmers and fishermen don't need a report to remind them what is at stake. They just have to look out of their rain-lashed windows.
Only once this weekend's storms have passed will the true extent of the damage to their livelihoods become apparent. Many were only just hanging on as it was, following the devastation caused to their livelihoods in the previous year.
"If they get a deluge again in the south west this will have a real impact," Kendall warned. "Some farmers will not have cashflow or the ability to survive. I was talking to a lady yesterday. She said the banks were already on her case."