POSTED: 19 Jun 2013 11:03 PM

Military helicopters dropped emergency supplies Wednesday to thousands of people stranded by flash floods that tore through towns and temples in northern India and neighbouring Nepal, killing more than 160, officials said.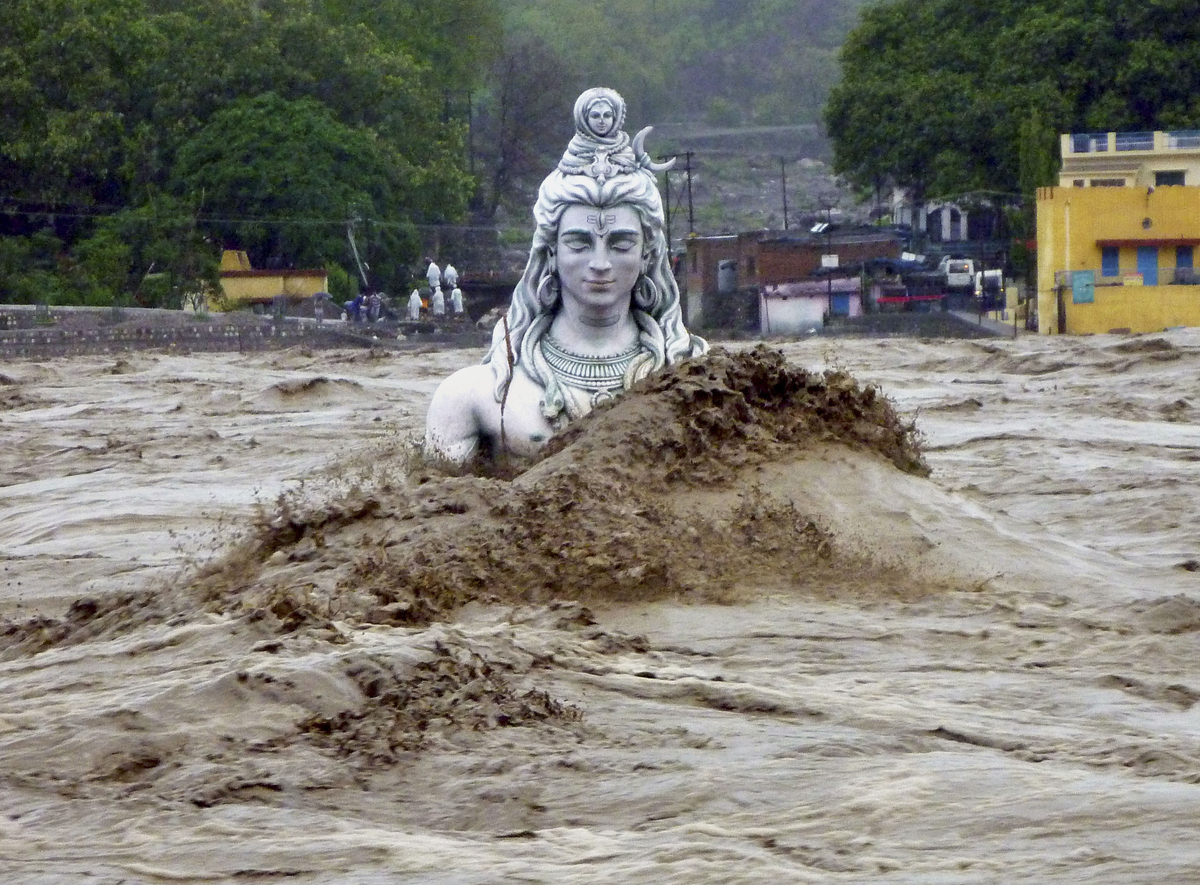 DEHRADUN, India: Military helicopters dropped emergency supplies Wednesday to thousands of people stranded by flash floods that tore through towns and temples in northern India and neighbouring Nepal, killing more than 160, officials said.
Thousands of pilgrims and tourists have already been evacuated after floods and landslides caused by early monsoon rains wrought devastation through India's Himalayan foothills, they said.
Indian Prime Minister Manmohan Singh said the priority was rescuing those still stranded and helping the more than 10,000 people already evacuated, describing the floods as "most distressing".
"There has been large scale devastation," the prime minister said after flying over the flooded region late Wednesday with ruling Congress party chief Sonia Gandhi.
He said the government would give $170 million to the worst-hit state of Uttarakhand for rescue and relief operations, adding "all possible resources" have been deployed to deal with the "ghastly tragedy."
Torrential rains at least three times as heavy as usual have hit Uttarakhand, often called the "Land of the Gods," where Hindu shrines and temples built high in the mountains attract many pilgrims.
Some 65,000 people are still stranded, five days after the rains hit on Saturday, Home Minister Sushil Kumar Shinde told reporters in New Delhi.
Houses, multi-storied buildings, cars, bridges as well as roads have been swept away or damaged after rivers burst their banks, forcing authorities to deploy military as well as civilian helicopters to evacuate people and drop essential food and other supplies.
"At least 110 people have died. The state government and the army are trying to rescue thousands of tourists who are stranded near the submerged valleys and Hindu shrines," said Yashpal Arya, the disaster relief minister of Uttarakhand.
At least another 28 people have been killed in the neighbouring states of Uttar Pradesh and Himachal Pradesh, officials said.
Prime Minister Singh said the total official death toll is 102 "but it is feared that loss of lives could be higher".
Over the border in Nepal, at least 22 people were killed in recent days in landslides and flash floods also triggered by monsoon rains, officials said, prompting the government to step up relief efforts.
In northern India, close to 10,000 soldiers and 13 teams from the National Disaster Response Force have been deployed for the rescue and relief effort, a statement from the prime minister said.
Soldiers from the Indo-Tibetan Border Police have been building rope and log bridges across swollen rivers to try to reach those stranded, said Ajay Chadha, chief of the paramilitary force.
Local officials said 40 relief camps have been set up to house evacuated locals and tourists. Some 18 air force helicopters are ferrying many of those rescued to the camps, with a control centre set up in the holy town of Badrinath.
Tourists have been travelling to Uttarakhand in recent weeks to undertake pilgrimages before some sites are shut down for the monsoon season, which does not normally start for another two weeks.
State disaster relief minister Arya said portions of a revered Hindu temple have been washed away, leaving thousands of pilgrims stranded.
"The Kedarnath temple is submerged in mud and slush. We just hope that it does not collapse," Arya told AFP.
In Uttar Pradesh, 18 people, including a family of five, were killed in rain-related accidents on Monday. A doctor and his family were driving through Saharanpur district, when their car was swept away in a flash flood, officials said.
In Himachal Pradesh, flash floods destroyed more than 500 houses and government buildings and at least 10 people were killed in landslides, officials said.
The monsoon, which covers the subcontinent from June to September, usually brings some flooding. But the heavy rains arrived early this year, catching many by surprise and exposing the country's lack of preparedness.
Nilabja Ghosh, an economist working on climate change and agricultural methods in Uttarakhand, said the weather office had not issued any early warnings about the heavy rains.
"If the weather office had issued an early warning then authorities would have had the time to restrict tourist movement and shift residents to safer zones," said Ghosh who works at the Institute of Economic Growth in New Delhi.
---