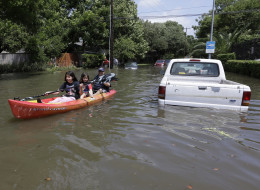 Devastating and deadly storms have struck parts of Texas and Oklahoma in recent days, bringing record rainfall and widespread floods that have damaged or destroyed more than 1,000 homes and left at least 16 people dead.
"This is the biggest flood this area of Texas has ever seen," Gov. Greg Abbott (R) said on Monday, according to Reuters. "It is absolutely massive -- the relentless tsunami-type power of this wave of water."
The historic and anomalous nature of the flooding raises an important question: Is this climate change in action? At minimum, the recent downpours in Texas probably offer a glimpse of what certain parts of the U.S. can look forward to in the coming decades.
As the planet continues to get hotter, in large part due to human activity, warmer air in the atmosphere will hold more moisture. This is expected to alter weather patterns and lead to more frequent and more intense instances of extreme precipitation.
For Texas, Oklahoma and Kansas, the annual amount of precipitation that fell during the heaviest 1 percent of events was up nearly 20 percent last decade compared to the average between 1901 and 1960, according to the most recent National Climate Assessment from the federal government.
"Increases in the frequency and intensity of extreme precipitation events are projected for all U.S. regions," the NCA's authors warn.
In its latest report, the United Nations' Intergovernmental Panel on Climate Change said that heavy precipitation events in North America and Europe appear to have been growing more frequent and more severe. Furthermore, the panel said, it's "very likely" that these precipitation events will get worse and surface air temperatures will continue to rise in the coming century.
From the National Climate Assessment: Percent changes in the annual amount of precipitation falling in very heavy events, defined as the heaviest 1 percent of all daily events from 1901 to 2012 for each region. The far right bar is for 2001-2012. Changes are compared to the 1901 to 1960 average for all regions except Alaska and Hawaii, which are relative to the 1951 to 1980 average. (NOAA NCDC / CICS-NC). Click the image to enlarge.
"Overall, we haven't seen much of a change in annual average rainfall in Texas," climate scientist and Texas Tech University Professor Katharine Hayhoe wrote in a Facebook post on Sunday. "We expect the future to look much the same, on average. But averaging can drown out the fact that, across the U.S. and Texas, our precipitation is getting more variable -- feast or famine, flood or drought."
Hayhoe's mention of drought is significant. Seemingly in spite of the heavy precipitation this past week, the state was starved for water not long ago.
Seventy percent of Texas is currently in no drought at all, according to the U.S. Drought Monitor. Only a year ago, 65 percent of the state was in either "extreme" or "exceptional" drought, the two worst categories in the drought monitor. 2011 brought the worst single-year drought in Texas history, and then-Gov. Rick Perry (R) proclaimed a drought emergency for most of the state that year. He renewed the proclamation in 2013.
Although climate change is a likely reason for the recent uptick in extreme weather events, including the downpour and flooding in Texas and Oklahoma, it's not really possible to point to a single anomalous event and say it was directly caused by climate change. (Gerald Meehl, a senior scientist at the National Center for Atmopsheric Research, has compared it to baseball: Even if a player is taking performance-enhancing drugs, you can't point to a specific home run and say 'That hit was directly caused by steroids.')
"There are many factors that came together here -- an incipient El Nino event, and the vagaries of weather," Michael Mann, a climate scientist and director of Penn State's Earth System Science Center, told The Huffington Post. "But human-caused climate change is in many cases the straw that broke the camel's back, that extra fuel that takes what would have been a really bad flood and turns [it] into a catastrophic flood."
It's not clear how much of the Texas flooding is attributable to this year's El Nino conditions, but Victor Murphy, a climate service programmer with the National Weather Service in Texas, said it was "certainly a factor." (Some meteorologists think that the budding El Nino could bring heavy storms to drought-stricken California later this year.)
"Texas is already number one in the U.S. in terms of billion-dollar weather and climate disasters," Hayhoe said in her post, acknowledging that extreme events do happen naturally but that "human-induced climate change is loading the dice" in favor of them. "The main reason we care about climate change is not because of its impact on global temperature, or ocean heat content, or even on polar bears. It's because of what it means for us, in the places where we live."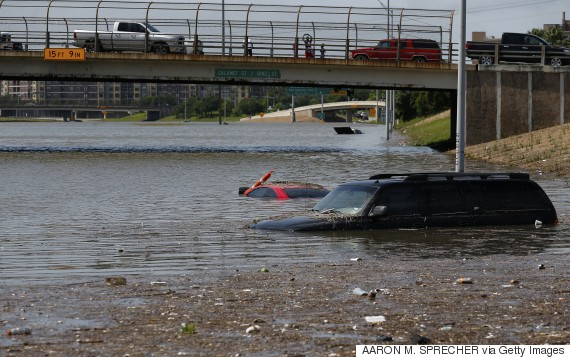 Vehicles are left stranded on Texas State Highway 288 in Houston on May 26, 2015. (Aaron M. Sprecher/AFP/Getty Images)
Murphy said that the past week's storms and flooding definitely constitute "one of the biggest" events for the region, but he wouldn't go as far as Abbott in saying it was the biggest. There have been "many, many flash flood events in Texas Hill Country," Murphy said, and the region is "very prone to significant flood events" and runoff.
Murphy said that this May has been the third wettest month since 1891 for the Austin metro area, and the wettest full stop since 1921. With five days left until June, it's "very possible" that May could still jump to No. 1 or 2 on the list, he said.
Although it's impossible to say whether the flooding in Texas and Oklahoma is a direct result of climate change, Murphy said that in some sense it doesn't really matter.
Either way, he said, it's a reminder that "we need to be a weather-ready nation for climate variability and extreme weather events."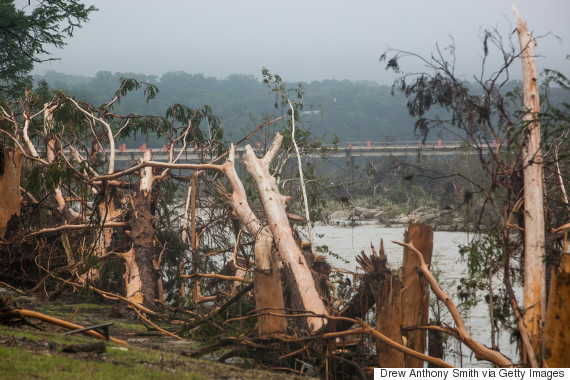 Debris is strewn along Ranch Road 12 near the Blanco River, May 26, 2015, in Wimberley, Texas. (Drew Anthony Smith/Getty Images)